Here's Your Horoscope For Today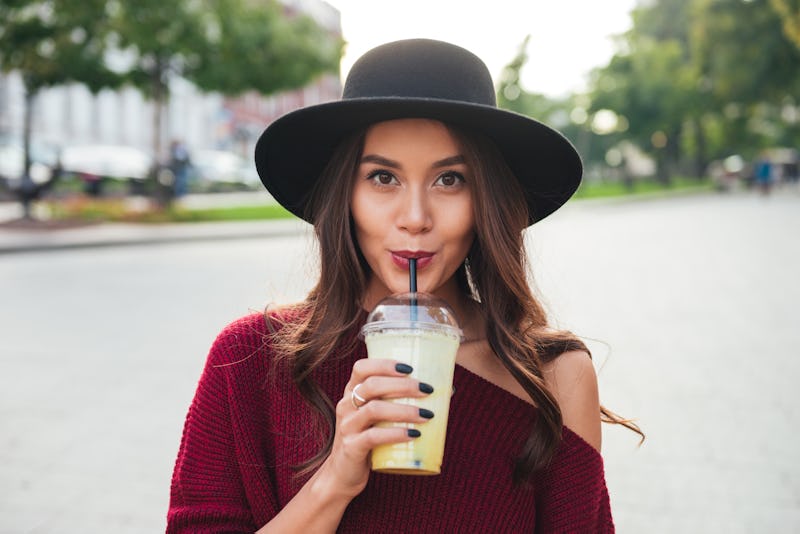 Drobot Dean/Fotolia
We're constantly fascinated by what our zodiac sign says about our lives, whether it's which signs are most compatible or how each sign handles conflict in relationships. That's why Bustle has enlisted Mecca Woods, a New York City-based astrologer of MyLifeCreated.com, to tell us all about how astrology is affecting our lives each day. Today's topic: your daily horoscope for Dec. 4, 2017.
Today may feel like a stop and start kind of day which means the best way to approach the day is to take it slow, even if the Moon is in quick-footed Gemini. One reason for this is because the Moon moves into an opposition with responsible Saturn in Sagittarius by the early afternoon, followed by the Moon's opposition to Mercury (retrograde) in Sagittarius. Under this kind of cosmic combination, it may be difficult to make progress today as Saturn slows us down and asks that we be practical and realistic, while Mercury retrograde could stir up some unnecessary confusion if we're not paying attention. Plus, by the late afternoon the Moon shifts into cozy and cuddly Cancer, putting us in the mood to pull back, lay low, and tend to the softer side of our lives.
Read below to see what the stars mean for your sign today.
Aries (March 21 - April 19)
You may be ready to launch a plan or an idea but you may need to take some baby steps here or risk the chance of missing crucial details. Go back and see if there's something you've missed. On another note, it might be time to challenge a belief of way of thinking, especially of it's been holding you back.
Taurus (April 20 - May 20)
The focus is on your finances today, which may have you looking at ways you can save more or reduce the amount of your financial obligations. This might be a good time to go over your books and see where you may be able to save some money or lighten your debt load. Hold off on making big purchases.
Gemini (May 21 - June 20)
The focus is on you and how you feel today, though you might not find your partner or someone close to you to be as understanding as you would like them to be, which could trigger an old issue from the past. Perhaps you're feeling this way so you can address the issue and finally put it to rest.
Cancer (June 21 - July 22)
You can't take on everything at once. This might be an important reminder for you today. Look at places in your life (your schedule, office, health, regular routines, etc.) where you may need to set better boundaries in terms of what you choose to take on. Remember, you don't always have to be the superhero.
Leo (July 23 - Aug. 22)
It's time to take a look at an old creative project with a fresh pair of eyes. Something you may have put on the back burner, may come calling for you to give it life again. Meanwhile, before you get carried away with a romantic relationship, make sure you're not glossing over details about this person.
Virgo (Aug. 23 - Sept. 22)
How fulfilled do you feel when it comes to your career? How can you bring more love to what you do? Perhaps it's time for you to switch gears when it comes to your professional life and look to ways to can get back to enjoying what you do. Above all, don't ignore your gut. It's trying to tell you something.
Libra (Sept. 23 - Oct. 22)
Are you dealing with a bad case of wishful thinking today? Not that you shouldn't think big or creatively, but you may be refusing to see things as clearly as you should. Still, it doesn't mean that you should take a bleak outlook either. Right now it's about balancing fact with what's possible.
Scorpio (Oct. 23 - Nov. 21)
Money is on your mind today, which means it's a good time to follow up on any money owed to you. At the same time, you may also want to think about ways in which you may be underselling yourself so you can begin demanding what you're worth. Don't allow anyone to tell you that you deserve different.
Sagittarius (Nov. 22 - Dec. 21)
Your partner or someone close to you could come calling on your support today, though before you go rushing to their side, you may need to be realistic about what you can and cannot do. That way you save everyone from disappointment and misunderstandings. Work on prioritizing your time.
Capricorn (Dec. 22 - Jan. 19)
How do you deal with mental chatter? Do you allow it to get the best of you, paralyzing you with fear and worry? Or do you allow the thoughts to come and go and only pay attention to what's useful? If you're somewhere in between, know that you have some control over where your mind goes.
Aquarius (Jan. 20 - Feb. 18)
You might reconnect with an old friend today, which could bring you some deserved joy. Meanwhile, when it comes to how you spend your creative energy, look to ways that you can make it a regular practice. In other words, don't give up on pursuing the things that fulfill you. Refill your cup.
Pisces (Feb. 19 - March 20)
Try not to be too hard on yourself today while reflecting on your achievements. Instead of thinking about all the things that you haven't done, celebrate the things that you have done thus far. If you seem to be making slow progress, this is OK. You don't rush through something worthwhile.