Here's Your Horoscope For Today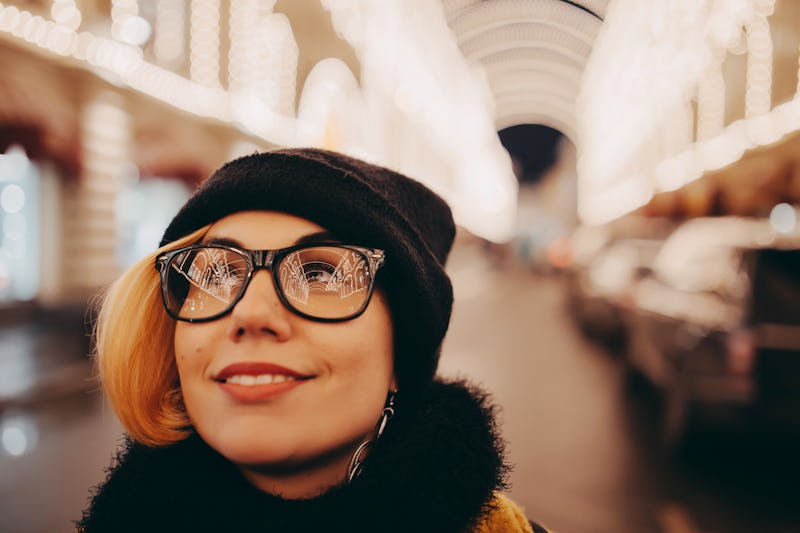 Ivan Kurmyshov/Fotolia
We're constantly fascinated by what our zodiac sign says about our lives, whether it's which signs are most compatible or how each sign handles conflict in relationships. That's why Bustle has enlisted Mecca Woods, a New York City-based astrologer of MyLifeCreated.com, to tell us all about how astrology is affecting our lives each day. Today's topic: your daily horoscope for Dec. 5, 2017.
The Moon continues to transit through sensitive and emotionally nourishing Cancer today, putting us in the mood for comfort (comfort food included), cozy quarters, and heartfelt connections with others. With the day starting off with a meeting between the Moon and dreamy Neptune in Pisces, we may have a hard time staying busy and focused. The best way to channel this cosmic energy to to tune inward to our dreams, intuition, and feelings as this is the kind of Moon-Neptune combination that can help us to turn an inspiration into creative gold and compassion into a kind gesture. Soon afterwards, the Cancer Moon meets up with Jupiter in Scorpio, increasing the feels in the air. If we find ourselves feeling blue, this cosmic combo encourages us to seek the feel-good company of those we love. Towards the end of the day, the Moon moves into an opposition with power-hungry Pluto which could key up the intensity and a possible power struggle within a key relationship. If used wisely, this combination can help us to get to the root of/address an unresolved issue.
Read below to see what the stars mean for your sign today.
Aries (March 21 - April 19)
You might find yourself deep in your feels today. Though instead of seeing this as a bad thing, consider it an opportunity to engage in some self-care. Tears can be healing, as well as having a soul baring conversation with someone you trust. Either option you choose, know that you are loved. Open your heart.
Taurus (April 20 - May 20)
You could experience a case of being in the right place at the right time today when it comes to a conversation or connection with someone in your midst, as it seems this person may hold a key in helping you to get ahead with your goals. Feedback and ideas from others could be helpful, keep an open mind.
Gemini (May 21 - June 20)
You could manifest a promising job lead or client today, but it may require you to move past fears and self-doubt first. In order for you to better align with your purpose, you have to be willing to take a gamble on yourself. On another note, be mindful of making any impulsive, big-ticket buys.
Cancer (June 21 - July 22)
Don't let anyone tell you what you can't do. That might be the words for you to keep in mind as you go along your day, especially if you find yourself feeling inspired and ready to throw your heart into something you love. Don't allow other people's fears and insecurities stand in the way of your happiness.
Leo (July 23 - Aug. 22)
Are you sleeping OK? Are you getting enough to eat? Is something weighing heavy on you? Today's a good day to take things down several notches and check in with yourself. No need trying to forge ahead. You'll probably run into delays anyway. Try to tackle what's only necessary for now. The rest can wait.
Virgo (Aug. 23 - Sept. 22)
You have people in your life who are ready to pitch in and support you, so why won't you allow them space to do so? While you are more than capable of handling everything on your own, it doesn't mean you always have to do everything on your own. Don't grip so tightly. Be open to receiving.
Libra (Sept. 23 - Oct. 22)
You could attract some attention today from some influential people which could bring you an opportunity or serve as a reminder of the great work you're doing. On the flip side, you could find yourself feeling inspired to move on to somewhere you really feel valued professionally. Honor that feeling.
Scorpio (Oct. 23 - Nov. 21)
You should find yourself in good spirits today, which could motivate you to try something you've never done or seek out experiences that broaden your perspective. Overall, you're reminded today that there's a big world out there and to welcome it with open arms. Be open to seeing the beauty of it.
Sagittarius (Nov. 22 - Dec. 21)
What do you desire most? Instead of allowing doubt or past disappointment to get the best of you today; having you thinking that what you want is too far out of reach — focus on the things that you do want as you might be surprised at how quickly they arrive. Financially, don't go overboard with spending.
Capricorn (Dec. 22 - Jan. 19)
You might find you and your partner thinking about the future today; sharing your plans and dreams. Recognize there's no need for you to force or push anything as things are unfolding and coming together as they should. If single, get clear about what you want in a relationship, then ask the universe for it.
Aquarius (Jan. 20 - Feb. 18)
Today could be a banner day for you when it comes to your career as you could land an opportunity that lands you in the spotlight and garners you attention from some influential people. As such, don't allow negative thinking or fear to get in the way of you claiming what you've worked so hard for.
Pisces (Feb. 19 - March 20)
Love, fun, adventure. You might have time for a little of each today and if you don't — make time for it. Do something that brings you joy, if only for a few hours. With so much going on in the world, it's important that you hold on to the pieces that make you who you are. Laughter is your best medicine now.