Here's Your Horoscope For Today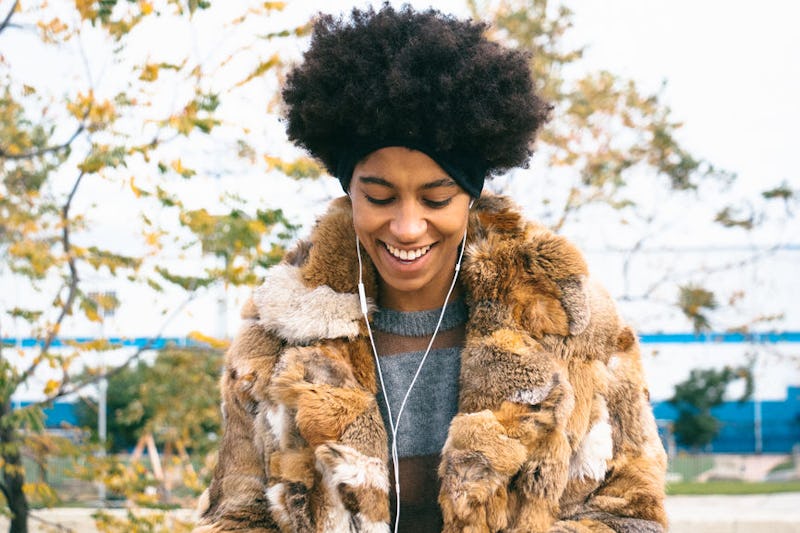 Good Vibrations Images/Stocksy
We're constantly fascinated by what our zodiac sign says about our lives, whether it's which signs are most compatible or how each sign handles conflict in relationships. That's why Bustle has enlisted Mecca Woods, a New York City-based astrologer of MyLifeCreated.com, to tell us all about how astrology is affecting our lives each day. Today's topic: your daily horoscope for December 6, 2018.
The day starts off on a high note as the Moon meets up with lucky Jupiter in optimistic and adventurous Sagittarius. With the Moon and Jupiter working together, we should find ourselves in a feel-good mood and ready to seize the day. And since we'll have Jupiter's luck working on our behalf there should be opportunity and good fortune abound. Another highlight of the day comes as communicative Mercury turns forward in Scorpio, helping us to get back up to speed again.
By late tonight, the vibe gets a bit dicey as the Sagittarius Moon squares off with sensitive Mars in Pisces, followed by a square off with Neptune in Pisces, which could have us in our feelings. With tomorrow's New Moon in Sagittarius approaching, the best way to harness this emo energy is by giving ourselves the space to feel what we feel and release it. The New Moon will be an auspicious one and the best way to welcome the new energy is to let go of the old.
Read below to see what the stars mean for your sign today, and be sure to check out your December 2018 horoscope.
Aries (March 21 - April 1)
It's time for you to take a risk. Though this isn't about being reckless nor is it about doing something random. This is about following through on something that you've been intuitively feeling. Don't overthink it, Aries. Just go with it. Your spirit knows what it needs.
Taurus (April 20 - May 20)
You might be thinking about your long-term financial future today. The good news is that your finances are on the way up. Just try not to doubt that things are turning in your favor. On a different note, you love to help folks in need but try not to overdo it. It's OK for you to say "no."
Gemini (May 21 - June 20)
Partnerships are where you'll find success today. You might even connect with an influential person that could take you under their wing and help you with furthering your goals. A romantic relationship could take root but it may defy your expectations. Be open to something different.
Cancer (June 21 - July 22)
You're in the mood to get to work today. While your work ethic won't go unnoticed by others, just take care that you're not taking on too much without working out the small details of the task at hand. Though overall, growth and opportunity are on the horizon for you.
Leo (July 23 - Aug. 22)
Fun and romance are on the way for you but in order to take advantage of the goodies coming your way, you'll have to be willing to let go the past. Know that the cosmos wants to bring you your heart's desire. When it comes to your creative talents, it's time to own your power.
Virgo (Aug. 23 - Sept. 22)
The support you need comes through today but you may need to resist the urge to resist the help. In other words, let folks rally around you for a change. Home and family are both a respite and a resource for you. Also, don't feel obligated to go out of your way for a needy type.
Libra (Sept. 23 - Oct. 22)
You're feeling inspired today when it comes to your words and ideas. Your words can make a big impact now, so if you need to have an important conversation, hold a meeting, or send a message — do it. You might be pleased with the results. Just don't overthink it.
Scorpio (Oct. 23 - Nov. 21)
If you've been feeling like you've been stuck in a weird fog, that fog should soon be lifting. At the same time, you should find yourself feeling more confident about yourself and your capabilities, which should help to bring some cash your way. Don't spend it too fast though.
Sagittarius (Nov. 22 - Dec. 21)
Soak up the good vibes today, Sag, because you deserve. If you're open to it, you might even find yourself attracting some good energy, too. If you've been unclear or confused about a certain situation, you can see things clearer now. Just try not to be too hard on yourself about it.
Capricorn (Dec. 22 - Jan. 19)
A blessing could come through for you today in the nick of time but don't block those blessings by being pessimistic or obsessive about whatever situation is trying to work itself out. Challenge yourself to think differently. And if you need help with that, call a friend.
Aquarius (Jan. 20 - Feb. 18)
You're about to find out how lucky you are today, as someone you know could help to plug you into an opportunity that could lead to some very big things. However, don't second guess whether or not you deserve the opportunity. You do, and your community is there for a reason.
Pisces (Feb. 19 - March 20)
Some big things are happening when it comes to your career. You could receive the chance to helm a big project or receive some attention for your work. Though the key to moving forward now is believing in yourself. Let the old version of yourself go so you can reach the top.