Here's Your Horoscope For Today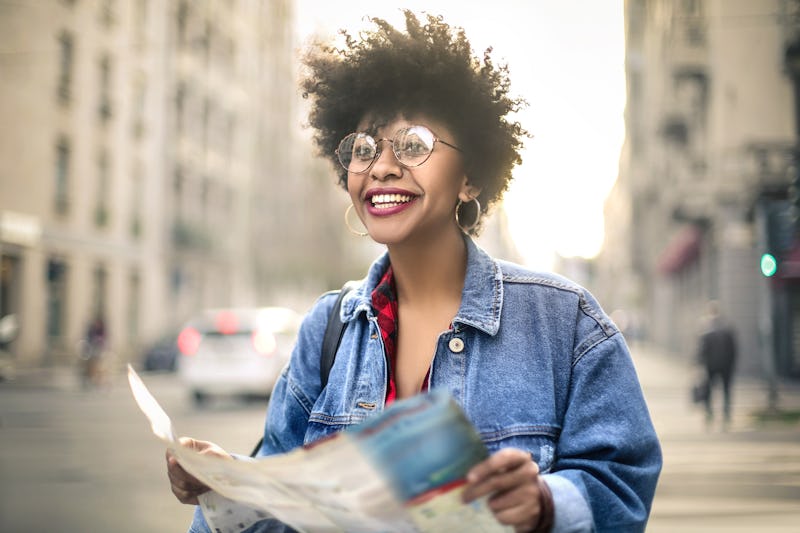 merla/Fotolia
We're constantly fascinated by what our zodiac sign says about our lives, whether it's which signs are most compatible or how each sign handles conflict in relationships. That's why Bustle has enlisted Mecca Woods, a New York City-based astrologer of MyLifeCreated.com, to tell us all about how astrology is affecting our lives each day. Today's topic: your daily horoscope for Feb. 5, 2018.
The Moon finishes up her transit through beauty- and partnership-oriented Libra today, which should have us in a rather friendly and social mood. This vibe increases as the Libra Moon teams up with Venus in Aquarius this morning, helping us to connect and relate to one another with ease. This match up may be especially helpful for those of us that have meetings, activities, or events that involve connecting with an audience. By the mid-afternoon, the vibe gets a bit weird as the Moon opposes rebellious Uranus in Aries, which could have us feeling restless. Though the best way to channel this planetary energy is into anything that requires an innovative, unconventional approach. By late tonight, when the Moon moves into seductive and secretive Scorpio, we should find ourselves in the mood to draw inward and tuck ourselves away for the night.
Read below to see what the stars mean for your sign today and check out your February 2018 monthly horoscope.
Aries (March 21 - April 19)
You might have to find a happy compromise today between how much you cooperate with others and how much you do your own thing as you have people in your corner who are eager and ready to help you. You just need to be open and receptive to the help. Don't neglect your community.
Taurus (April 20 - May 20)
There's a chance you could manifest a job opportunity today or some form of recognition from the higher-ups on your team. Though know that whatever rewards come your way today will be a result of being fearlessly innovative and unafraid to try something different. Shake things up.
Gemini (May 21 - June 20)
That electricity you're feeling today? It's called inspiration. Welcome it with open arms as this could be the juice you need to bring an idea or dream to fruition. The creative risks you take today could pay off big for you tomorrow. On another note, make time to have some fun.
Cancer (June 21 - July 22)
You and your bae might be considering making a big investment together which could involve moving in together or purchasing some form of insurance. Either way, all systems are go. If single, you could attract someone in a way that feels fated. Be clear about what you want.
Leo (July 23 - Aug. 22)
It's possible that you could meet someone with long-term romantic potential by way of an online profile or through someone you know. Meanwhile, when it comes to getting an idea off of the ground look towards collaborating with someone that can help. Think outside the box.
Virgo (Aug. 23 - Sept. 22)
When's the last time you treated yourself to something nice? Today might be a good time to do so. You deserve a reward for all of the hard work you've been putting in lately. Speaking of work, you could manifest a raise or a job that pays more money. Just make sure to honor your worth.
Libra (Sept. 23 - Oct. 22)
Romance is in the air today. Though it might not be so much as falling in love with another person so much as it is about falling in love with yourself. In what ways can you make self-love a priority today? On a slightly different note, be open to the new experiences others want to bring you.
Scorpio (Oct. 23 - Nov. 21)
It's time to take it easy today, or at the very least find a way to strike a healthy balance between your workload and your need for rest. You might need to restructure your schedule in order to accommodate some extra downtime. Don't worry the world will still be there when you get back.
Sagittarius (Nov. 22 - Dec. 21)
You get by with help from friends today, especially where your hopes and wishes may be concerned. Talking to friends could provide you with the feedback and encouragement you need to push forward. Also, someone in your network could put you on to an opportunity. Connect with others.
Capricorn (Dec. 22 - Jan. 19)
Let's talk about your favorite subject today: cash. The picture looks bright as a new job or financial opportunity could come through for you. If you've been job hunting, you could receive good news while other Caps could get some extra special treatment from a VIP at work. Act on a hunch today.
Aquarius (Jan. 20 - Feb. 18)
Just about anything you say today will be a hit with others so you might as well put that gift for gab to to good use. Use that genius of yours to sell or market your ideas and get people on board with what you're doing. Before you know it you could have a whole team behind you and your empire.
Pisces (Feb. 19 - March 20)
A financial matter that you've been worrying about could be put to rest today, thanks to a sum of money that could come to you in the nick of time or perhaps someone stepping in on your behalf. While things may be a bit financially shaky at the moment trust that the matter is only temporary.