Your Daily Horoscope For June 13, 2017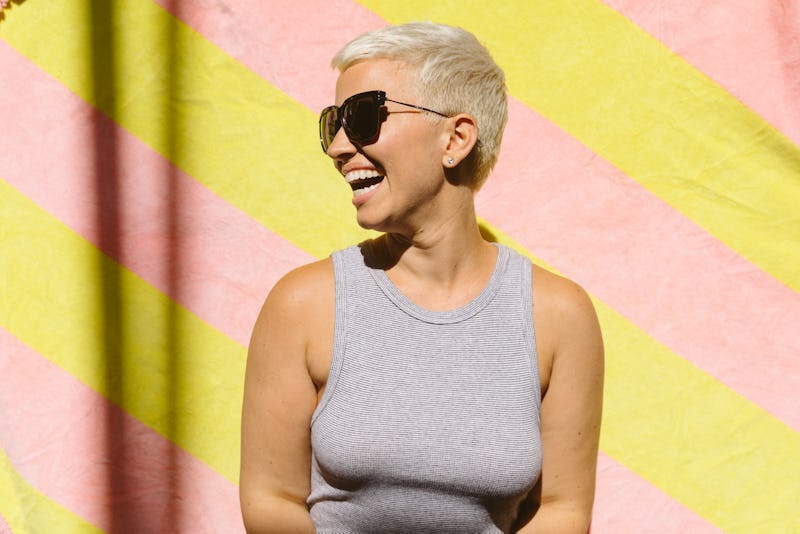 Ashley Batz/Bustle
We're constantly fascinated by what our zodiac sign says about our lives, whether it's which signs are most compatible or how each sign handles conflict in relationships. That's why Bustle has enlisted Mecca Woods, a New York City-based astrologer of MyLifeCreated.com, to tell us all about how astrology is affecting our lives each day. Today's topic: your daily horoscope for June 13, 2017.
The Moon continues to transit through unconventional Aquarius today; the morning starts off with a square off with Venus in Taurus, which may have us feeling conflicted between wanting to stick with a safe bet when it comes to money and relationships and the need to do something totally different. The meetup between rational Mercury in Gemini and Jupiter in Libra a few hours later could help us with getting the clarity we need to make a wise decision. Since Gemini, Libra, and Aquarius are the three zodiac signs most concerned with gathering and sharing information, today should also be a quite social one.
By the late evening, there's a meetup between the Aquarius Moon and Jupiter in Libra that should have us in good spirits. A few hours later, though, there's a square off between Mercury in Gemini and Neptune in Pisces that would be better for dreaming than anything else as this kind of match can make it hard for the truth to get through. However, the night ends with a meeting between the Moon and Mercury which will be much better for any decision making or communicating how we feel.
Read below to see what today's stars mean for your sign.
And remember to tune into Bustle's weekly horoscopes video live on Facebook every other Monday at 5 p.m. EST for a rundown of your weekly horoscope.
Aries (March 21 - April 19)
You don't always have to do it alone. That might be the biggest message for you of the day. While your independence is important, it still helps to have people in your corner that support you and cheer you on. Don't push those people away. Talking to friends could help you to clear your head.
Taurus (April 20 - May 20)
The praise or recognition you may be craving today (especially when it comes to your career) might not show up the way you want it to, if at all. Though, this could be a reminder that you have to forgo the modesty or humble role and toot your own horn. The only one that can best affirm you is you.
Gemini (May 21 - June 20)
You may be too concerned with what others think or have to say, when you really should be following your own internal compass. When it comes to today, focus on your personal truths, beliefs, and passions. Don't be afraid to be your authentic self; whether or not others get on board is of no concern.
Cancer (June 21 - July 22)
You and a friend or someone in your circle may not see eye to eye today, though you may need to make sure you get your point across or stick up for yourself as a result. Don't assume for the best or that things will work themselves out. You most likely feel the way you do for a reason.
Leo (July 23 - Aug. 22)
A professional partnership may not be all it's cracked up to be, because you should be off doing your own thing. However, when it comes to fulfilling your hopes and wishes, there are people you should be networking with that can help you to plug into new opportunities. Connect with them today.
Virgo (Aug. 23 - Sept. 22)
You may have your heart set on something or someone but your best bet in avoiding any confusion is to stick with the facts. When it comes to your work or career, you have the chance to wow the crowd so bring your A game. A presentation, pitch, or a conversation with a VIP could bring big rewards.
Libra (Sept. 23 - Oct. 22)
When it comes to romance, excitement and substance don't have to be mutually exclusive, but someone you're seeing or may be interested in may not be able to offer both. Though, now's not the time for looking backwards. If this doesn't work, there's plenty of fish in the sea. Overall, venture out.
Scorpio (Oct. 23 - Nov. 21)
There's a chance that you and a partner (either in business or romance) may not be on the same page today, especially if you're trying to hold on to something when your gut is telling you differently. It may be time to go in a brand new direction. Honor your principles and your intuition.
Sagittarius (Nov. 22 - Dec. 21)
The right conversation with the right person could put you in the right place and time, so don't be surprised if you're feeling more social than usual. There's probably someone out there you should be talking to. When it comes to love, a partnership could lack clarity or boundaries. Don't let nostalgia fool you.
Capricorn (Dec. 22 - Jan. 19)
Things may be feeling a bit off this morning when it comes to your romantic or creative life as what you want may not be what you need, though there's a possibility to clear the air or find clarity. Professionally, this is a good time for establishing contacts or reaching out to others to secure an opportunity.
Aquarius (Jan. 20 - Feb. 18)
The day could start off a bit wonky as you may find yourself feeling a bit more harried than usual. Though, keeping yourself grounded and focused on things that nourish you should help. The mood shifts into a positive direction later in the day, which should leave you feeling inspired. Protect what's yours.
Pisces (Feb. 19 - March 20)
As a Water sign, you often have to deal with other people projecting themselves on to you, which can sometimes make it confusing in determining what's your "stuff" and what's not. Today, you're reminded how important it is to live your life from the inside out as opposed to the other way around.