Here's Your Daily Horoscope For May 30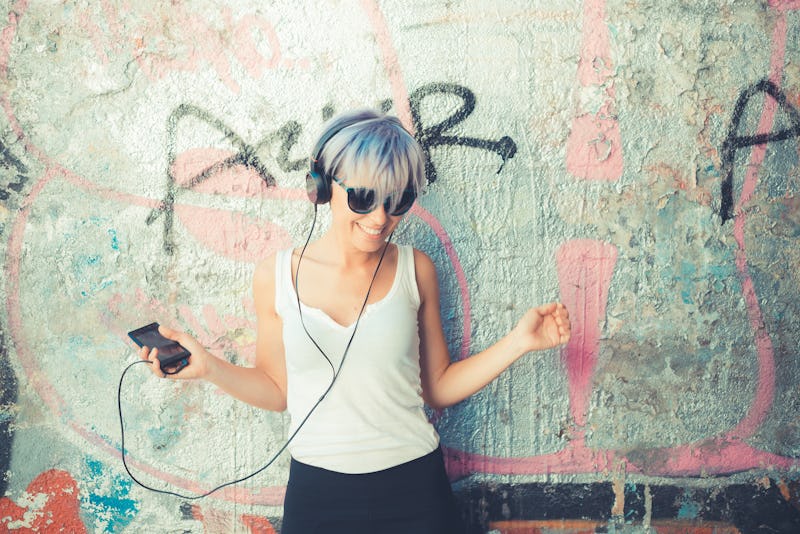 Eugenio Marongiu/Fotolia
We're constantly fascinated by what our zodiac sign says about our lives, whether it's which signs are most compatible or how each sign handles conflict in relationships. That's why Bustle has enlisted Mecca Woods, a New York City-based astrologer of MyLifeCreated.com, to tell us all about how astrology is affecting our lives each day. Today's topic: your daily horoscope for May 30, 2017.
Today should be a fairly high energy day as the Moon continues her transit through fiery Leo. The day kicks off with a meeting between the Moon and Jupiter in Libra which should have us feeling optimistic, creative, and confident enough to tackle any obstacle head on. By the afternoon, the Leo Moon squares off with Mercury in Taurus, which could have us feeling conflicted between head and heart. However, this energy could be put to good use in helping us to figure out what's important and what's not when it comes to planning, decision-making, or saying what we feel. By late tonight, Mars in curious Gemini meets up with Uranus in Aries, which could be a productive combination for fueling ideas or anything else that requires an innovative approach.
Read below to see what today's stars mean for your sign.
And remember to tune into Bustle's weekly horoscopes video live on Facebook every other Monday at 5 p.m. EST for a rundown of your weekly horoscope.
Aries (March 21 - April 19)
If you find that you're not getting what you need either creatively or financially when it comes to your work, it's time to step up and do something about it. Perhaps this may mean striking out on your own career path or going after a position with more clout and mobility. Remember, you steer your ship.
Taurus (April 20 - May 20)
You might find yourself in your feelings today, as something in your past could have you seeing yourself in an unflattering light. Though know that you have the power to change that perception. You can start by refusing to let the past define you. Allow your own principles to define you. Ignore the rest.
Gemini (May 21 - June 20)
There's no sense in trying to force yourself into following someone else's program because when it comes to going after what you want, you need to do it your own way. You should be feeling pretty confident in yourself as you have the power to make just about anything happen. Say what's in your heart.
Cancer (June 21 - July 22)
It could feel like something you've been hoping or wishing for won't happen, perhaps due to a financial need or situation. However, things may not be moving as fast as you want them to because you weren't meant to do it all by yourself. Collaborations and connections with the right people can help.
Leo (July 23 - Aug. 22)
You could be feeling a bit sensitive today as the praise or recognition that you want from a supervisor or authority figure may not be what you expect. However, instead of taking offense to whatever's said or not said, look to this as a reminder that you can do much better somewhere else. Move on.
Virgo (Aug. 23 - Sept. 22)
Today could bring you a reality check of sorts as something you may have been holding out hope for doesn't seem to be gelling together the way you were expecting. Try not to see this as a negative though, because you're getting closer to truth and authenticity. At the end, that's what matters.
Libra (Sept. 23 - Oct. 22)
You might find yourself craving the attention or support from others today that you may not get, which could have you feeling a bit hypersensitive. However, instead of looking for security and affirmation from others right now, this is a perfect time for some self-affirmation. You've got this.
Scorpio (Oct. 23 - Nov. 21)
You could be feeling split between the demands of your career and your partner today which may require a serious talk between you to sort things out. On the other hand, you might be feeling like someone you work closely with isn't exactly on the same page with you. Get down to the bottom of it.
Sagittarius (Nov. 22 - Dec. 21)
You may be in the mood for a getaway of sorts today but it seems like there's a long list of pending items on your desk, schedule, or inbox that you need to handle first. While that doesn't mean that you shouldn't have any fun, it's best to take care of biz now, especially if that biz can bring you some money.
Capricorn (Dec. 22 - Jan. 19)
A home or family related matter could have you extra busy today, which could be a bit stressful. While this won't be something you can put off, know that you don't have to let it consume you either. Overall, think of this as helping you to find better ways to improve your life. Don't let the frustration fester.
Aquarius (Jan. 20 - Feb. 18)
A conflict could arise between you and your partner (whether professional or romantic), that could have you both feeling misunderstood. The best way to get around this situation though, is to go through it. Simply put: it's time to talk about the deeper, more complex stuff that you may be avoiding.
Pisces (Feb. 19 - March 20)
You could receive some news today that leaves you feeling a bit unsettled or the demands of the day could take a bit of a toll on you. Either way, you'll do best when you seek the refuge and support of those closest to you. Recognize that whatever lands on your plate, you don't have to deal with it alone.