Here's Your Daily Horoscope For May 31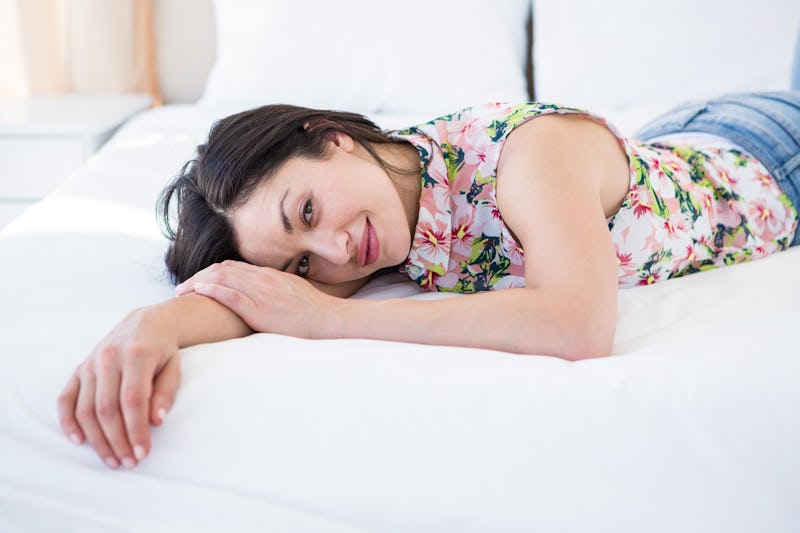 WavebreakmediaMicro/Fotolia
We're constantly fascinated by what our zodiac sign says about our lives, whether it's which signs are most compatible or how each sign handles conflict in relationships. That's why Bustle has enlisted Mecca Woods, a New York City-based astrologer of MyLifeCreated.com, to tell us all about how astrology is affecting our lives each day. Today's topic: your daily horoscope for May 31, 2017.
After a flurry of a morning, the Moon enters fastidious Virgo, which encourages us to get focused, productive, and organized. Under the Virgo Moon we may find ourselves in the mood to clear away things we don't need (like clutter) while finding ways to improve or better our lives in some way. Since Virgo is all about the details, this is a good time to go over everything with a fine tooth comb to make sure everything is in good working condition. When it comes to what we see, say, or hear — stick to the facts.
Read below to see what today's stars mean for your sign.
And remember to tune into Bustle's weekly horoscopes video live on Facebook every other Monday at 5 p.m. EST for a rundown of your weekly horoscope.
Aries (March 21 - April 19)
It's time to get grounded, Aries. Look to ways you can simplify and de-clutter your life. Perhaps that may mean tossing out stuff you no longer need. When it comes to your work life, how can you better manage your stress? Prioritize what's important. Listen to your body.
Taurus (April 20 - May 20)
Don't feel bad if you find yourself craving a day off work today, because you should be out having fun anyway. A little romance or some time spent with friends could be just the thing you need to lift your spirits. Creatively, you could also do well so follow-through if you're feeling inspired. Enjoy!
Gemini (May 21 - June 20)
It's time for a home improvement project of sorts. What can you do to make your home or living space more like a sanctuary? Maybe it's time to re-arrange the furniture or bring some calming colors into your home, or maybe it's as simple as not sleeping next to your phone/laptop. Get centered.
Cancer (June 21 - July 22)
You might find your mind going a mile a minute today, which means it's the perfect opportunity to channel all that brain activity into a worthwhile project. Got a website to build? How about a story to write? Or maybe you have some emails to send and phone calls to make? Keep yourself busy.
Leo (July 23 - Aug. 22)
Your mind is on your money today, which means this is a great time to focus on making more of it as well as how you spend it. Review your budget and figure out where you can trim unnecessary expenses and consider whether it's time for you to ask for a raise or seek something else with better pay.
Virgo (Aug. 23 - Sept. 22)
It's all about you today as the stars encourage you to tend to your needs before anyone else's. If you've been feeling low energy, overwhelmed, or stressed out, take a time out for self-care. If something's been on your mind, get it off your chest so you can feel better. It's OK to be a little selfish.
Libra (Sept. 23 - Oct. 22)
Take a chill pill, Libra. Today's not the day for pushing yourself to the limit as you need your beauty rest. While you're at it, give yourself some time to grieve, feel, or cry as you could stand to release all that pent up energy. Overall, you need space to decompress and recharge. Create that space.
Scorpio (Oct. 23 - Nov. 21)
To quote TLC, "What about your friends? Are they going to stand their ground?" That may be the question for you today as you might find yourself seeking out their company and support. If someone hasn't exactly been the best of friends to you, maybe it's time to consider if they're still a friend.
Sagittarius (Nov. 22 - Dec. 21)
It's all about your career today as you may find yourself craving recognition and attention for your work. With all of the hard work you've been putting in as of late, it's important to remember and to celebrate how far you've come. Even if the praise doesn't come, make sure you praise yourself. Stay focused.
Capricorn (Dec. 22 - Jan. 19)
Is self doubt holding you back from where you need to go? Have you been far too concerned about what others think and not present enough to the complexity and richness of your own experience, through your own eyes? If the answer is yes, that may need to change. Believe in yourself.
Aquarius (Jan. 20 - Feb. 18)
You may find yourself craving deeper exchanges and encounters with others in a way that could have you wondering if you'll ever have that kind of soul-bonding intimacy with another. The answer is yes, if you want to, but first you'll have to recognize that vulnerability is a strength too. Use intuition.
Pisces (Feb. 19 - March 20)
You may find yourself craving the company of a partner today, which could be just the thing you need as they could to introduce you to something new. If you're feeling lonely, don't despair as this is a time to figure out how to improve your social or love life for the better. Be intentional yet discerning.