Here's Your Horoscope For Today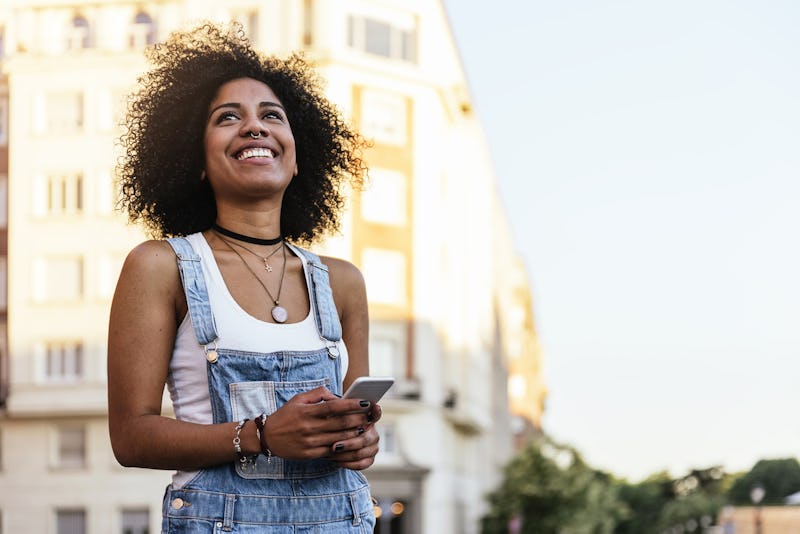 santypan/Fotolia
We're constantly fascinated by what our zodiac sign says about our lives, whether it's which signs are most compatible or how each sign handles conflict in relationships. That's why Bustle has enlisted Mecca Woods, a New York City-based astrologer of MyLifeCreated.com, to tell us all about how astrology is affecting our lives each day. Today's topic: your daily horoscope for May 9, 2018.
After a few high-energy days, the Moon is now in dreamy Pisces, bringing us some calm and relaxing vibes. Since Pisces is a sign that is associated with intuition and emotions, we might find that both are heightened today. As such, a Pisces Moon is always a good time to unplug from the hustle and bustle of the day or spend time in the company of those that are nearest and dearest to us. We might also feel extra creative under a Pisces Moon too, which means that today can be perfect for dreaming up ideas and immersing ourselves into mediums like music, film, photography, etc. By the late afternoon, the Moon teams up with serious Saturn in Capricorn, which can help temper some of the emotion we may be feeling. This Moon-Saturn combo can also be helpful in turning a dream into something real.
Read below to see what the stars mean for your sign today, and check out your May 2018 monthly horoscope.
Aries (March 21 - April 19)
You might not have a lot of "get up and go" today. It seems you need some downtime more than anything right now. Though when it comes to your career or ambitions, you may get a sign today that things are coming together the way you want. Keep trusting all will work out as it should.
Taurus (April 20 - May 20)
Something you've been wishing for is finally coming true thanks to the effort, study, and research you've been putting in. Though if you've only just begun working on a plan, you shouldn't have too much trouble coming up with a viable way to execute that plan. The dream is coming true.
Gemini (May 21 - June 20)
If a job search has been slow going, you might see a break in the clouds today as you could manifest an opportunity or a promising lead. At the very least, you may be reminded of how capable you are, which could give you the determination and resilience to keep pushing toward your goal.
Cancer (June 21 - July 22)
When it comes to pursuing a dream or getting an idea off the ground, look to connecting with those with influence or clout to help you with fulfilling your goal. You might find that they're actually eager to support you, or at the very least, open to your proposal. Team work makes the dream work.
Leo (July 23 - Aug. 22)
When's the last time you sat down and went over your financials? If it's been a while, this is a good day for sitting down and going over what's been coming in and out of your account. You might even find an opportunity to pay off a debt quicker than anticipated or save yourself some extra money.
Virgo (Aug. 23 - Sept. 22)
If it's been a while since you've been able to get out and have some fun, your partner or someone close to you may be instrumental in your enjoyment today. Let them. Don't fight it. Also, be mindful of giving an extra someone too much of your time and energy. Make time for you.
Libra (Sept. 23 - Oct. 22)
If it's been a while since you've tidied up your home or work space, today is a great time to get organized. Think about things you can toss out or donate to help free up space and give you some peace of mind. Health-wise, this is also a good time for exercises or activities that re-balance you.
Scorpio (Oct. 23 - Nov. 21)
If love hasn't been going your way, you could have an experience today that helps you to be more optimistic about your love life. Meanwhile, when it comes to your creative talent, taking a class or workshop to hone your skills could be beneficial. You might even find you're more marketable too.
Sagittarius (Nov. 22 - Dec. 21)
While things may seem challenging financially, you could have a financial weight lifted off your shoulders today or feel more financially secure than you have felt in a while. On an emotional level, try not to sink too far into your feelings. Remember that you are loved and lovable. Own it.
Capricorn (Dec. 22 - Jan. 19)
You've got the power to move others with your words today, so make sure they count. Perhaps you might pitch that article you've been wanting to write or publish that blog post you've been meaning to get out. Maybe you finally let someone know how much they mean to you. Use your words.
Aquarius (Jan. 20 - Feb. 18)
You might get a lesson today in how important it is to keep the faith as you could receive some financial news or assistance that alleviates some of the worry you've been feeling as of late. By the same token, if there's a job opportunity you've been wanting, start believing it's already yours.
Pisces (Feb. 19 - March 20)
When it comes to fulfilling your hopes and wishes today, you've got the eye of the tiger. As such, there may be very little you're willing to let get in your way. If you need backup though, you've got people in your corner that's more than willing to pitch in where needed. Doors are opening for you.