Here's Your Horoscope For Today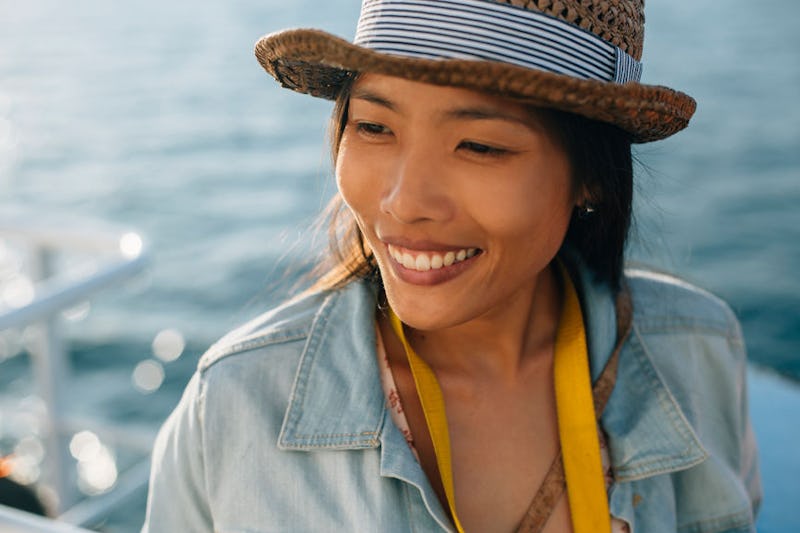 Marko Milovanović/Stocksy
We're constantly fascinated by what our zodiac sign says about our lives, whether it's which signs are most compatible or how each sign handles conflict in relationships. That's why Bustle has enlisted Mecca Woods, a New York City-based astrologer of MyLifeCreated.com, to tell us all about how astrology is affecting our lives each day. Today's topic: your daily horoscope for November 14, 2018.
The Moon remains in unconventional and unpredictable Aquarius today, putting us in the mood for unique and out-of-the-box experiences. If things have started to feel a little too routine, we can look to the Aquarius Moon to help us with making things fresh and interesting. Still, with the Moon teaming up with Mercury in freedom-loving Sagittarius (which is scheduled to go retrograde in two days), we may need to go backwards a bit before we can go forwards. Under this Moon-Mercury combination, it can help to review where we may need to let go of self-limiting thoughts, beliefs, or feelings in favor of a more forward-thinking approach.
Read below to see what the stars mean for your sign today, and be sure to check out your November 2018 horoscope.
Aries (March 21 - April 1)
Your friends or someone within your network could come to the rescue today, specifically when it comes to getting something you're envisioning off the ground. They might even hook you up with a new opportunity. Take heart, Aries. Your wishes are coming true.
Taurus (April 20 - May 20)
You could receive some promising news regarding a career-related matter today or you could outright receive a job offer. Either way, you're reminded of just how capable you are when it comes to getting the job done. In terms of an intimate relationship, clarity arrives.
Gemini (May 21 - June 20)
A conversation with your partner or someone close to you could help you with seeing something in a new light. As such, be open to feedback or discussing what's on your mind. At the same time, relationships are your best bet for learning more about yourself. Welcome the lessons.
Cancer (June 21 - July 22)
If you've been thinking about asking for a raise, now is a good time to start building your case for one. You could be pleasantly surprised at the results. Meanwhile, it may be time for you to stop obsessing over a certain situation or someone and let things go once and for all.
Leo (July 23 - Aug. 22)
While there's a chance that you could make a love connection with someone today, your success depends on how you think about romance and relationships. In other words, make sure you've got the right attitude. Also, be open to feedback/assistance on a creative project.
Virgo (Aug. 23 - Sept. 22)
A conversation with a family member or someone you're close to could be incredibly healing for you today, so if there's something you've been wanting to talk about, it's a good time to chat. On a different note, make sure to take a moment for yourself to quiet and nourish your mind.
Libra (Sept. 23 - Oct. 22)
The creative inspiration continues and there's a chance that you could manifest an opportunity (perhaps through word of mouth or someone you know) based on your creative skills. And speaking of skills, this could also be a good time for expanding yours and learning something new.
Scorpio (Oct. 23 - Nov. 21)
You could manifest a financial opportunity or a job offer today. Though you may need to take some time to figure out if it's something you actually want. Trust your instincts on this one. Meanwhile, keep in mind that what you have (or don't) doesn't determine your value.
Sagittarius (Nov. 22 - Dec. 21)
You might be feeling extra opinionated and chatty today but you may need to consider if the conversations your having and the thoughts your sharing are a good use of your time. In other words, make your words count. Remember that what you say has an impact.
Capricorn (Dec. 22 - Jan. 19)
If you find yourself feeling a bit insecure today, it may help to meditate on the reasons why you're so special in the first place. Write it down if you have to. Overall, it's time for you to start deprogramming yourself when it comes to old, outdated thinking that may be holding you back.
Aquarius (Jan. 20 - Feb. 18)
A conversation with a friend could provide you with the healing salve that you need today, especially if you find yourself feeling a bit moody or frazzled. Meanwhile, your reputation continues to generate buzz and applause, reminding you of just how much of an impact you have on others.
Pisces (Feb. 19 - March 20)
While things may have felt a bit bleak where your professional life is concerned, you may get some sort of confirmation today that you're headed in the right direction. And that confirmation could come from a series of synchronous events. Keep the faith and your eyes on the prize.