Here's Your Horoscope For Today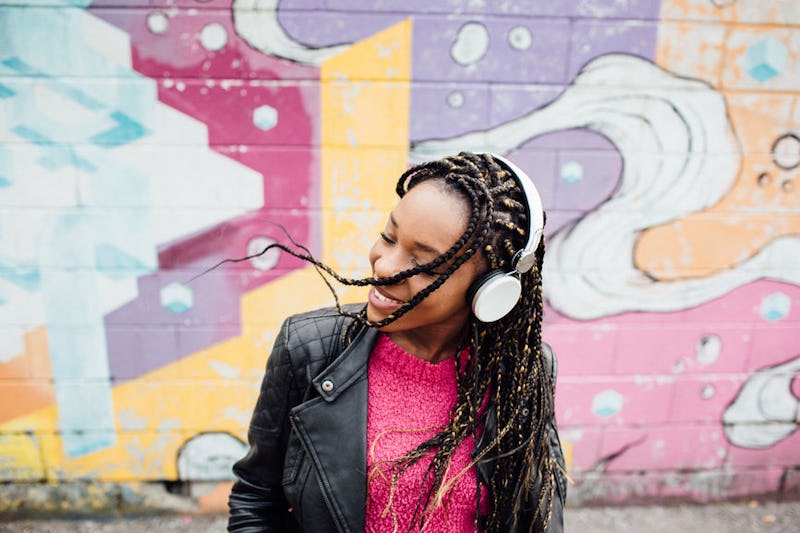 Michela Ravasio/Stocksy
We're constantly fascinated by what our zodiac sign says about our lives, whether it's which signs are most compatible or how each sign handles conflict in relationships. That's why Bustle has enlisted Mecca Woods, a New York City-based astrologer of MyLifeCreated.com, to tell us all about how astrology is affecting our lives each day. Today's topic: your daily horoscope for November 26, 2018.
The Moon is in tenderhearted Cancer today, putting us in the mood to get cuddly and cozy, namely with the ones we love. Though the day starts off a bit bumpy as Mercury retrograde in Sagittarius squares off with angsty Mars in Pisces, which could make the atmosphere ripe for arguments and misunderstandings. The best way to channel this Mercury-Mars energy is to use it to speak out on behalf of others or to challenge outworn beliefs or perceptions. Later in the day, the Cancer Moon opposes powerful Pluto in Capricorn, which could have us ready to push our limits (and the limits of others) when it comes to getting what we need. The best way to use this Moon-Pluto combination is to work on healing old wounds and finding our personal power while releasing unhealthy emotional ties that no longer benefit us.
By late tonight, the Cancer Moon squares off with Venus in Libra, which puts us as at odds with what we want and what we need. Though getting what need may actually be the better and more fulfilling option. Still despite today's hiccups, today's rare meet up between the confident Sun and lucky Jupiter in optimistic Sagittarius will be providing some good vibes throughout the day that can help to ensure that everything all works out for the best.
Read below to see what the stars mean for your sign today, and be sure to check out your November 2018 horoscope.
Aries (March 21 - April 1)
You may not be seeing something or someone as clearly as you should be right now, which is a good indication that you may need to take a step back to get the full picture. If you're feeling a bit introverted today, take it as good thing. Though don't discount your need for family.
Taurus (April 20 - May 20)
A financial matter could throw a snag in a plan that you hoped would come true. While the situation is only temporary, it may require that you go back to the drawing board for a bit and fine tune your plan. Try not to obsess too much over the problem. A solution is possible.
Gemini (May 21 - June 20)
You might find yourself rethinking a professional relationship today, which can be good thinking if you're looking to renegotiate your salary. Remember that your talent has a value. Don't undersell it. In matters of the heart, go where you feel the most fulfilled.
Cancer (June 21 - July 22)
Be mindful who you give your energy to today, as not everyone will be worthy of your time and attention. In fact, don't be shy about putting your needs first, as you need to take a moment out just for you. Overall, when it comes to your well-being it's time to give yourself your all.
Leo (July 23 - Aug. 22)
A romantic situation could have your head spinning today but a little discernment could go a long way. Though, love is about to surprise you in a good way. Meanwhile, if you're feeling low energy, pushing yourself today may only make it worse. Take the time that you need to rest.
Virgo (Aug. 23 - Sept. 22)
A friend or someone close to you may be extra demanding today, which could have you feeling a way. Acquiescing to this person may do more harm than good, so don't be shy about speaking up. Remember that your worth isn't dependent on how much you do for others.
Libra (Sept. 23 - Oct. 22)
Are you a little too worried about what others think about you today? Keep in mind that the only opinion that matters about you is your own. Meanwhile, you could find yourself bursting at the seams when it comes to an idea. Don't talk yourself out of making a move on it.
Scorpio (Oct. 23 - Nov. 21)
When it comes to love, make sure that you're not putting all your hopes onto someone that may not be the right match for you. Not only should you call on your intuition when it comes to making a decision, you should also call on your self-worth. In other words, value yourself.
Sagittarius (Nov. 22 - Dec. 21)
You may be feeling conflicted with yourself today as to whether you can actually pull off a plan that you've been working on or get the thing that you've been desiring. Know that the only thing getting in your way right now is you, Sagittarius. Let the past go and reclaim your power.
Capricorn (Dec. 22 - Jan. 19)
Today you receive yet another reminder on how important it is for you to do things that nourish and replenish your soul, including building close, nurturing relationships. At the same time, when it comes to getting something you want, you're also reminded to have faith.
Aquarius (Jan. 20 - Feb. 18)
When it comes to something you've been planning or wishing for, have you created the space necessary in your life to receive it? If not, it's time to do some "housekeeping" and clear out the clutter. Start with the way you think about the future. There's more out there for you.
Pisces (Feb. 19 - March 20)
When it comes to love, someone that you're dating may not be giving you the kind of intimacy that you're craving right now. Though it's up to you to get clear about what you really want. This applies if you're single, too. Remember that you have some say in how your life unfolds.