Here's Your Horoscope For Today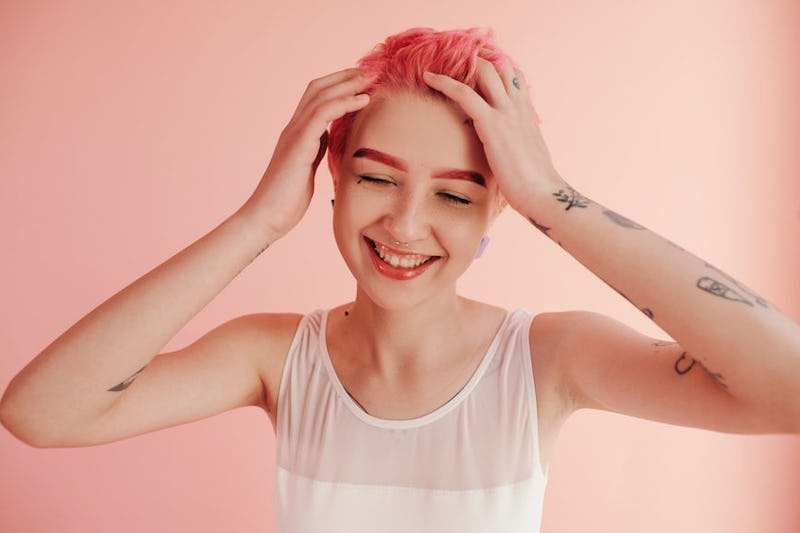 Sergey Filimonov/Stocksy
We're constantly fascinated by what our zodiac sign says about our lives, whether it's which signs are most compatible or how each sign handles conflict in relationships. That's why Bustle has enlisted Mecca Woods, a New York City-based astrologer of MyLifeCreated.com, to tell us all about how astrology is affecting our lives each day. Today's topic: your daily horoscope for November 8, 2018.
Oh happy day! After 12 years, planet Jupiter (the planet of expansion, good fortune, and goodwill) moves home to happy-go-lucky Sagittarius early this morning, where it will stay until December 2, 2019. If we've been feeling less than optimistic, uninspired, and just plain unlucky, Jupiter in Sagittarius will help to turn things around. Plus with the Moon leaving emotionally intense Scorpio this afternoon and entering Sagittarius, we get a double dose of good vibes.
With the Moon in freedom-loving Sagittarius coupled with yesterday's New Moon energy, we should find ourselves ready to move into new territory and to boldly begin new chapters in our lives. This feeling will be stronger as the Moon and Jupiter team up in Sagittarius later in the afternoon. Though with Mercury retrograde approaching, it's probably best to start laying the foundation for something new rather than jump right out of the gate with it.
At best, this Moon-Jupiter combination will make us feel happier and more hopeful than we've felt in a while.
Read below to see what the stars mean for your sign today, and be sure to check out your November 2018 horoscope.
Aries (March 21 - April 1)
You're in an adventurous and upbeat mood today and as such, you might find yourself ready to book a trip out of town or looking for something new and exciting to get into. If there's at least one thing you do today, it will probably involve rekindling your faith.
Taurus (April 20 - May 20)
Your finances could get a boost today as you could receive extra cash through a commission, loan, insurance payout, or some other lump sum. Overall, you should be feeling more optimistic about your financial future. In matters of the heart, you can get the intimacy you crave.
Gemini (May 21 - June 20)
It's all about partnerships today, as you could meet someone either in business or romance that helps to improve and expand your life in some way. You might even take on a coach or mentor to help you with reaching a goal. Overall, how can you make your relationships count?
Cancer (June 21 - July 22)
If your professional life has left little to be desired, you could be motivated to finally take a risk to do something about that. You could uncover a bounty of promising job leads now or even manifest an offer. Things may get extra busy, so make lots of room for self-care.
Leo (July 23 - Aug. 22)
Fun and romance are on the horizon today and they can't seem to come at a better time, as you're in need of things that uplift your spirit. When it comes to love specifically, you could find yourself feeling a renewed sense of hope in meeting someone special.
Virgo (Aug. 23 - Sept. 22)
Home and family are on the agenda today and you're encouraged to connect with those you love, especially if you're feeling pretty nostalgic. Some Virgos might even benefit from taking the day off and getting comfy and cozy at home. Meanwhile, is it time for a home upgrade?
Libra (Sept. 23 - Oct. 22)
It's time for a fresh perspective, Libra. Look to getting into activities or reading material today that helps you to expand your mind and your awareness. Meanwhile, the right conversation at the right time could bring a great opportunity your way. Keep your ears open!
Scorpio (Oct. 23 - Nov. 21)
You've got your money on your mind today as you're thinking about your financial security. The good news is that you could possibly manifest a job offer or some extra money today. On the flip side, you may want to watch for overspending. But a little treat could be nice.
Sagittarius (Nov. 22 - Dec. 21)
Sagittarius! You're known as the luckiest sign in the zodiac and today you may get to see why that's not just a rumor. If you've been feeling low, get ready to have your spirits lifted. It's time for you to start believing in yourself again and all of the good life has to offer you.
Capricorn (Dec. 22 - Jan. 19)
It's time for a little rest and relaxation, Capricorn. Or maybe a whole lot of rest and relaxation. If you're feeling a bit run down and sluggish today, take it as a sign to kick back and take care of yourself. At the same time, how are you getting your spiritual nourishment? Work on it.
Aquarius (Jan. 20 - Feb. 18)
Your friends come to the rescue today, which can be helpful if you've been hyper-focused on your career and goals. So, if invited out, make some time to socialize and gather with your friends. You could use the company. On another note, you could meet someone influential.
Pisces (Feb. 19 - March 20)
Are you ready to level-up, Pisces? You should be because the next stop you're headed to is the top. Though getting there will require that you truly believe in yourself and what you do. Remember that you're here to do something special. Keep your eyes on the prize.