Here's Your Love Horoscope For The Weekend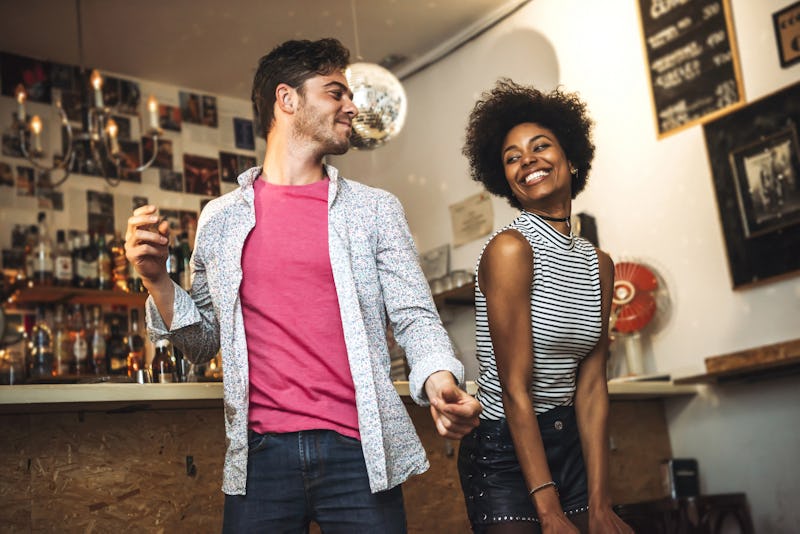 Fotolia
We're constantly fascinated by what our zodiac sign says about our lives, whether it's which signs are most compatible or how each sign handles conflict in relationships. That's why Bustle has enlisted Mecca Woods, a New York City-based astrologer of MyLifeCreated.com, to tell us all about how astrology is affecting our lives each week. This week's topic: your weekend love horoscope for Feb. 11-12 2018.
Love and relationships get a big boost this weekend as Venus, the planet of beauty and romance, enters sentimental and affectionate Pisces on Saturday evening. With Venus transiting through one of the best signs for her to be in, thanks to Pisces' naturally loving and compassionate nature, the weekend should be chock full of romantic date nights and encounters. The Moon in fiery Sagittarius gets the sparks going early Saturday and by Saturday evening, the Moon shifts into commitment-oriented Capricorn, putting us in the mood for quality time with a special person. If things don't run as smoothly in our love lives as we'd like this weekend, we can look to the Moon and Saturn syncing up in Capricorn on Sunday to help us sort things out.
Read below to find out what this weekend's stars mean for your love life.
Aries (March 21 - April 19)
Romance may feel like the stuff of fairy tales this weekend as you find yourself craving some serious tenderness and intimacy. While you're thinking about your perfect mate, make sure you hold yourself to that standard while entertaining potential matches. Hold out for the best.
Taurus (April 20 - May 20)
When it comes to finding love, it's time for you to challenge some of the ideals or convictions that you hold about love and relationships, especially those that may be outdated and holding you back. On separate note, you could meet a special person at a volunteer or humanitarian event.
Gemini (May 21 - June 20)
You could be feeling a bit down on love this weekend, but if things haven't been going your way, don't lose hope. You're being asked to break yourself free of unhealthy relationship patterns and get clear about what you really want in love. Meanwhile, couples should start planning for the future.
Cancer (June 21 - July 22)
If you're already with the love of your life, this weekend could be quite the romantic one, especially if a weekend getaway or trip is involved. If you're single, you could meet someone with long-term potential by way of travel or by attending an educational event. Adventure is an aphrodisiac.
Leo (July 23 - Aug. 22)
You could meet someone this weekend in a way that feels destined or meant to be. This quite possibly could be true, though you may want to move slowly before becoming entirely vulnerable with them. However, this may prove to be hard to do. Just make sure you're getting your due in love.
Virgo (Aug. 23 - Sept. 22)
While love seems pretty stop and start lately, the slowdown you're experiencing is because your tastes are maturing, not because you're not in demand. That said, this could be the kind of weekend where you meet someone that matches the standards you've set. This looks promising.
Libra (Sept. 23 - Oct. 22)
Love could find you in places where you least expect it this weekend, perhaps on the way while running an errand or through a co-worker (maybe with a co-worker?). Keep your heart open and ready for love; it will find you. Also, the "unsexy" parts of a relationship are necessary, too.
Scorpio (Oct. 23 - Nov. 21)
Valentine's Day might show up early for you this weekend. This means if you're single and looking for love, you could meet someone that sweeps you off of your feet. This is a good thing, as you could use some tenderness and romance in your life. Coupled Scorpios? Go all out for date night.
Sagittarius (Nov. 22 - Dec. 21)
You may be up for fun at the start of the weekend, but things get a bit more serious as you find yourself thinking about love for the long-term. While you may be tempted to go for a casual affair, at the end of the day, you need something more stable and emotionally nourishing. Honor that need.
Capricorn (Dec. 22 - Jan. 19)
You might be able to literally charm the pants off people this weekend as cosmos blesses you with the knack for saying all the right things. When it comes to meeting someone new, you might want to think along the lines of attending events that spark conversation, ideas, and new experiences.
Aquarius (Jan. 20 - Feb. 18)
An online flirtation could bring you a love match, while attending a social event could also get the sparks flying. Either way, focus on what you want in love as opposed to what you don't want, and have a little faith that your wishes will be granted. Overall, don't get hung up on the past.
Pisces (Feb. 19 - March 20)
This weekend may be considered a bit of a prelude to your birthday as the cosmos pays some extra special attention to you, helping you to attract admirers from near and far. If single, the chances of meeting someone increase, especially while out with friends. A new look could be sexy.