Here's Your Love Horoscope For The Weekend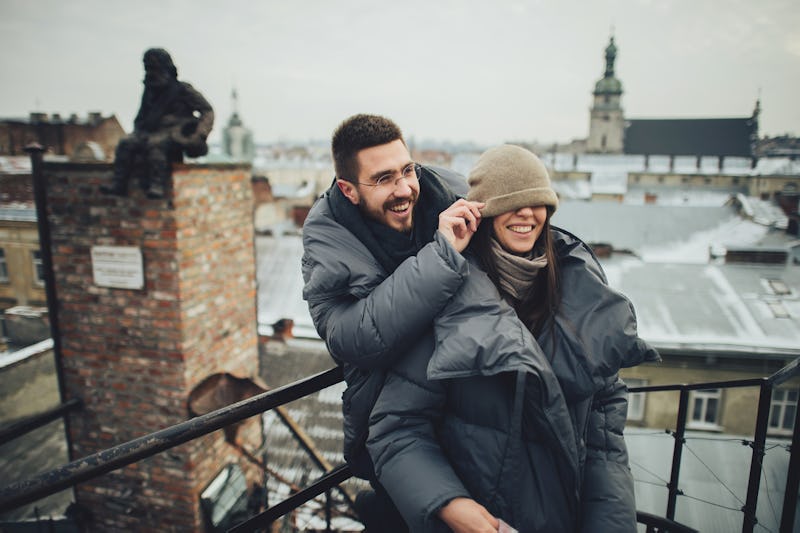 VAKSMANV/Fotolia
We're constantly fascinated by what our zodiac sign says about our lives, whether it's which signs are most compatible or how each sign handles conflict in relationships. That's why Bustle has enlisted Mecca Woods, a New York City-based astrologer of MyLifeCreated.com, to tell us all about how astrology is affecting our lives each week. This week's topic: your weekend love horoscope for Jan. 20-21 2018.
The romantic vibes are strong this weekend with the Moon in loving and tender Pisces for most of the weekend. This means that when it comes to relationships, we'll be looking for something genuine and heartfelt, if only for the moment. For those of us in long-term relationships, this weekend could be perfect for a relaxing getaway for two, a romantic date night, or a cozy evening in. For singles looking for love, this could be a good time for getting out and flirting with a cute stranger or two as the mystery and allure will make for some heady experiences.
However, with the Moon conjoining dreamy Neptune in Pisces on Saturday afternoon, we may need to be mindful of wearing rose-colored glasses when it comes to getting to know someone new. As always, it's best to trust our intuition. When the Pisces Moon meets up with Mercury in clearheaded Capricorn by Saturday eve, we should have an easier time seeing people as they are instead of what we want them to be. Still, this Moon-Mercury match up can be good for trading love notes and intimate conversations.
By Sunday, the passion intensifies as the Pisces Moon meets up with Pluto in Capricorn and Mars and Jupiter in Scorpio. While Pisces isn't known for commitment, this planetary combo could have us playing for keeps.
Read below to find out what this weekend's stars mean for your love life.
Aries (March 21 - April 19)
A social gathering or event could have you crossing paths with a sexy someone that may have you feeling like it was act of fate. While the connection will be impossible to deny, make sure you're seeing this person with clear eyes. Enjoy the electricity but trust your intuition.
Taurus (April 20 - May 20)
It's time to spice things up a little when it comes to you and your bae. Trying something new together could help with rekindling the spark. Meanwhile, when it comes to meeting someone new, it may be time to go off the beaten path. Push yourself to explore new place or take a new approach.
Gemini (May 21 - June 20)
When it comes to love, not only is it helpful for you to be clear about what you want, it's also helpful to be receptive to it. Otherwise if you keep focusing on what you don't want, you'll continue getting more of the same. Also, travel could bring love if single, while a weekend getaway is just what couples need.
Cancer (June 21 - July 22)
You could feel like you're in wedded bliss with your bae this weekend, if you're not already there, which means that the bond between you is only getting stronger. If single, be on the lookout for someone special. It looks like this person has the ability to provide you with the intimacy and stability you need.
Leo (July 23 - Aug. 22)
You could make a love match this weekend with a soulful kind of vibe. While it will be hard not to throw yourself in to this connection head first, it may be helpful to go slow. Don't ignore the power of your gut instincts. Still, what this person has to offer you could be sweet. Make sure they're on your level.
Virgo (Aug. 23 - Sept. 22)
You could meet someone this weekend that sweeps you off of your feet, but before you get too carried away, it may help to keep some of your wits about you. You don't have to be closed off to love, but you do have to be discerning. Don't rule out your intuition either. Give yourself time to investigate.
Libra (Sept. 23 - Oct. 22)
Valentine's Day may come early for you this year as Cupid shoots some arrows your way. Make your biz to get out and mingle this weekend as a love connection won't be hard to find, especially while you're having fun. Just make sure the person that catches your eye wants the same things you do.
Scorpio (Oct. 23 - Nov. 21)
Love is in the air for you this weekend, especially as others find you harder to resist than usual. If you've got a bae, make time for a romantic evening out. Single? Ask as friend or sibling to hook you up with someone they know, you won't be disappointed. Either way, it's time to open up your heart.
Sagittarius (Nov. 22 - Dec. 21)
You might be in the mood to stay home and get cozy with your bae this weekend. Though if you're single, you could find yourself in your feels about love. If this is the case, try not to dwell on past disappointments and relationships, as something better is on the horizon for you. Believe it.
Capricorn (Dec. 22 - Jan. 19)
An online connection could be heating up for you this weekend. Though it may not necessarily lead into anything long-term, it could still be fun to get out and enjoy the good company of another. If online dating isn't your thing, there's still the possibility of meeting someone at a favorite local spot.
Aquarius (Jan. 20 - Feb. 18)
You're the cosmic hottie now, which means you should have no shortage of admirers looking to get next to you. However, when it comes to getting what you want in love, you have to make sure you hold yourself to a higher standard. You don't have to settle for just any old person that comes your way.
Pisces (Feb. 19 - March 20)
It's possible that you could meet someone new through a friend or perhaps taking a chance with an online date. Though it helps to be clear about what you're looking for in love. You're at your most magnetic this weekend when you let the adventurous side of you free. Go where you're inspired.