Here's Your Love Horoscope For The Weekend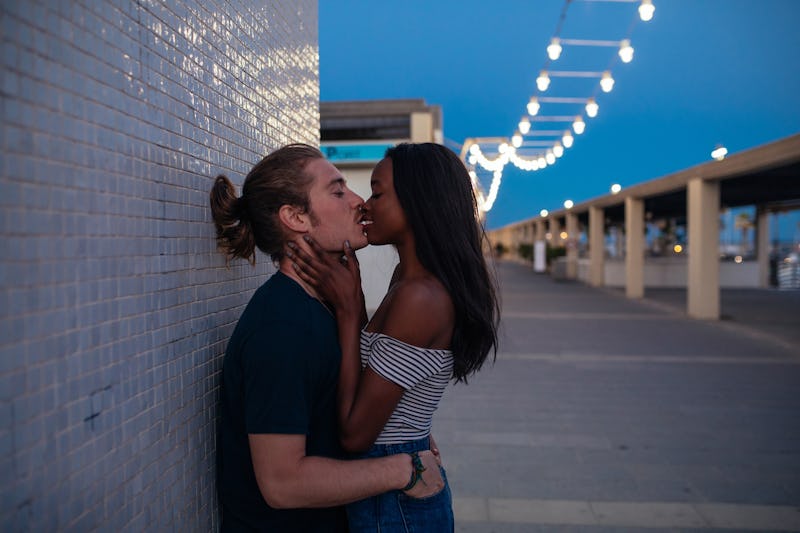 bernardbodo/Fotolia
We're constantly fascinated by what our zodiac sign says about our lives, whether it's which signs are most compatible or how each sign handles conflict in relationships. That's why Bustle has enlisted Mecca Woods, a New York City-based astrologer of MyLifeCreated.com, to tell us all about how astrology is affecting our lives each week. This week's topic: your weekend love horoscope for June 10-11, 2017.
This weekend, quality and commitment are the themes we'll be working with as the Moon leaves freedom-loving Sagittarius early Saturday morning for dedicated and hard working Capricorn. While a Capricorn Moon isn't the most touchy-feely of moons when it comes to relationships, it can help us to take a sobering, realistic, and responsible approach to love. If single, the Capricorn Moon can help us to steer clear of those that may waste our time, while helping us to be mature enough not to waste anyone else's. If in a relationship, having the Moon in Capricorn can help us to find the resolve and determination we need to weather the storm of a relationship in a "through thick and thin" kind of way.
By Saturday afternoon, the Moon meets up with Mars in Cancer, which could bring up relationship tensions. However, we can use this combination to openly address any problems or challenges with our lovers or significant others. Things calm down significantly when the Capricorn Moon stops by for a friendly meeting with sensual Venus in Taurus by late Saturday afternoon, turning up the craving for sex, romance, and pleasure. We should make plans to grab the one we're with and indulge. If we happen to find ourselves alone, this Moon-Venus combo can help us to get clear about what we want and provide us with the motivation to improve our love lives.
Moon then goes off to meet dreamy Neptune in Pisces, which can help us to renew our faith.
Come Sunday, the Moon squares off with Jupiter in Libra, which could end up sticking a pin in something we've been hoping for when it comes to a relationship or relationship matter. However, the Moon then goes off to meet dreamy Neptune in Pisces, which can help us to renew our faith. The evening ends with a merger between the Moon and Pluto in Capricorn. Love won't be taken lightly.
Read below to find out what this weekend's stars mean for your love life. And remember to tune into Bustle's weekly horoscopes video live on Facebook every other Monday at 5 p.m. ET for a rundown of your weekly horoscope.
Aries (March 21 - April 19)
Sometimes a person that looks good on paper isn't always the best match for you. This weekend, you'll find yourself succeeding in love when you care less about what others think you should be doing when it comes to your heart. Only you can really determine what value system you should live by.
Taurus (April 20 - May 20)
You may like you routines, but this weekend if you want to find love, you may need to shake things up a bit. You could meet a charming and adventurous soul that tickles your fancy while opening yourself up to something new. If you're in a relationship already, get out of the house and have fun.
Gemini (May 21 - June 20)
You could attract someone this weekend with a soul mate kind of potential. If the attraction between you two is mutual, you'll find it impossible to shake. The only caveat here is making sure this person wants more than a brief fling (if you want more than that). Established relationships deepen.
Cancer (June 21 - July 22)
You're in for a hot and spicy time this weekend as you can have an instant attraction or match with a sexy stranger. It's possible that you could meet this person online or through a friend so make sure you make your rounds. If coupled up, you do well when you channel the passion into the bedroom.
Leo (July 23 - Aug. 22)
When it comes to love, it's not always enough to know what you want. You have to be willing to do the work to actually get it. This may mean it's time to say goodbye to an ex or to stop giving time to those you know will waste your time. Love and relationships are about what you put into them too.
Virgo (Aug. 23 - Sept. 22)
You're winning at love this weekend whether it comes to making new matches or a date night out. There's a possibility that someone you could match well with this weekend may not be your typical type. A weekend road trip with friends could also bring love. Make sure you share the same values.
Libra (Sept. 23 - Oct. 22)
You may need to do some soul searching this weekend when it comes to a relationship. Do you feel as supported as you should be? This could be an incredible time for intimacy though you'll have to make sure you and your partner or your potential partner is on the same page with you.
Scorpio (Oct. 23 - Nov. 21)
Love is juicy for you this weekend as your opportunities for meeting a new sweetheart will be plenty. Romance could be found through travel or my taking time to try or explore something new. Your passion and sense of adventure is an aphrodisiac. Couples should take a weekend trip.
Sagittarius (Nov. 22 - Dec. 21)
It's time to get your priorities in order when it comes to love, as the same old thing and the same old approach won't do. What do you value in a partner? What do you really want from a relationship? If you're in a relationship currently, can you truly be yourself? Couples may have to talk money.
Capricorn (Dec. 22 - Jan. 19)
You may find yourself in high demand now, as you're giving off some seriously sexy vibes. With your magnetism shooting through the roof, you shouldn't have a hard time making a love match or two if looking. Coupled Capricorns work best when having fun. Don't worry about what others think.
Aquarius (Jan. 20 - Feb. 18)
It's a Netflix and chill kind of weekend, as you may find yourself wanting cuddles and kisses from bae on a cozy spot on the couch. If the weather is nice enough, an intimate picnic or some lazy time on a semi-secluded beach might do as well. Single Aquarians must work on letting go of the past.
Pisces (February 19 - March 20)
Romance is in the air for you this weekend, as gatherings and social events with friends could have you meeting someone new. Though you'll have to make sure that love match goes beyond what immediately meets the eye. Meanwhile, couples win by bringing back the spontaneous fun.