Here's Your Love Horoscope For The Weekend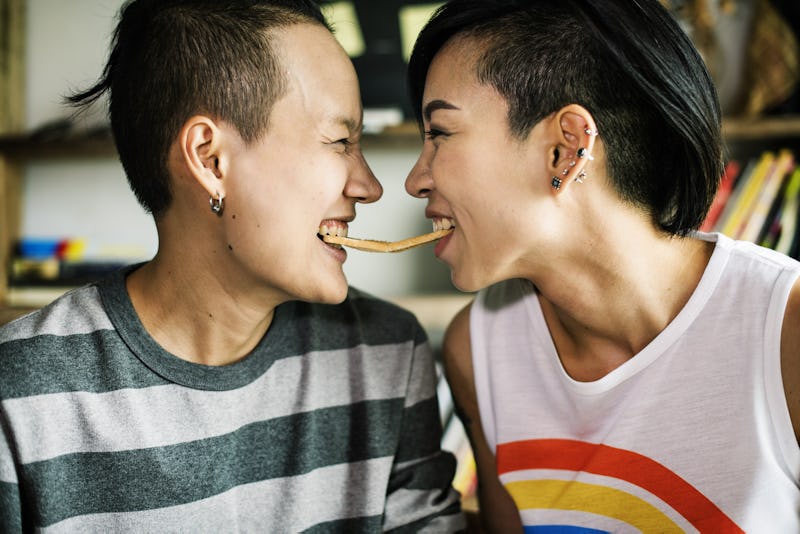 Rawpixel.com/Fotolia
We're constantly fascinated by what our zodiac sign says about our lives, whether it's which signs are most compatible or how each sign handles conflict in relationships. That's why Bustle has enlisted Mecca Woods, a New York City-based astrologer of MyLifeCreated.com, to tell us all about how astrology is affecting our lives each day. Today's topic: your weekend love horoscope for June 16-17, 2018.
Now that Venus is in romantic and playful Leo, romance is fun again. And with the Moon also in Leo this weekend, we should find ourselves getting in on some of that fun too, especially when the Moon and Venus team up early Saturday morning — setting the tone for the day. Plus, by Saturday evening, when the fiery Leo Moon opposes Mars in Aquarius, it will be hard for the sparks not to fly. Sunday might be a fun day too, with the Moon teaming up with the Sun in social Gemini, putting us all in the mood to flirt.
If single and looking to date, our best chances of meeting someone new this weekend happens by getting off the couch and out of the house for some entertainment. Will a steamy connection happen on the dance floor or with the cutie standing next to us at a concert? With Mars in Aquarius in the mix, pleasant surprises are abound. If you're already attached, there's no time like this weekend to rekindle the flame.
Read below to see what the stars mean for your sign this weekend.
Aries (March 21 - April 19)
Romance sizzles for you this weekend, which means if you're looking to make a love connection, you won't have to try too hard. Being out and about having fun is what will bring you the most attention when it comes to admirers. You could also meet someone through a friend.
Taurus (April 20 - May 20)
You might not be in the party mood this weekend, though should you decide to attend a backyard barbecue or a family gathering it's possible that you could meet someone new. If you have a bae, you might want to tear yourself away from work and set some time aside for love.
Gemini (May 21 - June 20)
Being the social butterfly you are, it's hard for others to resist your charms and this weekend it will be even harder as you seem to be in just the right place and know exactly what to say to reel admirers in. A love match is possible both on and offline, so get to doing what you do best.
Cancer (June 21 - July 22)
When it comes to love, your magnetism is through the roof now which means that just about everyone will be beating down your door trying to get next to you. However, make sure you vet carefully as not everyone is worth your time and attention. Knowing your worth is truly sexy.
Leo (July 23 - Aug. 22)
It's not even your birthday, but you're what's hot in the streets right now. With the power to wow and woo just about anyone you like, you probably won't find yourself alone for long. Above all, enjoy yourself. Happiness is attractive.
Virgo (Aug. 23 - Sept. 22)
You might find yourself smitten with someone this weekend in a way that you haven't felt in a while. Enjoy the warm and gushy feelings this person is giving you but make sure that you're seeing them as they are and not how you want them to be. In other words, you're not here to rescue anyone.
Libra (Sept. 23 - Oct. 22)
Your love life gets some much needed heat this weekend, which means you can expect some sexy times. Parties and social gatherings are where it's at this weekend, so make sure that you're out and about with friends. One of them will be more than happy to play wingperson for you. You won't need it though.
Scorpio (Oct. 23 - Nov. 21)
You might be more focused on work-related matters this weekend than romance but if you're on a business trip or attending a work-related event, it's possible you can still get in on the romantic action going down this weekend. Still, when it comes to love focus on your long-term goal.
Sagittarius (Nov. 22 - Dec. 21)
This weekend, love happens when you do what you do best — travel. Even if you can't get out of the country (or the state), a venture out of the city will do. You might even make a love connection with someone born of a different country or culture. Let your mind and your heart run wild.
Capricorn (Dec. 22 - Jan. 19)
You're feeling pretty sexy this weekend, so you might as well go out and flaunt it. The erotic vibes you'll be giving off will be hard for potential mates and dates to ignore. You might even meet someone new in a way that feels fated. Watch out for the sexy stranger that triggers your insecurities.
Aquarius (Jan. 20 - Feb. 18)
With your confidence at an all time high, attracting a lover should be pretty easy peasy this weekend. The possibility of meeting someone with commitment potential is strong, so don't let it scare you. You deserve someone that's as equally invested in your happiness as you are.
Pisces (Feb. 19 - March 20)
You might not have a ton of energy this weekend to get out and play, which might not necessarily be a bad thing, as you could stand to take some time out to focus on yourself. Still it's possible that you could meet someone while running errands or en route to yoga or the gym. Stay positive.