Here's Your Love Horoscope For The Weekend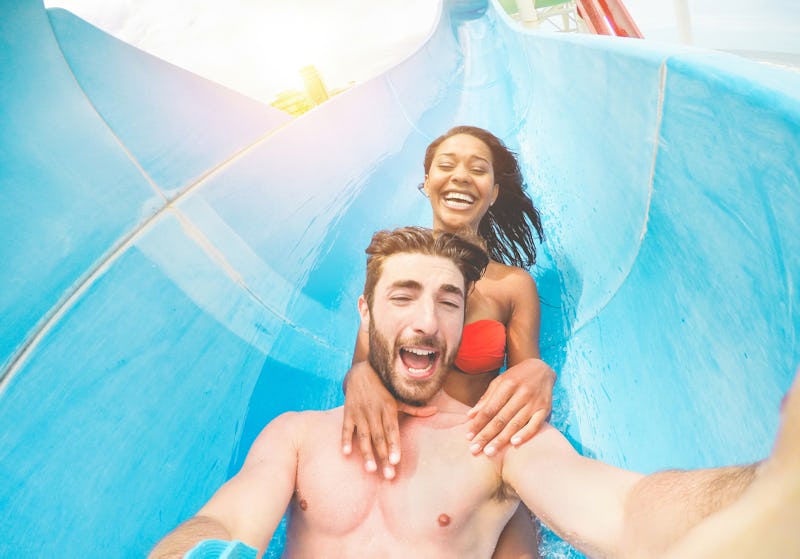 DisobeyArt/Fotolia
We're constantly fascinated by what our zodiac sign says about our lives, whether it's which signs are most compatible or how each sign handles conflict in relationships. That's why Bustle has enlisted Mecca Woods, a New York City-based astrologer of MyLifeCreated.com, to tell us all about how astrology is affecting our lives each day. Today's topic: your weekend love horoscope for June 2-3, 2018.
Though love planet Venus is still in sensitive and intimate Cancer, this weekend love favors an unconventional and objective approach with the Moon moving into Aquarius on Saturday evening. Before then, Venus meets up with dreamy Neptune in Pisces on Saturday morning, which could help get us into a romantic mood. Though ultimately, we'll do best by not getting attached to a specific outcome when it comes to our love lives and being open to something new. With the Aquarius Moon squaring off with Uranus in Taurus by Saturday evening, spontaneity is the aphrodisiac of choice. Some of us may even find ourselves being attracted to people that may not fit our usual type.
While the Moon and Mars meet up in Aquarius on Sunday could bring up a few arguments, the supercharged energy could also stimulate our brains too, making for some titillating conversation on and offline. Overall, come Sunday, we're in a fun and flirty mood as the Aquarius Moon teams up with the Sun and Mercury in chatty Gemini. However, it should be said that if a love connection fails to stimulate our minds, it probably won't go far.
Read below to see what the stars mean for your sign this weekend.
Aries (March 21 - April 19)
You're in an affectionate mood this weekend, so don't be surprised if you're more interested in cuddling up with your bae than dashing off to your next adventure. If single, don't ignore the feelings tugging at your heart. Intimacy is what you need now. You could meet someone through a friend.
Taurus (April 20 - May 20)
You're not the type to settle when it comes to getting what you want but oftentimes when it comes to life, it doesn't always go the way you think it should. This weekend, it may help to apply this sentiment to your love life. Not that you have to settle, but don't get attached to a specific outcome.
Gemini (May 21 - June 20)
You might have more ants in your pants than usual this weekend, which means if you're looking for love, a weekend adventure via travel or an outdoorsy activity will bring the boys or girls to the yard. With your confidence being higher than its been in a while, flirt like you mean it.
Cancer (June 21 - July 22)
If you have a partner, the two of you may need to sit down this weekend and discuss finances or something else that you may have been avoiding. By addressing it head on, you can strengthen your bond. If single, your allure will be hard for others to resist. Work it to your advantage.
Leo (July 23 - Aug. 22)
The theme might be love and war this weekend as the person you're seeing could get under your skin. There may need to be a conversation had around the expectations of the relationship. If single, you're reminded that true love doesn't follow a template. P.S. don't gloss over red flags.
Virgo (Aug. 23 - Sept. 22)
You might be focused more on work than romance this weekend but you can still get in on the fun. Attending a social gathering with friends could help you to meet someone new, while online dating could also bring you a gift. At the very least, the conversation won't be boring. Have fun!
Libra (Sept. 23 - Oct. 22)
Things may be getting spicy this weekend when it comes to your love life, but it may be along the lines of a fling rather than something long-term. That's OK. A little experimentation/variety can help you get clearer on what you actually want. Meanwhile, enjoy the sex. It won't be boring.
Scorpio (Oct. 23 - Nov. 21)
Has the time come for you to let go of a dead-end relationship? You might find yourself running up against a wall of frustration this weekend by trying to keep something going that shouldn't. Have some faith in love, Scorpio. There's more out there for you if you're open to it. Let go.
Sagittarius (Nov. 22 - Dec. 21)
You're looking for something long-term rather than short term-these days and it may be time for you to get honest with yourself about your needs. Meanwhile, your mind is one of your sexiest attributes, so show it off this weekend. You might strike a connection while out learning something new.
Capricorn (Dec. 22 - Jan. 19)
As your love life continues to heat up, this weekend you might find that what you used to be into when it comes to love and sex is no longer what you're into. This is encouraging, as variety is the spice of life. Plus, you were due for a growth spurt anyway. Couples win with some spontaneity.
Aquarius (Jan. 20 - Feb. 18)
Your confidence is skyrocketing off the charts this weekend, so work that to your advantage. After all, confidence is undeniably sexy. If there's someone you've got your eye on, make it known. You just might like the response you get back. A fun evening out could also bring love.
Pisces (Feb. 19 - March 20)
While you prefer to have your romances with a heaping dose of intimacy, this weekend that craving won't be hard to deny. This is a good thing as it will make it less likely for you to settle. You'll have plenty of opportunities this weekend to meet someone new but don't ignore your intuition.