You're Breaking Sutton Foster's Heart & You Don't Even Know It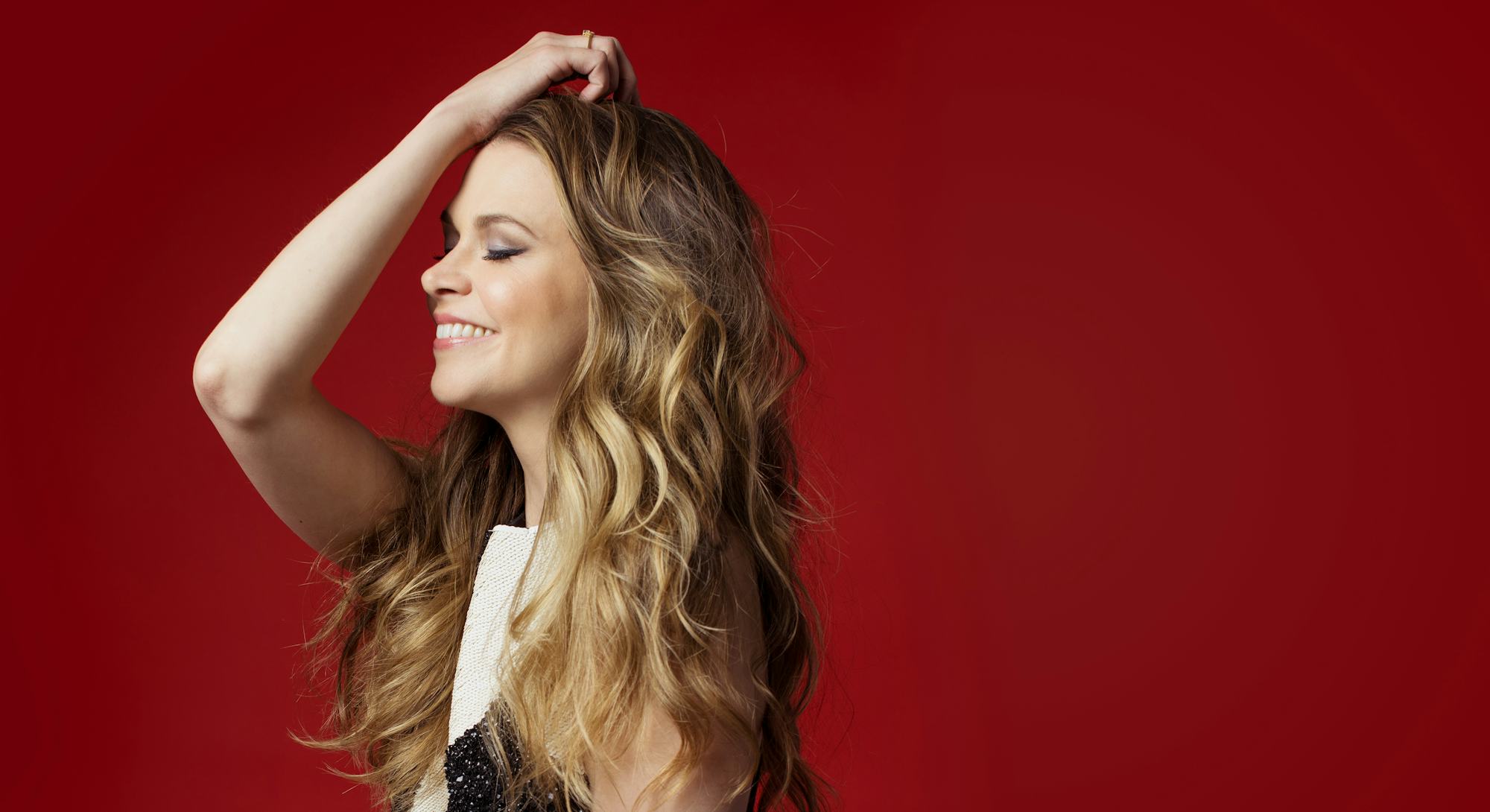 Photography: Ashley Batz
Fun fact: Sutton Foster can sing. Yes, really. The star of Younger, Bunheads, and the Gilmore Girls revival also happens to be a Tony-Award-winning Broadway legend who's belted tunes in everything from Les Mis to Thoroughly Modern Millie. For millions of viewers, this might come as a shock. Despite having been one of theater's biggest stars for three decades and counting, Foster isn't exactly a household name for non-New-Yorkers. Yet thanks to Younger's success, that's all starting to change, one chance encounter at a time.
"I got stopped in a rest stop bathroom in the middle of the country," Foster recalls, a smile on her face and her eyes closed as her makeup artist retouches her liner during a recent shoot in Bustle's New York studio. "And someone was like, 'Oh my gosh, you're on Younger!'"
"And I was like, OK, I've made it," she says with a laugh. "I've made it outside of New York."
To a large number of theatergoers on the East Coast, the idea of Foster just "making it" now is beyond absurd. She's been the reigning queen of Broadway for decades. From Thoroughly Modern Millie, the show that made her a star in the early '00s and earned her shelf-loads of awards, to Sweet Charity, her most recent acclaimed turn, Foster's stage work has made her a massive player in the city's theater world. But outside of "a 10-block radius of celebrity in New York," as the actor jokingly describes it, she's only known as the star of feel-good TV shows like Younger and Bunheads, with millions of people unaware she can carry a tune, let alone that she picks up Tonys on a regular basis.
"It's interesting to have people who now know me from TV who are like, 'you sing?' They have no idea of the theater background," Foster says, leaning back in her chair while her makeup gets reapplied. "It's a little heartbreaking, but it's also the reality. I get it."
That doesn't mean she isn't grateful for Younger's success, though. As the comedy, whose fourth season premiered on June 28, grows bigger, more and more people will discover it star — and hopefully do a few minutes of Googling and realize she's not exactly an industry newcomer. A theater lover who "never wanted to be a celebrity" or even do television originally, Foster isn't concerned with becoming a household name. But no one can blame her for wanting people to not view her being a Broadway star and a TV favorite as mutually exclusive things, or for her not wanting to have to choose between the two mediums in order to find success.
"I have been really lucky to have had the roles that I've been able to do in theater," she tells me. "But I hope that I'll be able to go back and forth between. I've really enjoyed doing television — It was like this foreign world to me that I knew nothing about, and I was really intimidated by it and scared, and now I feel like I've had so much positive experience. But I would love to be able to do both."
After so much time in theater, doing eight physically demanding shows a week, Foster says she was getting "very burned out" a few years back. As such, moving to TV wasn't just a smart career move, but also a way to keep performing without feeling impossible levels of stress. "When you do TV, you sit in a chair and you wait a lot, and people are always asking if you need anything," the star says with a laugh. "And I'm like, I'm great — I'm not tap dancing or belting. I can do anything."
Even with that being the case, however, Foster says she can't imagine ever leaving the Broadway world for good. "I think the theater will always pull me in," she says. "Just artistically, it's so fulfilling." For now, she's focused on balancing the two platforms as much as she can, picking projects based on the quality of the material and how they'll help her career overall, rather than what kind of hours she'll have to pull on set.
She's also working on branching out of the quirky, girl-next-door type she's played on Younger, Bunheads, and more. Yes, her real-life self might actually be as friendly and easygoing as her roles. "Between Michelle Simms from Bunheads and Liza [from Younger], so much of me is in those characters — especially the dorky sides, and the self-deprecating," Foster says with a goofy laugh to prove this point. But as anyone who's seen her on Broadway knows, that persona is far from the only one she's capable of playing.
Perhaps this season of Younger will act as proof. For the first time in its four-season run, the show, in which Foster stars as Liza, a middle-aged mom who pretends she's a 20-something in order to get back into the workforce, is going dark — well, at least as dark as a TVLand sitcom can get. At the end of last season, Liza revealed her secret to her best friend Kelsey (Hilary Duff), and the new episodes honestly explore how the duo's once-rock-solid friendship suffers as a result. For once, Liza isn't seen as the show's hero, a happy-go-lucky protagonist you just can't help but always root for. As Foster describes her, she's "flailing" and "making tons of mistakes."
It's a big change for Liza, and for Younger itself, which has often been dismissed as "comfort TV" without much substance. "A lot of people are like, 'Oh, it's like champagne,' or 'It's like candy, or cake,'" Foster says of the series. "And I'm like, yeah it is, but underneath all of it, it has a lot more going on." She's excited to get to delve into darker territory and show audiences just what she, and the show, can do. Younger has always been a critical favorite and a relative ratings success, but this season, with its deeper-than-ever discussions of everything from female friendship to ageism, could be a true turning point.
It isn't lost on Foster that after three decades in the industry and at 42 years old, it's only now that some of the most fulfilling work of her career is coming in. "It definitely feels like it's a new chapter, you know?" she tells me. "I'm finally hitting my stride, professionally and personally."
Earlier this year, Foster and her husband Ted Griffin adopted a newborn daughter, Emily, and her happiness is practically contagious. The arrival of her child, combined with the work she's gotten to do in projects like Younger, last year's Gilmore Girls revival, and Sweet Charity, have left the star in a permanent state of (sleep-deprived) bliss. "What a crazy feeling," she says, "to wake up every day and be like, oh, everything's good."
Foster is fully aware that, considering how long it's taken her to get to this point, this level of success — professionally, at least — might not last forever. The industry, even Broadway, isn't always kind to women, especially those in the same age bracket as the star. She hasn't experienced too much ageism yet, she says, but that doesn't mean the issue, and what it might mean for her future, is not on her mind. "The first time I really started thinking about it and talking about it was when I started doing interviews [for Younger]," Foster says. "Because people were asking me about it, and I was like, oh sh*t, am I supposed to be panicking?... But I never felt the need to lie about my age or hide it."
"But, like everything in this life and career, I try to be forward-thinking and proactive about what I want the rest of my life to look like," she continues. "I would love a long career. But I don't feel the need to hold onto the past, I don't feel the need to go backwards. I'm super excited about getting older and what that looks like. But yeah, talk to me in 10 years — I might have a different answer."
For now, though, she's trying to focus on the present. And considering how good life is currently treating her, whether it's on Broadway, on TV, or out of the limelight completely, no one would blame her in the slightest for basking in the moment for as long as she possibly can — even if, occasionally, it breaks her heart.
Design: Brit Phillips/Bustle
Styling: Gabrielle Prescod
Booking: Guillermo Perez/Bustle
Hair: DJ Quintero at Statement Artist
Makeup: Jennifer Wobito using Chanel