YouTuber Hannah Witton Talking About Her Stoma Bag Is Important For These Reasons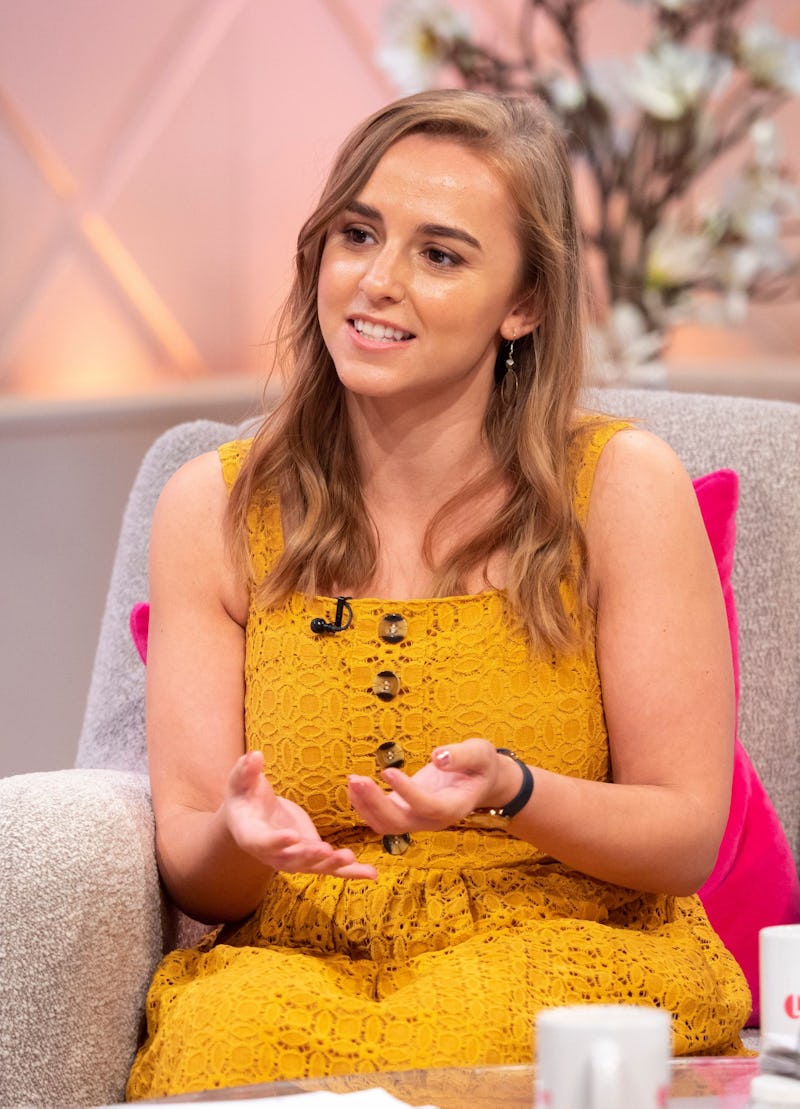 Ken McKay/ITV/Shutterstock
Her followers are more accustomed to her talking about all things sex, relationships, and consent. YouTube star and author, Hannah Witton is not one to shy away from taboo subjects and with 490,000 YouTube followers she has become one of the loudest young voices on the internet, working with the likes of MTV, Radio 1, and Durex. But YouTuber Hannah Witton is talking about her stoma bag and smashing stigmas in the process.
There is nothing more powerful than coming to a friend (or the internet) with a problem and hearing someone say back to you "I get that" or "me too." Witton is so often that voice. Insanely clued up and funny she has used her YouTube channel to talk about sex, relationships, feminism, body image, gender, and sexuality since 2009. In 2017 she released her first book, Doing It aimed at being a handbook for all things dating, sex, and relationships with her own experiences sprinkled in. It is comforting and at times, hilarious. I couldn't recommend it more.
However, over the last six months Witton has sought to explore something else with her followers that she hadn't discussed before ­— what it is like to live with a stoma bag as a young person. Speaking to Christine Lampard on Lorraine, Witton said, "When this happened to me it felt like a silver lining because I already had an audience online it felt like a great opportunity to raise awareness and give more visibility for people with stomas."
Witton revealed that she was first diagnosed with ulcerative colitis aged seven but would only suffer flair ups every couple of years. Then, between the ages of 15 and 25 the flair ups disappeared. In December 2017 Witton was admitted to hospital with what she described in a YouTube video as "the worst flair up I had ever had."
Whilst clearly in agonising pain she documented her time in hospital and brought her followers along. Speaking to the Daily Mail she said, "the week before I was admitted to hospital, I was in so much pain. I couldn't eat anything, I couldn't really talk to people, I had diarrhoea, I was vomiting. I ate one pea on Christmas Day." Well that sounds like a truly miserable Christmas to me.
A couple of weeks later Witton then went under the knife and had a procedure called an ileostomy where the small intestine is diverted through an opening in the stomach. This is known as a stoma. The waste products that would usually pass through the colon and out of the body are then collected in a stoma bag.
Speaking on Lorraine, Witton said, "the morning after my surgery I felt amazing. Obviously I was in a lot of pain from them cutting me open but I didn't feel ill anymore." And since her procedure she has been so open with all of her followers about how having a stoma bag has changed her life. From learning to change her stoma bag, all the awkward problematic moments she's had in public toilets, and having sex with her boyfriend, in true form Witton does not hold back
Her candid and personable attitude is 100 percent what drew me to her in the first place and her bravery discussing a disease which so often goes ignored makes her all the more likeable. After recovering from her surgery Witton posed for a photo shoot in her lingerie, stoma bag out and proud, to show the beauty in diversity.
Speaking to The Daily Mail she said, "I wanted to show that there are lots of different kinds of bodies out there. Whatever story your body might tell, it can still be beautiful and sexy and you can still claim that body as your own."
Being comfortable in yourself can be the hardest thing in the world even if you aren't suffering with a challenging health condition. Witton's openness has inspired and educated so many people. I have all my fingers crossed that she continues to make a full recovery and I can't wait to see what comes next for her.