Zac Efron Has Dreadlocks Now & Fans Are DEFINITELY Making Their Disappointment Known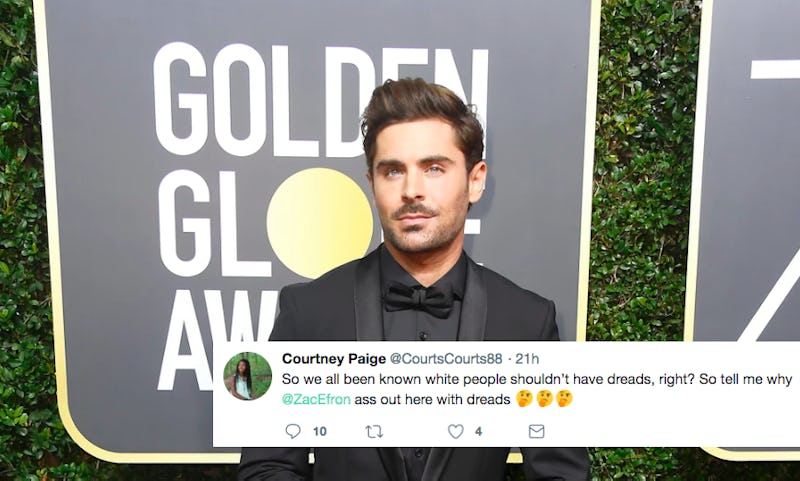 Frazer Harrison/Getty Images Entertainment/Getty Images
When hair changes happen it Hollywood, it's unusual that those making headlines are men. Chalk it up to outdated stereotypes about dudes hair if you want, but women tend to get all the attention. Not now, though, because Zac Efron's dreadlocks are making headlines — and not in a good way.
On Thursday, Efron took to his Instagram account to post a photo of himself wearing dreadlocks, or locs as they are called in the black community due to negative connotation of the term "dreads," with a short beard and sunglasses. He captioned the photo "Just for fun" with an emoji, and it appears, Efron's decision to wear the style appears to, in fact, be all his own and not related to any role he may be taking or filming soon. According to his IMDb page, all of his current film projects are in post-production meaning that there's nothing he could potentially be filming to warrant wearing the style.
His decision to get locs "just for fun" is disappointing — and downright offensive.
Efron's locs come on the heels of Kim Kardashian wearing fulani braids to the MTV Movie & TV Awards, and the two styles are connected due to their appropriation of traditional black hairstyles.
Ebony explains that the history behind locs have highly political and cultural meaning for the black community. The magazine cites incidents of cultural appropriation like Marc Jacobs' runway show in which he had his mostly white models wear locs, and seemingly racist commentary by Guiliana Rancic when actor Zendaya wore them to the Oscars as a means of explaining that locs are only acceptable when worn by white people. Efron's hairstyle now joins the conversation about cultural appropriation by white members of Hollywood.
He's not the first to wear a style created by the black community, though. Kardashian's fulani braids are one of the latest examples. The reality television star wore the style only a few weeks ago despite being criticized for wearing the same style in the past and calling them "Bo Derek braids." Kardashian, however, attempted to explain the rationale behind her wearing the style and admitted that dubbing them "Bo Derek braids" was maybe not her best decision.
She explained to Bustle that daughter North was the inspiration for wearing the style. North asked Kardashian to wear the style to match her own. Kardashian then went on to explain, "Maybe if I had come out and explained that from the beginning instead of calling them 'Bo Derek braids,' then it wouldn't have gotten such backlash," she says, "But in no way am I ever trying to disrespect anyone's culture by wearing braids. If anything, my daughter was so excited to see me get matching braids with her. [When] we did her hair in these braids, she was so excited."
Efron is now experiencing the same criticism as Kardashian over his choice of style.
Twitter users were quick to call out Efron on appropriating the style.
Users are definitely not pleased with his decision.
They're hoping the style won't last on Efron.
Twitter, however, isn't the only place that a conversation about cultural appropriation is taking place. Since Efron posted the photo, the image has garnered over 16,000 comments with many (if not most) of them centering around arguments over whether Efron's hair is appropriative.
White celebrities' decision to wear traditional black hairstyles unfortunately doesn't seem to be stopping any time soon. With Efron as the latest culprit of appropriation, it proves yet again that Hollywood has to have a serious conversation about appropriation in all forms — and, most importantly, listen.