Everything We Know About Zac Efron's Ted Bundy Movie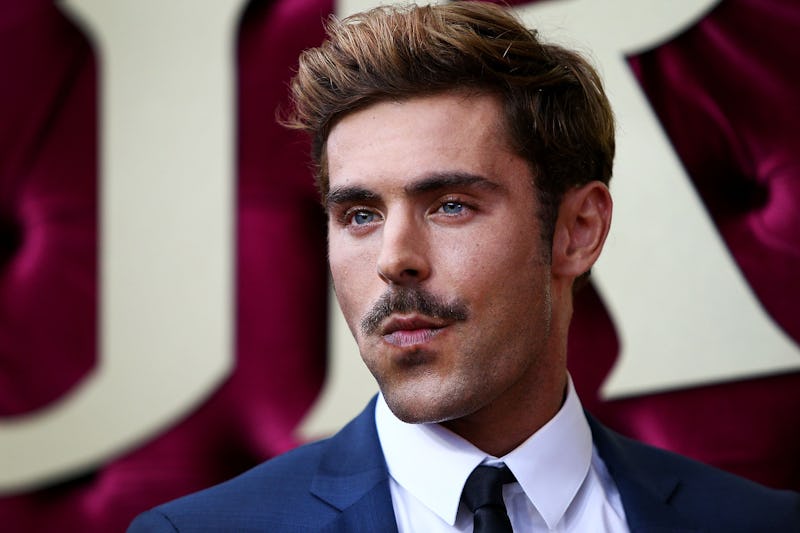 Lisa Maree Williams/Getty Images Entertainment/Getty Images
Zac Efron is generally pretty likable in his film roles and public persona, and he's built up a huge and dedicated fanbase that's willing to follow him in whatever role he takes next. But Efron's next film will really test his followers' loyalty, as he'll be playing one of the most notorious serial killers of all time, Ted Bundy, in the upcoming movie Extremely Wicked, Shockingly Evil, and Vile (also starring Lily Collins). So to prepare for this possibly career-altering role, fans need to take a look at everything we know about Zac Efron's Ted Bundy movie.
First, some background on Bundy himself. While all serial killers are, by definition, people who commit terrible atrocities, Bundy stands apart from most of them due to the particularly horrific nature and scale of his crimes. Bundy confessed to killing 30 women between the years of 1974 and 1978, but the true count of his victims is unknown, and is estimated by some to be much higher, possibly even over 100, according to Biography.
Bundy's killings would vary in technique, but he is only known to have slain women. In some cases, he would sneak into their houses at night and bludgeon them to death while they were sleeping. In other examples, the supposedly charming and good looking Bundy would approach women in public places and ask for help, often feigning an injury, and would then kidnap, rape, torture, and murder whoever he could convince to accompany him. After killing his victims, Bundy was known to repeatedly visit their corpses and sexually abuse them, and in at least 12 cases, he cut off his victims' heads and kept them as souvenirs. He also escaped custody twice while being held on murder charges, and even managed to commit more murders following his second escape.
Bundy was clearly a highly-disturbed individual with few equals in his depravity, and it will likely turn off many Efron fans to see the actor portraying him, while intriguing plenty of others. So far, details on the film are pretty scarce. The movie was first announced at 2017's Cannes Film Festival, and does not yet have a release date. On Jan. 17 of this year, Efron's Instagram account shared a behind the scenes photo of the actor as Bundy having his mug shot taken, with the simple caption, "Meet Ted." The movie, which began filming on Jan. 18 according to Collins' Instagram, is being told from the perspective of Elizabeth "Liz" Kloepfer (Collins), who was Bundy's girlfriend for seven years. It was Kloepfer's suspicions which eventually led to Bundy's capture, and the film promises to focus on her terrifying journey in which she discovered that her boyfriend was a psychopath. Here's the official synopsis, from IMDb.
"A chronicle of the crimes of Ted Bundy, from the perspective of his longtime girlfriend, Elizabeth Kloepfer, who refused to believe the truth about him for years."
Collins also shared a photo of herself in costume to her own Instagram account, captioning the photo "Meet Liz," and looking very 1970s. John Malkovich is the third major star in the film, and he'll be portraying the judge presiding over Bundy's case, Edward Cowart.
The script, which was previously named to the prestigious Black List, was written by Michael Werwie, and it's his first feature film screenwriting credit. Joe Berlinger is the film's director, which is a bit of a departure for him since he is mostly known for directing documentaries; specifically true crime documentaries. Among his most famous are Brother's Keeper, Paradise Lost: The Child Murders at Robin Hood Hills, and Whitey: United States of America v. James J. Bulger. His experience in that field should add a serious dose of realism to the film.
By focusing on Liz Kloepfer's story and the time she spent dating Bundy, Extremely Wicked, Shockingly Evil, and Vile looks to put a new spin on the already well-known serial killer's crimes, one that is sure to have people talking — and not just because Efron is playing Ted Bundy.