Zac Efron's 'High School Musical' Dad Left The BEST Comment On The Star's Thanksgiving Insta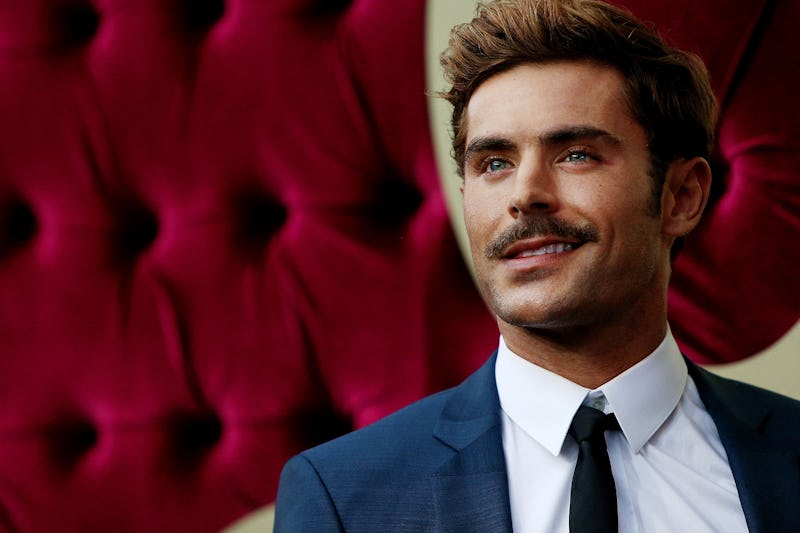 Lisa Maree Williams/Getty Images Entertainment/Getty Images
It's been almost 13 years since Troy Bolton first taught us how to fake right and break left, but High School Musical fans are still feeling the Wildcat spirit. Any Disney enthusiasts in the mood for a welcome throwback to East High? You'll definitely want to check out Zac Efron's Thanksgiving Instagram post, and his HSM dad's comment on said Instagram. The actor's holiday-themed social media activity might've seemed like the least likely catalyst for High School Musical-style nostalgia, but alas, it managed to get the job done, anyway.
Now, some of you are probably thinking, "But, what the heck does Thanksgiving have to do with High School Musical?" Valid question, for sure. As Buzzfeed noted in its Monday report, Efron's Instagram post — originally shared in honor of Thanksgiving last week — led to a surprisingly perfect exchange between himself, his fans, and a fellow HSM cast member. Less surprising? Lots of excited (and maybe a little sentimental) fans took the opportunity to weigh in on the impromptu HSM reunion, too.
"So full... Happy Thanksgiving!" wrote Efron, captioning a gorgeous snapshot of himself lounging along the perimeter of some seriously luxurious-looking pool. (Not your average Thanksgiving tradition, but OK.) Since the photo first made its way onto Instagram, Efron's post had gleaned just under 1.7 million likes on the social platform at the time of publication (in about 72 hours). And there's good reason for that — beyond its standalone aesthetic prowess, obviously.
In addition to catching the eyes of fans everywhere, the photo also caught the attention of a certain Coach Bolton, real name: Bart Johnson. HSM aficionados from back in the day will probably have a hard time forgetting Troy's dad, the well-meaning high school basketball coach who couldn't quite understand why his all-star son wanted to try out for the musical. But in real life, Johnson is more a friend than father figure to Efron. (See: Johnson's extremely heartfelt 30th birthday message to Efron from last year, or a similar one from the year before, in which he admitted his biological son wondered if Efron was his brother IRL.) Commenting on Efron's recent Thanksgiving post, Johnson wrote,
"Happy Thanksgiving brother!!"
Sweet? Totally. Except — as HSM fans know full well — Johnson isn't Efron's brother. In reality, fiction, or otherwise. Of course, there's definitely a solid chance Johnson's use of "brother" in this case was mostly just colloquial. But, as Buzzfeed's report noted, fans rushed to the comments section of Efron's IG post to furiously correct Johnson's little turn of phrase. "Brother? THATS YOUR SON!!!!!!!!!" read just one of the many replies to Johnson's comment.
Suffice to say, Johnson was quick to amend his "error." Taking to the comments section of Efron's IG post for a second time one day later, the actor's former onscreen father followed up with a slightly different reply, one that's sure to appease those HSM fact-checkers on social media. "Sorry everyone," Johnson wrote, before adding,
"I meant Happy Thanksgiving SON. Sheesh. You guys don't even play."
If the current state of that IG post's comments section is any indication, it seems pretty safe to say Johnson's last sentiment is impossible to argue with. When it comes to all things HSM-related, these fans clearly aren't messing around. Hopefully the rest of the holiday season brings with it whole lot more virtual HSM reunions where this one came from.