Zayn Malik Defended Taylor Swift & His Reason Makes So Much Sense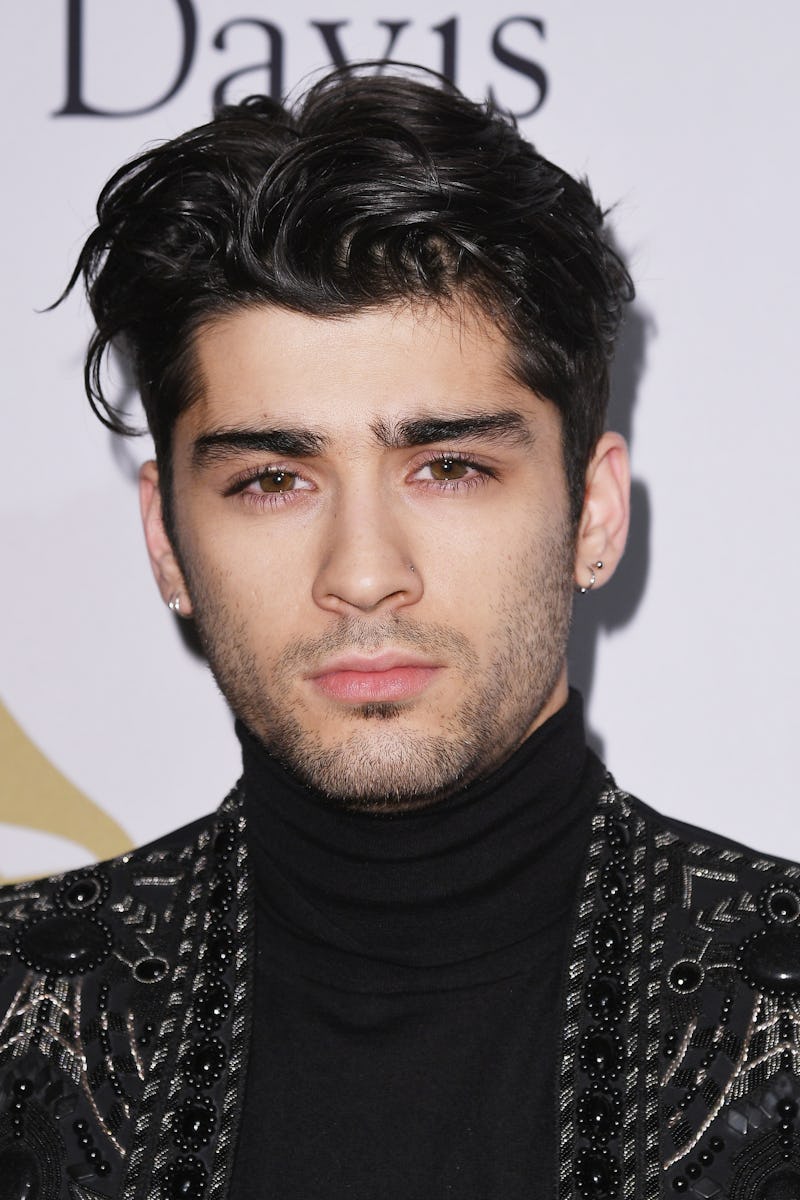 Kevork Djansezian/Getty Images Entertainment/Getty Images
Zayn Malik won't reveal when his new album will be released, but in a recent interview with The Fader, the star did open up about his songwriting process, staying healthy, and musical collaborations. In one memorable moment, Zayn defended Taylor Swift, with whom he recorded "I Don't Wan't To Live Forever (Fifty Shades Darker)." The track was created for the Fifty Shades Darker soundtrack, but was also a chart-topping success. It recently won "Best Collaboration" at the MTV Video Music Awards, and though neither Swift or Zayn were present to accept the honor, it was a proud moment for both stars.
When The Fader interviewer asked what Zayn thought of the T-Swift backlash, the star said that he ignores it. "To be honest with you, Duncan, when it comes to anything that has to do with trivia about people's personal lives or things that's going on in their careers, I don't necessarily pay too much attention," Zayn told The Fader. "I don't pay too much attention to what people even say about me." When it came to Swift, Zayn decided to meet the star and make up his mind.
"I just tend to take it for what it is when I meet them people in real life and have a conversation with them," he told the publication. "If they're cool with me, then I base my relationship on that." Instead pre-judging Swift based on the news stories of the past couple of years, he instead decided to approach the collab with an open mind. It turned out that the stars worked well together, and Zayn also praised Swift's professionalism. Of course, Zayn and Swift have a connection outside of the music industry. Gigi Hadid, who Zayn has been publicly dating since late 2015, is one of Taylor's longtime pals. Their friendship is another reason that Zayn respects the 1989 singer in and out of the studio. " I did a song with her, it was fun, she was professional. She gets on with my girlfriend, they're good friends," Zayn said. "I don't have a bad word to say about her. She's cool."
Swift will release her new album Reputation in November, and the announcement and early singles were both met with mixed reactions. After a couple of difficult years in the public eye, Swift has somewhat struggled to reclaim her image. However, Zayn made it clear that he doesn't pay attention to media criticism, and he had only positive things to say about Swift.
Swift's career took a controversial turn in the last few years. In 2015, she started a Twitter feud with Nicki Minaj, and though the two stars made up on the VMA stage, it wasn't the last public disagreement Swift had. Her disagreement with Kanye West over the lyrics to "Famous", and Kim Kardashian's subsequent Snapchat video receipt and the infamous "I would like to be excluded from this narrative" comment, was also largely publicized. This year, an ongoing feud with Katy Perry was also brought back into the spotlight. These incidents have impacted the way that fans and critics approach Swift's music, but Zayn said that he doesn't pay attention. When it came down to collaborating with the star, he decided to make up his own mind.
In a world where a celeb's every move is analyzed online, it's not surprising that Zayn related to the star's predicament in the media. After departing from One Direction, the singer faced controversy of his own. The group was beloved by fans, and some attributed the 1D's indefinite hiatus to his leaving. "In terms of relating to it, of course I relate to things being written about us all the time," Zayn said. "But I don't listen to it." If the singer paid attention to the criticism after leaving the group, his successful solo career wouldn't have taken off. There was good good reason for him to avoid the noise, which is probably part of his decision to defend Swift.
He also said that he felt her career and success were deserved, and his own thoughts about her work are separate from what's being written about her. "I rate her as an artist, I think she's cool, I think she's successful, and I think she deserves her success, because she's worked hard," Zayn told the magazine. "That's just how I look at it." It's clear that he formed his own opinion, and will continue to defend her creativity.
While Swift's new music was met with a mixed response, it's clear that she has some support from within the pop music world. Zayn acknowledged the public conversation about his collaborator, but ultimately ignored criticism from the media. Instead, he made up his own mind about Swift, and it's clear that there is no bad blood between these two singers.