Zendaya Debuted Short Orange Hair At The Met Gala & It's Like Nothing She's Ever Done Before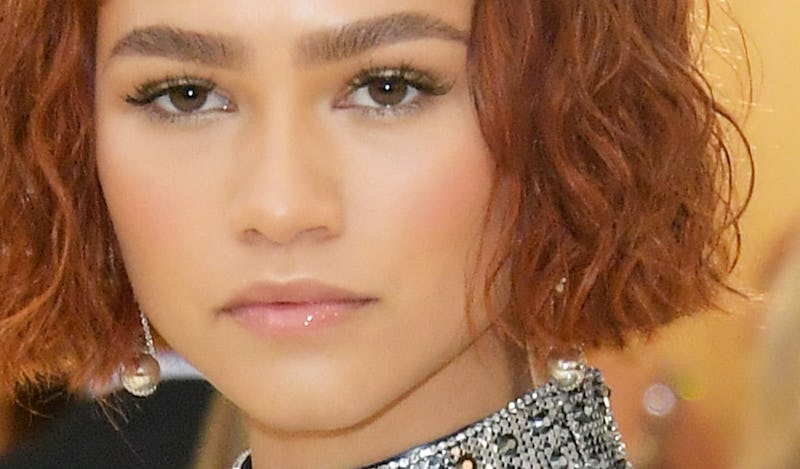 Neilson Barnard/Getty Images Entertainment/Getty Images
Zendaya knows how to work a red carpet in style. Her looks are always unpredictable and eye-catching, leaving us all expecting the unexpected from the star — especially when it comes to the iconic Met Gala. Zendaya's 2018 Met Gala gown was no exception, taking the religious theme of the night to new and exciting heights. For the event, Zendaya decided to channel a knight in shining armor – who happens to have very intriguing hair.
This year's Met Gala theme is "Heavenly Bodies: Fashion and the Catholic Imagination." It's a somewhat controversial theme centered around the elaborate and sometimes gaudy styles of religious fashion. To fit with the inspiration of the night, Zendaya wore a chainmail gown that was heavy in armor and glamour. The gown, which was styled by Law Roach, was created to pay tribute to Joan of Arc, the badass historical figure who is the ultimate knight. Unlike Joan of Arc, Zendaya accentuated her look with Tiffany jewels. The star's hair, however, was the highlight of her look. Yes, something did outshine all that silver chainmail.
Zendaya's hair, which was styled by Unilever's Ursula Stephen, was in a short, wavy bob with bangs. And her hair was a brilliant shade of ginger. Talk about unexpected. With minimal makeup, Zendaya let her red hair take most of the attention — and it was attention the 'do rightly deserved.
Fans have never seen Zendaya with hair quite like this — and she slayed the look with confidence and impeccable style. Just take a look for yourself. Then, pick your jaw up off the floor.
Zendaya is a fan of wigs, so don't go thinking this hairdo is permanent. Chances are this is a one night only showing. But she's sure rocking the look while it's around.
Don't just stop at her hair, though. That train. That elaborate shoulder detail. That neckline. The whole look deserves some praise. After all, it's an innovative take on the theme.
Zendaya isn't new to the Met Gala or the event's prestigious red carpet. This is her fourth year attending the iconic event — and her style has floored even the most stone-faced fashionistas time and time again. Here's a look at her grand and gorgeous looks throughout the years.
2015
For her first Met Gala, Zendaya wore a sun embellished gown fit for a princess — tiara and all. The red, white and black gown was a custom Fausto Puglisi, and was made to embody the theme of "China: Through The Looking Glass." A crown on top of her head echoed the golden sun beams on her flared mini skirt, pulling together the avant-garde look.
2016
For the 2016 Met Gala, Zendaya saw all gold everything. Her long sleeve, floor-length gown was sleek and sophisticated, matching the vibe of her perfectly placed bowl cut bob. The Michael Kors gown payed homage to the intersection of fashion and tech — the theme of the night — through its metallic sheen. A little reminiscent of tonight's look, huh?
2017
This year, Zendaya had the challenge of living up to her 2017 Met Gala look — and it was almost impossible to rival the jaw-dropping dress. The orange and yellow gown, which featured parrots and flowers, was a Dolce & Gabbana creation that reflected the Commes des Garçons theme of the night. Her hair was styled in disco-inspired curls that paired beautifully with her dress. The gown quickly became one of the most talked about looks of the 2017 Met Gala, solidifying Zendaya's rightful place as a style icon.
Zendaya's fourth Met Gala appearance may go down as her strongest sartorial showing yet, even with these iconic past looks. Just leave it to Zendaya to always leave her signature mark on the red carpet — and to always keep us guessing.