Zika Babies May Pay The Price Of Trump's Latest Crusade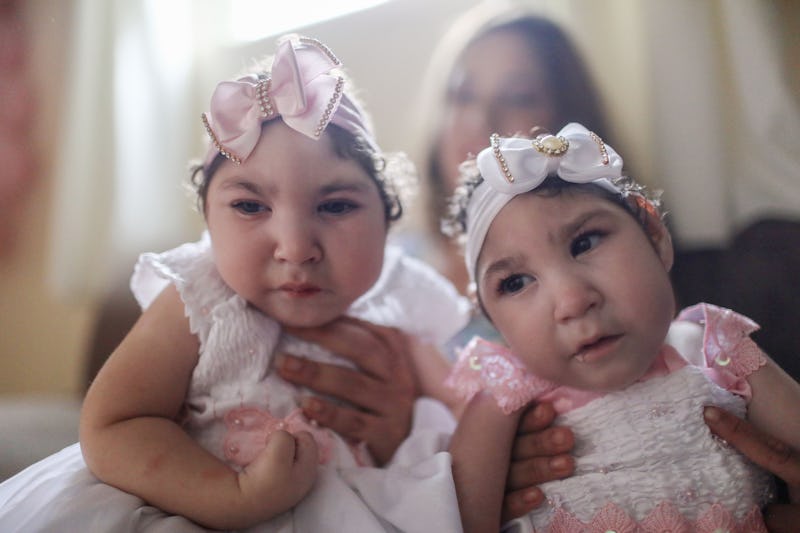 Mario Tama/Getty Images News/Getty Images
Although one of Donald Trump's first acts as president was reinstating the Global Gag Rule, on Monday his administration announced it had expanded the policy targeting non-governmental organizations (NGOs) that provide family planning services. The Global Gag Rule, also known as the Mexico City Policy, blocks any U.S. Agency for International Development funding from going not only to organizations and clinics that perform abortions, but even agencies that merely give patients information about abortions. In spite of the fact that no U.S. funding goes toward paying abortion, Trump decided to reinstate the Global Gag Rule while framing it as a pro-life venture with the title Protecting Life in Global Health Assistance.
The Global Gag Rule has been rearing its head since 1984, when Ronald Reagan instated it. Republican presidents have maintained and reinstated it, while Democratic president have rescinded it. However, critics argue that Trump's version of the Global Gag Rule is even more far-reaching than any previous president's.
With Trump's plan, roughly $8.8 billion of global health funds coming from the Department of Defense, the State Department, and USAID will be blocked from clinics abroad that provide family planning services, such as offering birth control and HIV/AIDS prevention as well as maternal health, primary care, and Zika treatment. The effects of this span even wider than the rule under George W. Bush, which prohibited $600 million in family planning funds.
While the effects of the Global Gag Rule on maternal death rates and increased abortion rates is of top concern, it could also greatly affect Zika response efforts.
"By targeting not only family planning programs but all global health programs including those that address Zika response efforts and other health and disease areas, this policy threatens to gut funding for many of the most effective and well-positioned health organizations in more than 60 low and middle income countries," Lori Adelman, the global communications director for the U.S. sector of the International Planned Parenthood Federation (IPFF), tells Bustle in an email.
In February 2016, during the height of the Zika outbreak, the general director of IPFF, Tewodros Melesse, released a statement about how their network of sexual and reproductive health and rights organizations in 170 countries planned to supply underfunded communities with contraceptives as a protective measure against Zika.
"We recommend that strengthening family planning programs and access to safe abortion services for those women who need it and where it is permitted by law should be included in the strategies for responding to the Zika outbreak," Melesse wrote on the website.
IPPF is the largest provider of non-governmental contraceptives globally, delivering as many as 70 million contraceptive services annually, according to a statement from the organization.
Under Trump's plan, however, IPPF would lose $100 million in funding, which could result in as many as 4.8 million unintended pregnancies, according to a report in the Guardian. Considering the fact that the U.S. Centers for Disease Control and Prevention cited preventing unplanned pregnancy as a way to combat the spread of Zika, the combined cut in funding and uptick in unplanned pregnancies could pose a devastating effect on communities fighting the virus.
Thus, while Trump's administration has rebranded the expanded Global Gag Rule as "Protecting Life in Global Health Assistance" policy, the lethal irony is the most vulnerable women and children may pay with their lives.