Wow, Zingbot Absolutely Destroyed The Remaining 'Big Brother' Houseguests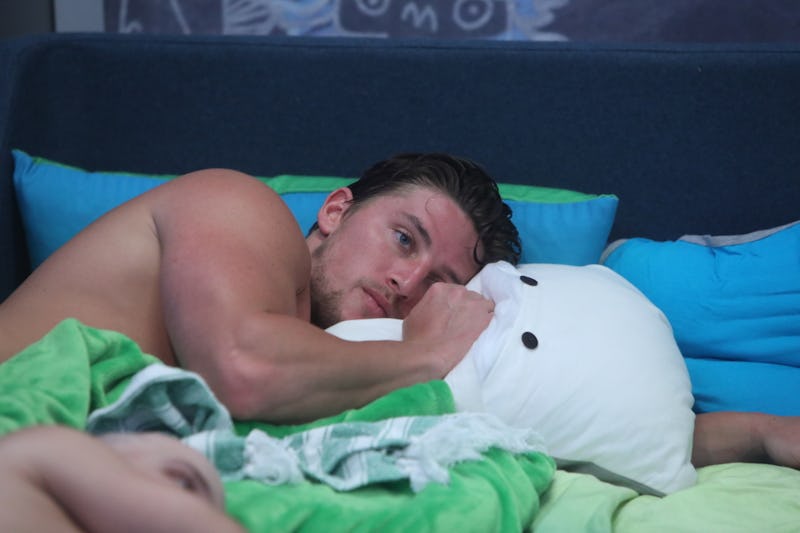 Monty Brinton/CBS
Zingbot left no houseguest unburned on Wednesday night's episode of BB20. For the uninitiated, Zingbot on Big Brother is a shade-throwing cyborg that appears every season and humiliates each contestant with a humorous jab. And while some contestants took it all in stride, others seemed less-than-pleased by the insults.
Case in point: Tyler. His roast came in the form of a drive-through order, as Zingbot said, "I'd like something extra greasy, burnt to a crisp, with a side of zits." While the lifeguard laughed off the jab at his skin, he seemed genuinely embarrassed. "I'm going to take a shower," he said. And then there was Angela, whose harshness towards Rachel surprised many BB fans a few weeks back. "People say robots are heartless, emotionless, and soulless," the cyborg began. "Did I say robots? I meant Angela!" While the fitness model chuckled, it was clear the comment hit a nerve.
Brett, too, seemed a bit offended when Zingbot called him a douche. The cybersecurity engineer took a lap around the room before returning to his spot at the kitchen counter. And the insult about JC's back hair seemed more odd than insulting. "That wasn't funny!" the zing-ee declared in response.
However, some zings really hit the mark. Fessy's, for example, garnered a big laugh. "I was surprised to learn you're a part-time teacher," Zingbot began, "considering you're a full-time moron!" The contestants howled with laughter as the bot continued, "Every child left behind! Zing!" It's true that the current HOH hasn't made the best choices in this competition — especially by putting his ally, Scottie, on the chopping block. And while Fessy's "friend" JC is supportive face-to-face, the professional dancer loves to talk crap about him during his DRs. Needless to say, JC thought Fessy's zing was hysterical.
What's more, other houseguests also took their roasts in stride. "You were so good reading Hamlet," Zingbot told Haleigh. "But the real Shakespearean tragedy was your HOH reign!" The college student responded with a resigned, "That was fair." Kaycee also giggled when the she was told, "You have all the Big Brother viewers yelling, 'Let's go!...to another channel!'" This was in reference to Kaycee's apparent catchphrase, "Let's go!" And while she claimed in a DR that she doesn't say it that often, a quick edit of her screaming it at the camera told fans otherwise.
And then there was Sam. Although she takes everything personally, the welder looked particularly hurt by Zingbot's comment. "Saa-am!" the android sang. "You love to tell everyone how real you are. You are real! Real f*cking crazy!" While the houseguests nervously laughed, some of them hid behind the counter in mock fear of her reaction. It's one thing to point out someone's performance in the house, but calling someone mentally unstable is another thing entirely. And while it likely would have been fine for any other houseguest, this is Sam we're talking about. Not only did the Virginian not laugh, but she said, "That wasn't very nice."
However, the best sport of all was likely Scottie, whose sexuality was essentially called into question. "Haleigh, what do you call someone who's blonde, blue-eyed, and has a crush on Brett?" Zingbot asked. "Scottie!" The shipping manager burst out laughing and took a mock swing at Tyler's head.
So while some of Zingbot's one-liners were a bit harsh (and when aren't they), the roast was a much-needed relief from the tension that's been building in the house. And since there was no mention of a veto ceremony, it's unclear what will happen on Thursday night's episode. Scottie is still on the block, and Fessy needs to nominate a replacement for Brett, who won the power of veto. But as the robot implied, the substitute teacher isn't the sharpest tool in the shed.
Hopefully the houseguests have some time to recover from the robot's merciless zings.