5 Concrete Ways To Take Action Against The Rwanda Deportation Plan
From joining anti-raid units to legal service donations, here's what you can do.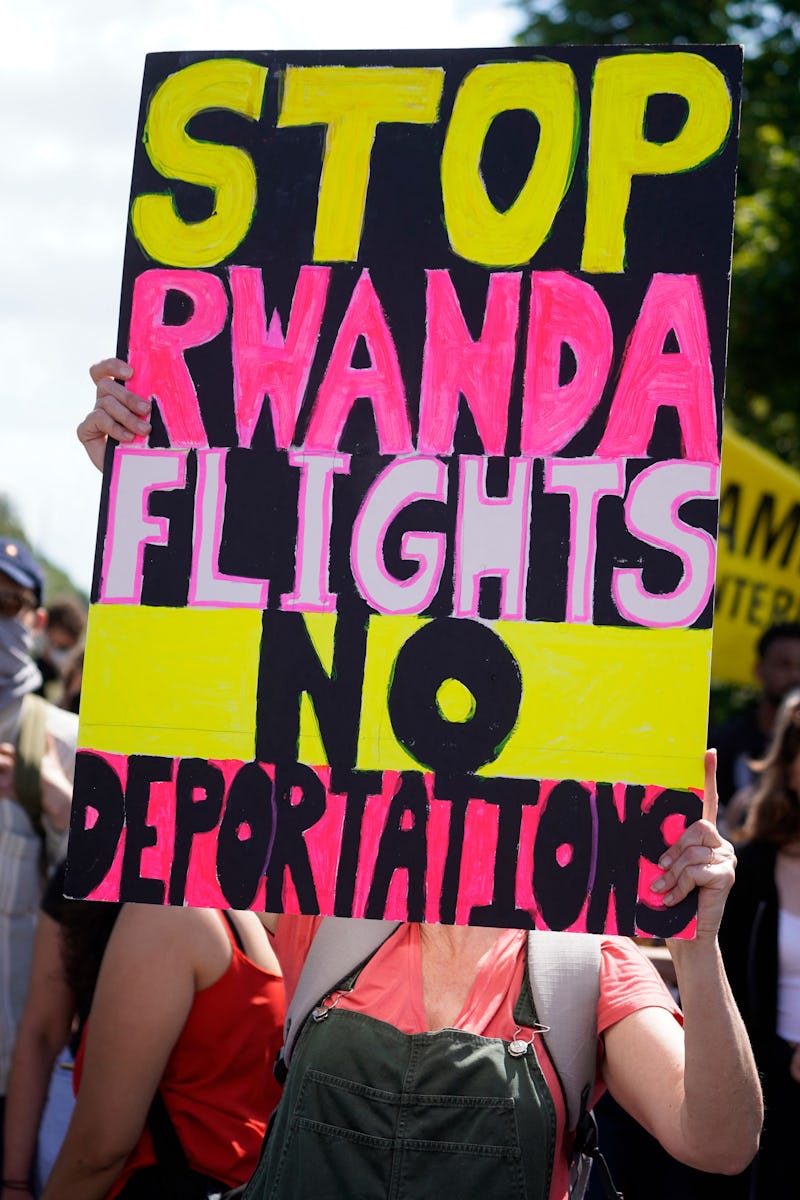 NIKLAS HALLE'N/AFP/Getty Images
As part of the UK government's "hostile environment" policies, new plans for the processing of asylum-seeking people in the UK will see the government's first deportation flight to Rwanda take off on Tuesday, Jun. 14. The Court Of Appeal passed down its judgement on Jun. 13, outlining that it won't be intervening in the original verdict, but that is certainly not the end of the legal cases being brought against the Home Office for its Rwanda deportation plan.
Meanwhile, the number of people scheduled to be deported on the first flight has now dropped to 7 due to individual legal challenges, mostly to do with modern slavery and human rights violations. As of Jun. 10, 130 people had been threatened with a spot on the first flight to Rwanda, per the BBC. Foreign Secretary Liz Truss confirmed that the first Rwanda flight will take off with seven or eight people on board, however, three people due to be deported will have their legal cases heard before the flight departs.
Here's everything you need to know about how to stand against the Rwanda deportation plan.
1. Email your MP
You can express your concern and opposition to the Rwanda deportation scheme by writing to your local MP, a step which only takes a few minutes. You can ask your MP to oppose the deportation flights and as your representative, it's their responsibility to at the very least provide you with a response. If you don't know who your MP is then you can find them using the WriteToThem online tool.
2. Urge airlines not to participate
The Joint Council For The Welfare Of Immigrants (JCWI) has pointed out that children and young people have received deportation notices for Rwanda too. For piloting these deportations to Rwanda, private airlines will be paid by the UK government. But airlines have the power to refuse to take payment and to assist with these flights at all.
The JCWI explains: "Most major airlines steer clear of deportations thanks to tireless campaigning by grassroots groups and NGOs — most brands don't want to be associated with human rights abuses and misery. After coming under pressure, Titan Airways have now ruled themselves out of the scheme. But other private airlines are refusing to do the same."
The JCWI have created their own template to make it easier for you to email private airlines, asking them not to take part.
3. Sign petitions
You might have already signed a few of these, but once a petition reaches 10,000 signatories, the UK government is mandated to respond. And at 100,000 signatures, the petition will be considered for a parliamentary debate. You can sign 'Stop the government's 'one way ticket' plan to send asylum seekers to Rwanda,' here.
4. Join demonstrations & anti-raid groups
Demonstrations against the Rwanda deportation plan have already gone ahead (with a protest taking place on Jun. 13 outside the Home Office) with more set to take place. Encouraging the public to join the resistance, grassroots and abolitionist group SOAS Detainee Support (SDS) urges, "Resist the racist Nationality and Borders Act and STOP THE PLANE!"
Organisers on Twitter are also encouraging the public to join anti-raid movements, or to start them in their local area, with reminders to join WhatsApp groups for sharing police deportation raid alerts. Just recently, an immigration raid was resisted on Jun. 11 in Peckham, London, with crowds of around 200 people pressuring the police to release an individual.
5. Donate to legal services for refugees
If you're in a position to do so, you can give funds to organisations that provide legal representation for those facing deportation, as well as directly challenging the Rwanda plan in court. These include organisations such as Detention Action and Care 4 Calais.