Munroe Bergdorf's Powerful Speech At London Trans+ Pride 2021 Is A Must-Read
"This is not a moment. We are not a moment. This is our legacy..."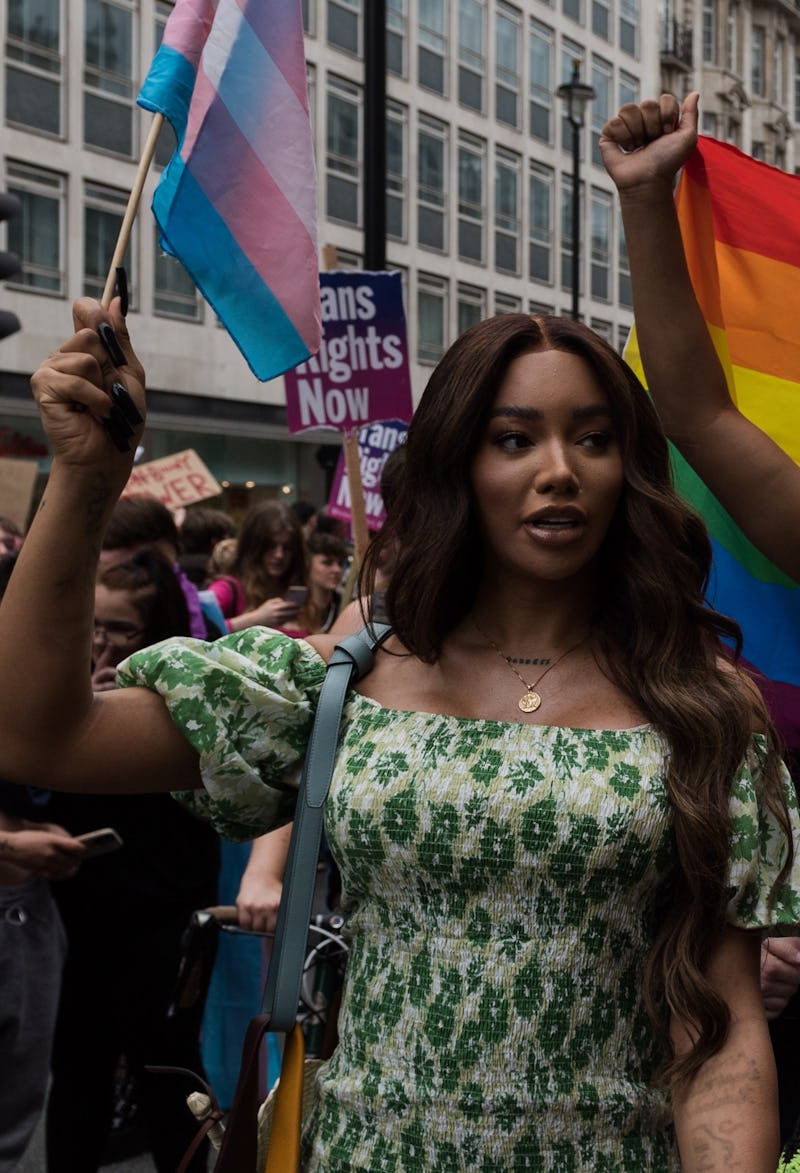 Barcroft Media/Barcroft Media/Getty Images
Branding placards that read "legalise my identity!" and "Trans rights now!", thousands descended onto London's streets for Trans+ Pride 2021 on Saturday, June, 26, to both celebrate and raise the voices of trans and non-binary people. Amid the joyous crowds at Soho Square, campaigner, model, and activist Munroe Bergdorf delivered a powerful speech directly to the trans community, encouraging those marching to "take up this space."
Bergdorf, who is considered one of Britain's most prominent voices for trans rights, reflected on the magnitude of the event in front of the empowered crowd.
"Take a second to understand how important this is. How necessary this is. How beautiful this is," said the activist, per Pink News.
"When we have spaces like this, it's a reminder to see god in each other. Whatever god is. A higher power. To treat each other how we want to be treated," she went on to say.
She added: "This is not a moment. We are not a moment. This is our legacy..."
Bergdorf, who called out JK Rowling's anti-trans comments last year, also reminded the crowds to not let "idiotic countermovements" tear the community apart, referring to the likes of trans-exclusionary groups such as "LGB Alliance" and "TERFs".
The celebrated activist went on to acknowledge the "strength" and "divinity" of the trans community amongst the "dehumanisation" they face in society.
"To live in a world that does not see you, that ignores your suffering, that legislates against your existence, that strives to control your bodily autonomy, that simultaneously fetishes you and dehumanises our image. That is divine: to resist that daily," she said.
Per Pink News, Bergdorf went on to add: "Still we show up, and we show out. And we keep on going. To me that is divine. That is strength. That is worthy of love, respect and peace. You only need to look around to see how many of us there truly are. No matter how isolated we have felt in our past, we are no longer silenced, we are no longer in the shadows, we are here. Take up this space. This space is yours!"
Bergdorf was the first to speak at the Trans+ Pride 2021 event which is now in its third year and shared photos of the event on her Instagram page thanking the event organisers.
In response to her speech, fans shared their admiration in the comments: "completely in awe of you today!" said one, and "The leadership and role model we need," beamed another.