Here's Where The NHS Nurses' Strike Currently Stands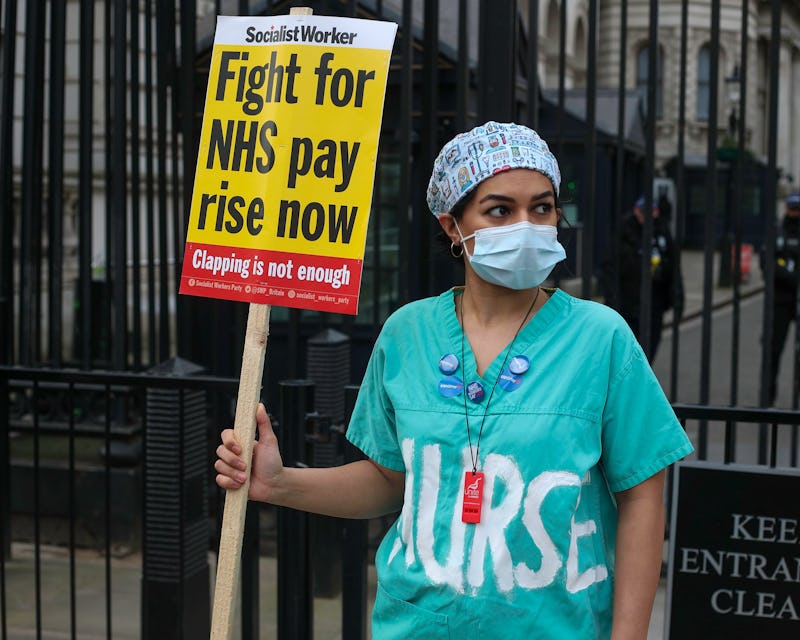 NurPhoto/NurPhoto/Getty Images
Nurses are continuing to strike this February as the UK Government rejected offers to negotiate with the Royal College of Nursing. Nurses voted to strike for the first time in December 2022, fighting to receive "fair pay and safe staffing" by suggesting a pay rise of 17.6% to match inflation. Meanwhile, ministers in the House of Commons are gearing up to introduce controversial new anti-strike legislation. So where does the nurses' strike currently stand and how can you help? Read on to find out more.
What Is The Royal College Of Nursing?
The Royal College of Nursing (RCN) is an independent trade union organisation that supports those in the nursing profession. It's the largest union and professional body for nursing staff in the world, representing more than 450,000 registered nurses, midwives, support workers, and students in Britain and around the world.
Governed by a council of 17 members, the RCN represents "the professional interests of nursing staff working in the public, private, and voluntary sectors." They have the power to negotiate pay for NHS staff as they are on the NHS Staff Council, and also lobby governments and other bodies "to develop, influence and implement policy that improves quality of patient care."
They also offer support to their members on matters like employment, career development, immigration, and welfare.
What Is The Royal College of Nursing Planning To Do?
In March 2021, the UK's Department for Health and Social Care recommended a 1% pay rise for NHS staff in England for their tireless work during lockdown. In July, this was increased to 3%. Several health unions criticised the small rise, with the RCN suggesting a 12.5% increase instead. A year later, an additional pay rise was announced dependent on salaries.
In response, the RCN started preparations for strike action providing up to 25,000 members with "training to become activists." These members mobilised in December 2022, following the offer of a 3% pay rise which is "actually a 0.6% pay rise" when taking inflation into account, oncology sister Holly Johnston told iNews. "Add this up to 20% of real-terms pay cuts for NHS staff over the last decade. We know our worth, we know this is a deliberate move to destroy our workforce."
To prepare for strike action, the organisation enlisted the help of Jane McAlevey, a union organiser and scholar who has helped nurses in the United States to unionise and negotiate better terms for their vital work.
According to The Guardian, McAlevey will offer a six-week course to help nurses channel their "anger and frustration" and channel their passion into engagement, education, and empowerment to be "a force for change in their workplaces and communities."
Dave Dawes, chair of the RCN's ruling council, said that this training "will make a huge difference in what the turnout of the [strike] ballot will be." A strike ballot is something a union must hold in order to hold an industrial strike, which was held in November 2022 and saw "most NHS employers in the UK" having voted to strike.
"Nursing staff have had enough of being taken for granted, enough of low pay and unsafe staffing levels, enough of not being able to give our patients the care they deserve," Pat Cullen, the RCN General Secretary & Chief Executive said after the government declined her "offer of formal negotiations."
Following the December strikes, and no reaction from the government, nurses from the Royal College of Nursing went on strike again on Jan. 18 and 19. And if these demonstrations aren't enough for the government to negotiate, Cullen warned the next batch of strikes on Feb. 6 and 7 will include double the amount of nurses to increase pressure. "The public supports nurses because of just how much nurses give to the public. Rishi Sunak's intransigence is baffling, reckless, and politically ill-considered," she told The Guardian. "Nursing staff just wanted to be valued and recognised. The nurse shortage costs lives — Sunak cannot put a price on the NHS."
How Has The Government Reacted?
In March 2021, former Health Secretary Matt Hancock said the 1% rise represented the "difficult financial circumstances the country is in" due to the pandemic. "We've proposed what we think is affordable to make sure in the NHS people do get a pay rise," he said during a Downing Street briefing.
During July that year, the Department of Health and Social care announced the shift to a 3% pay rise. Health Secretary Sajid Javid said this increase came after asking "the independent pay review bodies for the recommendations" which he accepted "in full." According to gov.uk, the pay review bodies considered "a range of evidence" from organisations including the government, as well as NHS and trade unions.
In response, the RCN said the increase will result in staff effectively getting a pay cut. "Nursing staff will remain dignified in responding to what will be a bitter blow to many. But the profession will not take this lying down," they said in a statement. "We will be consulting our members on what action they would like to take next."
In November 2022, Northern Ireland Secretary Chris Heaton-Harris described the 17.6% pay rise as "remarkably high" and that the strike "completely disrupts a huge host of public services that are very, very important to the whole nation." The current Health Secretary Steve Barclay said the RCN's suggested pay rise was "not affordable." Health Minister Maria Caulfield said it was an "unrealistic ask," while Social Care Minister Helen Whately told BBC Radio 4 that she was "disappointed" about the strike action.
In response to strike action across a variety of sectors across the UK, Business Secretary Grant Shapps has set out plans to reform strike laws. Published on Jan. 10, the Strikes (Minimum Service Levels) Bill will give ministers the right to "set minimum safety levels for fire, ambulance, and rail services" according to BBC News, in addition to "health, education, nuclear decommissioning and, border security."
How Can You Support The Nurses' Strike?
Signing petitions is a great start, such as this one posted on the government's petitions site which garnered an official response from the Department for Health and Social Care. A petition here needs 100,000 signatures for it to be considered for debate in parliament, and you can search for similar petitions on its homepage.
Change.org also has dozens of petitions in support of the NHS, including one asking for a 15% pay rise that nearly has 1 million signatures. You can also support this petition on social media with the hashtag #NHSPay15. You can also get into contact with your local MP to request their support and to raise the issue in the House of Commons.
This article was originally published on