Virginia Guiffre Responded To The Prince Andrew Ruling In A Powerful Twitter Thread
Read her latest comments & Buckingham Palace's 42-word statement on the matter in full.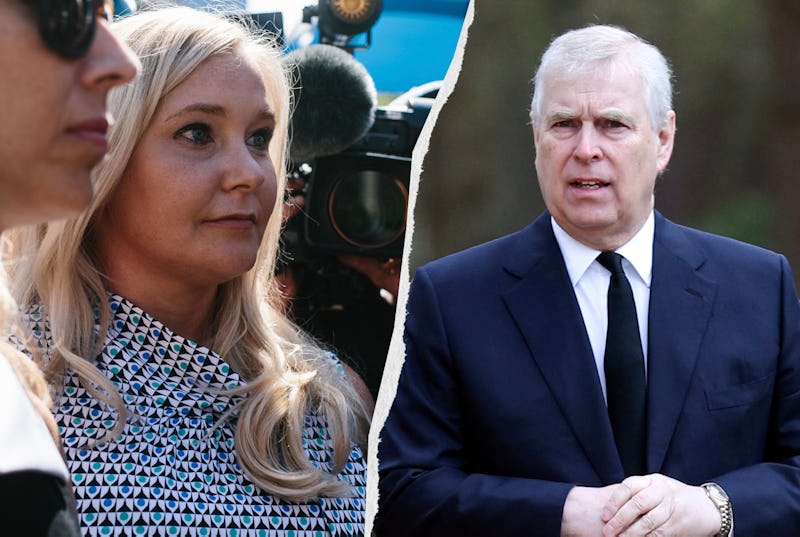 ALBA VIGARAY/EPA-EFE/Shutterstock/Steve Parsons/WPA Pool
Prince Andrew is to face a civil sexual assault case in the U.S. after his attorneys failed to have his accuser's case dismissed. The Duke of York is facing allegations he sexually assaulted Virginia Giuffre in 2001, when she was 17.
Giuffre is suing the Queen's second son, claiming he sexually assaulted her on three separate occasions in 2001, then a minor. Lawyers for Prince Andrew argued that the case should be dismissed, citing a 2009 deal Giuffre signed with convicted sex offender Jeffrey Epstein, in which she agreed not to sue anyone connected to Epstein who could be described as a "potential defendant" per BBC News, but the judge ruled against them. This comes after the Metropolitan Police revealed that it will be dropping its own investigation into the case.
Prince Andrew has vehemently denied any wrongdoing but, following the developments in the US civil case, the Queen has stripped him of his "military affiliations and royal patronages". In a statement posted to the Royal Family Twitter account, a spokesperson added: "The Duke of York will continue not to undertake any public duties and is defending this case as a private citizen."
As the reactions to the ruling unfold in the U.S., here are the details you need to know about Prince Andrew and Virginia Giuffre's lawsuit.
What Is Prince Andrew Accused Of?
Virginia Giuffre has accused Prince Andrew of having sex with her when she was a minor. The court papers claim this was during the same time she also was "being abused" by his friend Jeffrey Epstein, the late American businessman and convicted sex offender.
Giuffre claims, per BBC News, that "that she was a sex-trafficking victim" and was abused by the prince in Epstein's homes in London, Manhattan, and the U.S. Virgin Islands. It's worth noting that Giuffre filed a civil – not criminal – case and is asking for monetary damages for her "physical" and "psychological" injuries. Although, her lawyer has added that she is unlikely to accept a "purely financial settlement" to end the lawsuit.
Prince Andrew has vehemently denied the claims, stating during his infamous BBC Newsnight interview in 2019 that he has "no recollection of ever meeting this lady."
Giuffre first filed a lawsuit against the Duke Of York on August 9, 2021. Throughout the month, legal couriers made two attempts to serve the Duke papers at Windsor. An attempt was also made to reach the prince via any British lawyer the Giuffre team could find who had previously represented him, which was also unsuccessful.
After a long delay, a breakthrough was finally made when New York Judge Lewis Kaplan ruled that legal papers could be served to Prince Andrew via his LA-based lawyers, stating it was "reasonably calculated to bring the papers served to the defendant's attention," regardless of whether the prince "authorised" the lawyer to accept it. The ruling came after London's High Courts stated that it would intervene and formally contact Prince Andrew about the case, per Sky News.
As of Oct. 12, Prince Andrew's legal team was granted permission to review a confidential agreement made between Jeffrey Epstein and Virginia Giuffre in 2009, which they hoped would help their bid to throw out the case entirely.
Where Does Prince Andrew's Case Stand Now?
Prince Andrew has lost his bid to have the civil case dismissed by a U.S. judge, meaning that he is open to facing a civil sexual assault lawsuit that could be heard later this year.
During a virtual hearing, the Duke of York's attorneys argued he was a "potential defendant" as defined by the 2009 agreement between Giuffre and Jeffrey Epstein, and that the case "should be dismissed" as Giuffre waived her rights to sue the prince as part of a settlement with Epstein.
However, in a decision on Jan. 12, a New York judge rejected these arguments. In his 46-page decision, Judge Lewis A Kaplan of the United States District Court for the Southern District of New York explained that Giuffre's agreement with Epstein is ambiguous and open to too much interpretation to be legally binding, honing in especially on the term of "potential defendants".
"The meaning of the phrase is far from self-evident for a number of reasons," he writes. "The 2009 Agreement, whatever it was intended to mean, is riddled with drafting problems and ambiguities."
Lawyers for Giuffre said only the parties of the settlement agreement could benefit from it, and not a "third party". Following Judge Kaplan's ruling, they added that Giuffre is "pleased that Prince Andrew's motion to dismiss has been denied, and that evidence will now be taken concerning her claims against him".
Judge Kaplan however stressed that his ruling does not express any view as to the truth of Giuffre's allegations.
What Has Virgina Giuffre Said?
As previously stated, Giuffre's lawyers had made statement for her before, but she personally praised the ruling which allows Prince Andrew to face trial in a series of tweets.
Giuffre said she was "pleased" with the ruling, adding: "I'm glad I will have the chance to continue to expose the truth & I am deeply grateful to my extraordinary legal team.
"Their determination helps me seek justice from those who hurt me and so many others. My goal has always been to show that the rich and powerful are not above the law & must be held accountable. I do not walk this path alone, but alongside countless other survivors of sexual abuse & trafficking."
What Has Buckingham Palace Said?
Throughout the process, a spokesperson for Buckingham Palace has said it "would not comment on what is an ongoing legal matter." However, on Jan. 13, it was announced that Prince Andrew would be stripped of his "military affiliations and royal patronages" and renounce his HRH status.
In a 42-word long statement posted to the Royal Family Twitter account, the Palace said: "The Duke of York will continue not to undertake any public duties and is defending this case as a private citizen."
The move came just after more than 150 military veterans wrote to the Queen asking her to remove the prince's honorary miltary roles in light of their "upset and anger", according to the Guardian.
In 2019, Buckingham Palace released a statement saying the accusations towards the prince were "without foundation", although the Sunday Times reported that senior royals were concerned about Prince Andrew's "unwelcome reputational damage to the institution".
What Has The Met Police Said?
Separate from what is happening in the U.S., the Metropolitan Police began their own investigation into Prince Andrew in August 2021, following comments made by Met Commissioner Cressida Dick, in which she said "no one is above the law".
Prior to this, the Met had already looked into the allegations on two occasions since 2015, but had failed to open a full criminal investigation stating, per the Sunday Times, that the "case was a matter for the U.S. authorities." As part of their review, Met officers questioned Giuffre on her accusations that the royal sexual assaulted her at the age of 17.
However, on Oct. 10, the Met made the decision to drop their investigation "after reviewing several documents" but said that it will continue to "liaise with other law enforcement agencies who lead the investigation into matters related to Jeffrey Epstein".
What Happens Next?
Judge Lewis Kaplan ruled the 2009 agreement between Giuffre and Epstein "cannot be said" to benefit the Duke of York and allowed the civil sexual assault lawsuit to proceed. The decision paves the way for Giuffre's lawyers to enter into a protracted discovery and deposition phase.
The Virginia Giuffre v Prince Andrew case is expected to be heard between September and December 2022, per the Guardian, with Judge Lewis Kaplan setting a rough timeline to keep things moving towards a trial in the autumn.
In the coming weeks, Judge Kaplan will want to know whether his court will be asked to send formal requests to the UK for assistance from judges in London with obtaining evidence, per BBC News, and by mid-May lawyers must name witnesses for both sides.
In the meantime, Giuffre's lawyers will continue to gather evidence. Per BBC News, their current demands – detailed in court papers – include "information about the medical condition 20 years ago that prevented him sweating and, secondly, evidence that he went to Woking Pizza Express".
Why It Matters
When disgraced financier Jeffrey Epstein took his own life whilst in jail in 2019, it brought attention to the dozens of underage victims he sexually abused and trafficked and the circumstances that allowed the businessman to commit his crimes for years. Epstein was enabled by his power, money, and famous connections, and concerned commentators are keen to understand the extent of Prince Andrew's friendship with the abuser.
Giuffre, who has remained firm with her accusations, spoke to BBC Panorama in 2019 detailing dancing with Prince Andrew in a London nightclub alongside Epstein and his girlfriend, Ghislaine Maxwell, in 2001.
"He knows what happens. I know what happened and only one of us knows the truth. And I know it's me," said Giuffre. "These powerful people were my chains," Giuffre went on to say, also showing a picture of herself with Prince Andrew.
For the Royal Family, Prince Andrew's troubling connection to Epstein is undoubtedly a source of great concern. In a statement from November 20, 2019, Prince Andrew admitted to "unequivocally regret my ill-judged association with Jeffrey Epstein" before stepping back from public duties.
In August 2019, the Duke stressed it was "a mistake and an error" to spend time with Epstein in 2010, after he was already a convicted sex offender, also adding that he did not "see, witness or suspect" any of the behaviour from Epstein that has since come to light.
This article was originally published on