These Acts Of Allyship Shared By Trans People Will Fill You With Hope
Twitter users were encouraged to post "nice little stories of gender affirmation" from cisgender people.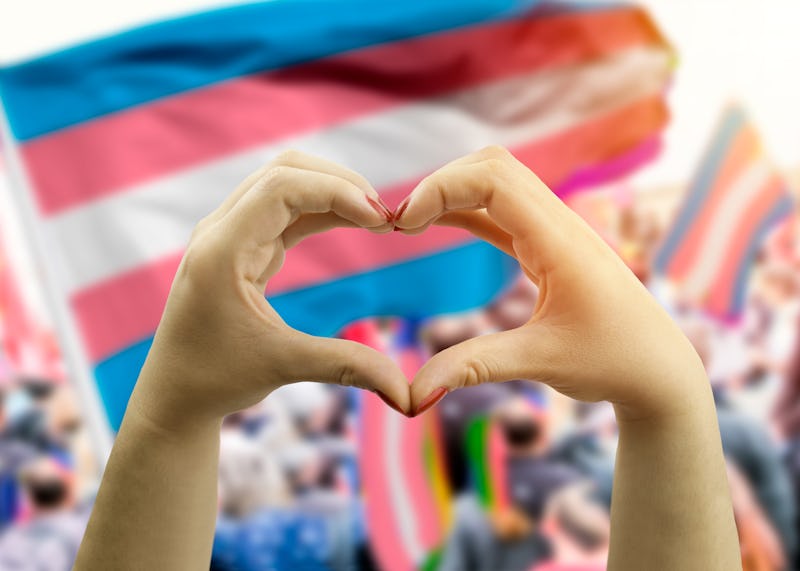 Shutterstock
Trigger warning: This post contains references to murder and transphobia
Following the tragic murder of teenager Brianna Ghey, and amid increasingly toxic discourse surrounding the rights of transgender people in the UK and beyond — particularly in the sphere of politics — one Twitter user has inspired many in the trans community to share powerful acts of allyship they have experienced from cisgender people.
On Feb. 22, a Twitter user named Jasmine encouraged her trans followers to post "nice little stories of gender affirmation."
Sharing one of her own examples first, she continued in a thread: "We had a work retreat with my office, and the plan was to have a house for the boys and a house for the girls." Jasmine added that, after saying she "was fine sleeping in the boys' house," the women in the office looked at her "funny" and "demanded I be in the girls' house."
Jasmine's story and social media request sparked an outpouring of support and enthusiasm from the trans community online, with one follower commenting: "This is a really lovely thread, if people need some goodness on their timeline for once."
As of writing, the tweet has earned more than 1,000 responses from followers, many of whom had their own acts of cis allyship to share. "I'm loving all the replies," Jasmine later wrote. "I can't like and reply to everything cause there's so many but please keep sending them through."
Find more heartwarming examples of trans allyship, below.