At 28, Mia Hamm Was Casually Breaking Scoring Records
"There was a comfort at that age that I didn't have earlier on in my career."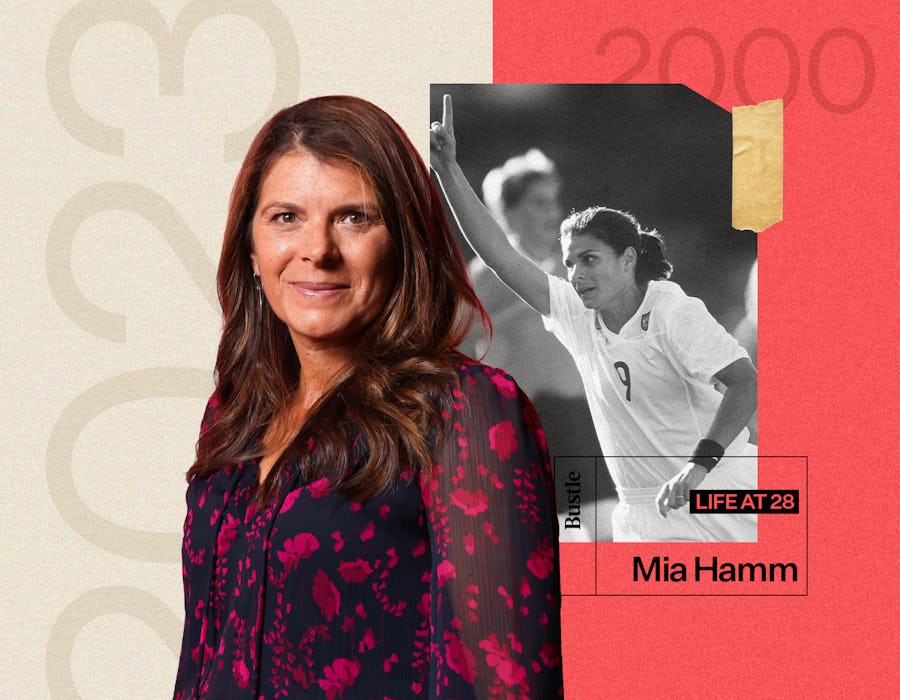 By the time Mia Hamm was 28, she was already 13 years into her soccer career — and her stardom. As fans will know, at age 15, Hamm became the youngest person ever to play for a national team. She then went on to make a name for herself at the University of North Carolina at Chapel Hill, where she helped the team win four consecutive NCAA women's championships.
Throughout the '90s, Hamm kept on winning, snagging two FIFA Women's World Cup wins and a gold medal as part of the U.S. Women's soccer team at the 1996 Summer Olympics in Atlanta. By the time 2000 rolled around, 28-year-old Hamm truly hit her stride — understanding the game much better as she geared up to compete in the Olympics again.
"I wouldn't say things were easy, but they just made a lot more sense," Hamm tells Bustle. "I could read defenses and I could communicate better with my teammates. There was a comfort at that age that I didn't have earlier on in my career."
These days, Hamm is working off the field with Incyte to raise awareness for Graft-versus-host disease (GVHD). "I want people to know that we're here to support them and cheer them on," Hamm says. "Their journey is long but they have people in their corner to encourage them and celebrate them." Ahead, Hamm expands on what led her toward the work she does for bone marrow transplant awareness, and looks back on her training routine and her time in Chapel Hill, North Carolina.
Take me back to the year 2000, when you were 28. How did you feel at that point in your soccer career?
I felt pretty good. When you're younger, you make a lot of mistakes in the physical realm. Everything is about running faster. Then, as you get older, because of experience, you don't make the same mistakes. Instead, you put yourself in a better position on the field. You understand the game, and you're still just as fit and fast as you were in your early 20s.
Where you were living at that point?
I was in Chapel Hill, North Carolina. I loved it. It was a great environment for me to continue to train, because we didn't have a league of our own until 2001, so living there gave me an environment where I was able to use the facilities and jump in with the college team at times to play pick-up games.
What did your day-to-day life look like?
Everything revolved around soccer. I woke up probably around 8-ish, and then around 10 I'd go out and do some type of workout, whether it be strength training or fitness or ball skills. Then I'd come home and eat lunch, do a little bit of rest and rehab, and then in the afternoon I'd do some type of group training.
Then I would go hit golf balls. For me, golf was a way to get a bit of my frustration out, especially if I had a bad session or missed some shots. But it's also a game where you have to "be where your feet are" to be successful. I still play. I love what golf asks of me every single day.
You founded The Mia Hamm Foundation around age 28. Tell me more about that.
We started The Mia Hamm Foundation to help raise awareness for people going through bone marrow transplants, as well as to empower young girls in sports. It was after my brother, Garrett, passed away in 1997 due to complications from a bone marrow transplant. We realized our family needed a lot of help. My brother was adopted, so we struggled to find a match for him in the national donor registry. It also put a lot of financial strain on my parents and our family, so we wanted to try to find ways to assist families going through similar treatments. He fought so hard and had so much grace and a sense of humor until the very last day. For me, the foundation was a way to celebrate that connection that we had.
You also went to the 2000 Sydney Olympic Games at 28. What was it like to play in Australia and win a silver medal?
It was great to participate in my second Olympics but it was difficult from the standpoint that we really believed our team could win gold. We were so close, but we lost in the gold medal game. There were a lot of tears, but to get that far was an amazing accomplishment, and it motivated us for the next Olympics.
You scored your 127th career goal during those Sydney Olympic games, breaking a record. How did that make you feel?
I wasn't counting my goals. I was more just like, "Wow, I scored at the Olympics." And more importantly, I was focused on helping my team win. I scored in the semi-final to get us into the final, so that was the focus rather than the celebration over the number. You're just like, "Hooray, we won and are able to play in the Olympic final."
What was your life like outside of soccer?
I loved to cook. I still love to cook, mostly Italian food with red sauce when I have free time and I'm home. That and golf. My days were focused on training. I was traveling and doing different appearances, too, whether it was for sponsors or speaking engagements — stuff like that.
You were at the top of your game at 28. Did you ever feel like it was too much pressure?
No, but that came from being one of six kids. My siblings put me in my place early. One of my sisters said, "Just because you're on TV doesn't mean you're better than us."
It was hard at the beginning to have the spotlight on me. It's a team game, so my success was based on the people around me and vice versa. People want you to say, "You're the best, tell us why you're the best," but I had teammates who pushed me every single day to get better and be accountable, and who were supportive in that process even when I was a pain in the butt to be around.
What would you do that made you a pain in the butt?
We're all intense. We're all competitors. If I messed up or wasn't successful, it bothered me.
How did you cope when you'd lose a game?
Usually a lot of silence and introspection. I'd go over different scenarios in the game and how I could have done it better. You need to learn from it but I think, in the moment, you want to yell at yourself in the mirror sometimes. It helps you refocus and say, "How could I have done that better?" and try not to make those same mistakes in the future.
You seem very grounded and present. Did you learn that from soccer?
That was actually one of my biggest issues when I played. I was always thinking of the next thing, rather than enjoying the moment. When I think about the regrets I have in my career, that's a big one: Not enjoying the day-to-day aspect.
It's one of the reasons why I love golf so much. You can't carry your frustration around during a game because it just gets in your way. Any tension in your golf swing is bad. In soccer, if I was struggling or if my touches weren't great or my passes were inaccurate, I could always work really hard and make a difference. Effort mattered. But in golf, the harder you try the worse it gets.
Would your 28-year-old self be proud of where you are today?
I hope so. I hope she would be proud and say it wasn't perfect, but that's OK.
This interview has been edited and condensed for clarity.