12 Denim-Obsessed Bustle Editors Share Their Favorite Jean Shorts
They're not just a closet staple, they're a crucial part of one's summer arsenal.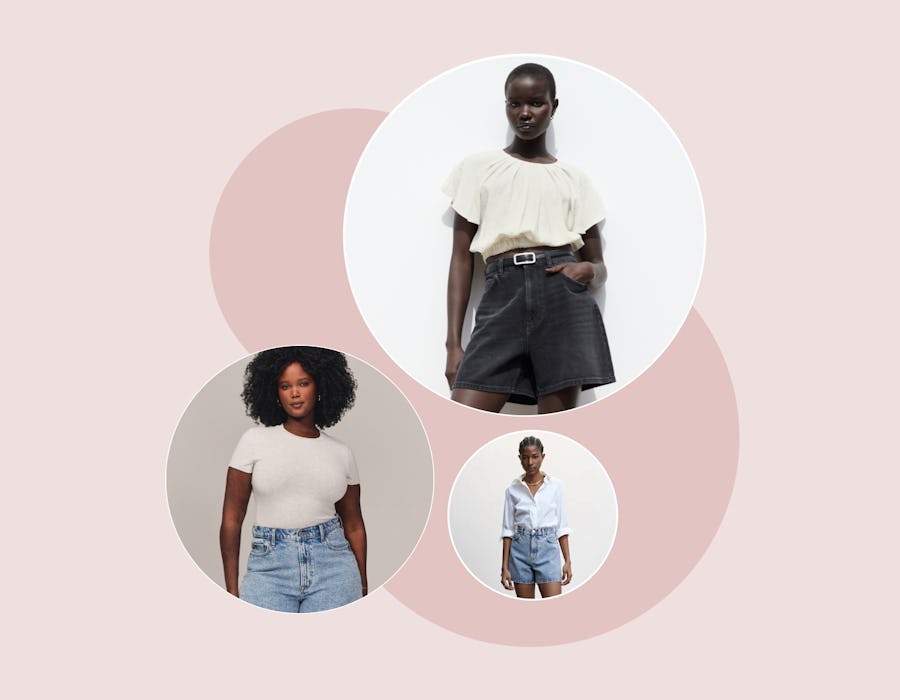 Courtesy of Zara, Abercrombie & Fitch, and Mango
We may receive a portion of sales if you purchase a product through a link in this article.
Denim shorts aren't just a closet staple, they're an especially crucial part of one's summer arsenal. How can you expect to look effortlessly cute while frolicking under the sun, picnicking in the park, or relaxing at the beach without a trusty pair of cutoffs in the rotation? But finding the perfect pair of shorts is much like finding the perfect pair of jeans: impossible. At least it feels that way, when you're halfway through yet another fruitless ASOS haul.
It can be challenging, to say the least, to find a pair that give you that perfect waist-hip-butt ratio (the trifecta of denim shopping). And factoring in the proverbial "FUPA" adds a whole other layer to the search. When you do find that pair, it must also boast the right wash, fade, and distressing — even fraying is really more of a stroke of luck than it is an exact science. Unfortunately, the fit test is likely the only way to really know for sure if a pair is comfortable — if you can really get through the day sans tugging, pulling, or bunching.
Because we're service-oriented here at Bustle, we'd like to help you skip the laborious trial-and-error process and, instead, lead you straight to a pair you'll enjoy all summer long. To do so, I polled editors and writers (including myself) across several Bustle Digital Group brands — Bustle, NYLON, The Zoe Report, and Elite Daily — for their favorite pairs of jean shorts. Their top recos, ahead.
"I love that these shorts have a zipper rather than a button-up waist and come in classic denim washes that match everything. The legs are a little bit wider than some typical denim shorts, which gives me major breathing room for my thicker thighs. I *so* appreciate this in the hot months of summer. The fit makes these great to wear with both casual crop tops and classier button-ups and blouses." — Alexis Morillo, Lifestyle Editor at Bustle
"Did you know jean shorts can actually be comfortable?! I didn't — until I got a pair of these. Abercrombie's entire line of Curve Love Denim fits so well that I genuinely get giddy when I pull on a pair (both jeans and shorts). They nail that relaxed and casual summer vibe, which as a size 18, had been elusive for me until now. Who knew jorts could make me so happy?" — Hayley Schueneman, Senior Newsletter Editor at Bustle
"I'm well past my booty shorts era, so I've been on the hunt for the perfect length — and these are it. They're long, but not overly so. Plus, they're 501s, which IMHO are the most iconic and flattering jeans ever made. I'll be wearing my black 501 shorts everyday this summer." — Rachel Lapidos, Senior Beauty & Lifestyle Editor at Bustle
"These are a cult favorite for a reason. They feel like that perfect vintage pair you had to hunt down, minus the hunt. They're just the right length, super comfortable, and come in every wash you could want. I live in these all summer. Just note that they run a size or two big." — Jenna Wexler, Senior Fashion Director at BDG Studios
"These shorts from STILL HERE are made from 80% recycled cotton and have an amazing fit. An A-line silhouette gives them a vintage, childlike feel, plus the bone colorway is a great alternative to a more traditional blue denim." — Kate Marin, Senior Branded Fashion Editor at BDG
"The mid-length of these denim shorts is absolutely perfect. With a looser fit and light wash, they feel relaxed but still wearable with an easy nighttime top and kitten heels." — Copelyn Bengel, Accessories Editor at BDG
"These shorts have the perfect rise and just the right amount of stretch to make them comfy, so I'm not constantly aware that I'm wearing shorts. I get them in the faded black so they go with everything." — Carolyn Steber, Wellness & Fitness Writer at Bustle
"Calvin Klein has always carried some of my favorite classics and I've been wearing their iconic denim every summer for as long as I can remember. This pair of mom shorts have perfect high rise, along with an embroidered logo along the waistband, so you won't have to deal with any scratchy tags." — Eunice Bruno, Associate Fashion Editor at BDG
"I love how We11Done always uses bold prints and designs. One of the co-founders is a K-POP singer and all of their clothing has this cool, musical, punk element that I really gravitate to." — Crystal Okonkwo, BDG Fashion Assistant, Fellow
"I struggle to find jeans of any kind that fit my waist, but aren't too tight across my curvy hips — and these babies are it. I grew out of my last pair of Zara's Mom Fit Shorts (which I had in two different washes, BTW) and I'm actually going to buy another pair. They're so perfect in fit, with a high-high waist and roomy silhouette, that I don't even need to search for a new style." — Kelsey Stiegman, Senior Fashion Editor at Bustle
"White denim shorts let me live out my Mamma Mia Greek holiday fantasies. This pair from Madewell are just long enough to feel comfortable and secure while sitting, and loose enough so they're not too constricting. It's all about striking the perfect balance." — Alyssa Lapid, Style Writer at Bustle
"Comfort, style, and versatility are key when it comes to denim shorts. These '90s-inspired shorts from Levi's fit the bill (and my signature look) seamlessly. They have an effortlessly slouchy fit that makes them delightfully unstuffy, and — unlike with my other cutoffs — I didn't even have to sacrifice a pair of 501s to land the look." — Elly Ayres, Associate Branded Fashion Director at BDG Studios