7 2000s Fashion Trends No One Wants To Bring Back
From layered plastic bracelets to long skinny scarves.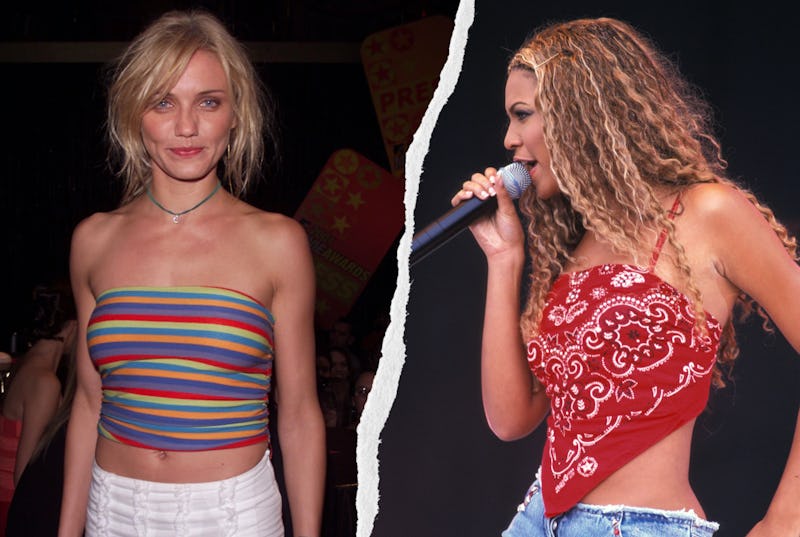 Getty Images
Some of the biggest trends of the moment got their start during the 2000s. Juicy Couture tracksuits, platform slip-ons, low-rise jeans, and more are part of the current fashion lexicon — and they're all looks that you remember from your childhood and couldn't wait to slip back into as an adult. That said, not every fashion trend from the 2000s is worth bringing back from obscurity.
What are some 2000s fashion trends everyone wants to leave behind? Bandana tops and layered plastic bracelets to name a few. Do you remember the head-to-toe denim looks that Britney Spears and Justin Timberlake wore to the 2001 American Music Awards? Of course you do. Even if the world is embracing the Canadian tuxedo, the denim hats, bags, and shoes are being left by the wayside.
And that doesn't even begin to touch on capris that are neither pants nor shorts. What about the layering of dresses over pants that look like you wore everything in your suitcase at once? And last but not least, you can't forget the DIY trends that probably should have been left to the professionals.
Though you're still holding onto the hope that these trends don't return, it's still fun to take a walk down memory lane and stroll past the bandana tops, all-over denim, and plastic jewelry that defined the naughties.
For all that and more, here are the 2000s fashion trends that no one wants to bring back. Ever.