20 Body Image Quotes To Inspire All The Feels
For the next time you're having a bad day.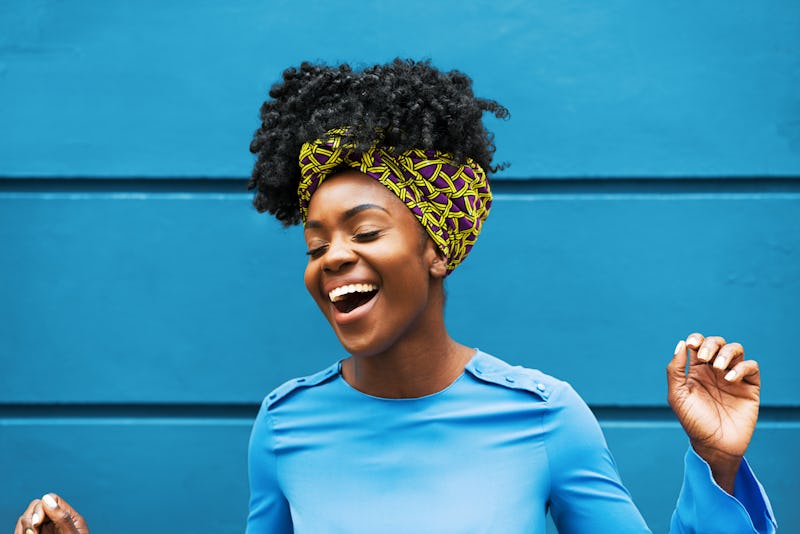 Tim Robberts/DigitalVision/Getty Images
Everyone has days when they feel insecure or unhappy with their body. Instead of beating yourself up the next time you have one, try to surround yourself with body positive quotes and messaging to cheer yourself up. I've often been surprised at how changing up my media diet can influence my perspective on my body. When I consume media that is body negative or fat shaming, for instance, I always feel bad about myself by the end of it. And if it's a bad body image day, all hell breaks loose.
So instead, I cheer myself up by looking at body positive media. I'll skip any fat shaming articles I see online or in fashion magazines and soak up some words of wisdom from people like Gabi Gregg or Virgie Tovar. One of the ways I get most inspired is to look at quotes and quote plates with body positive messaging to remind myself that words are powerful, as is the way in which I frame my body image. I can make the choice to change the channel and love myself, instead of being swept down a river of self-hate.
So the next time you're having a bad body image day of your own, try it yourself and look at these 20 quotes to inspire you to keep going.
1. "Love your body because you only have one."
2. "To me, beauty is about being comfortable in your own skin. It's about knowing and accepting who you are."
3. "You are no less valuable at a size 16 than a size 4. You are no less valuable as a 32 A than a 32 C."
4. "The best gift you are ever going to give someone — the permission to feel safe in their own skin."
5. "Every piece of you is a burst of beautiful."
6. "Fat is not a bad word."
7. "Feeling beautiful has nothing to do with what you look like."
8. "Loving yourself is the greatest revolution."
9. "Take care of your body and your body will take care of you."
10. "I am allowed to look sexy, feel sexy, and be in love. I am worthy of all of those things. And so are you."
11. "One day I decided that I was beautiful and so I carried out my life as if I was a beautiful girl. It doesn't have anything to do with how the world perceives you. What matters is what you see."
12. "Confidence is the only key. I can't think of any better representation of beauty than someone who is unafraid to be herself."
13. "When you discover your self-worth you will lose interest in anyone who doesn't see it."
14. "We shall be different and we shall love our bodies."
15. "I do not need permission to feel glorious."
16. "I definitely have body issues, but everybody does. When you come to the realization that everybody does that — even the people I consider flawless — you can start to live with the way you are."
17. "Your body, your rules. Do not let society fuck you up!"
18. "The problem isn't with your body, the problem is what you think of it."
19. "Sexy is not a size... your body is not a battleground. Your value is not measured in pounds.
20. "Dear Body, you were never a problem. There is nothing wrong with your size... you're good enough already."
This article was originally published on