Every Look Tayshia Adams Wore On The Bachelorette
All Randi Rahm creations, naturally.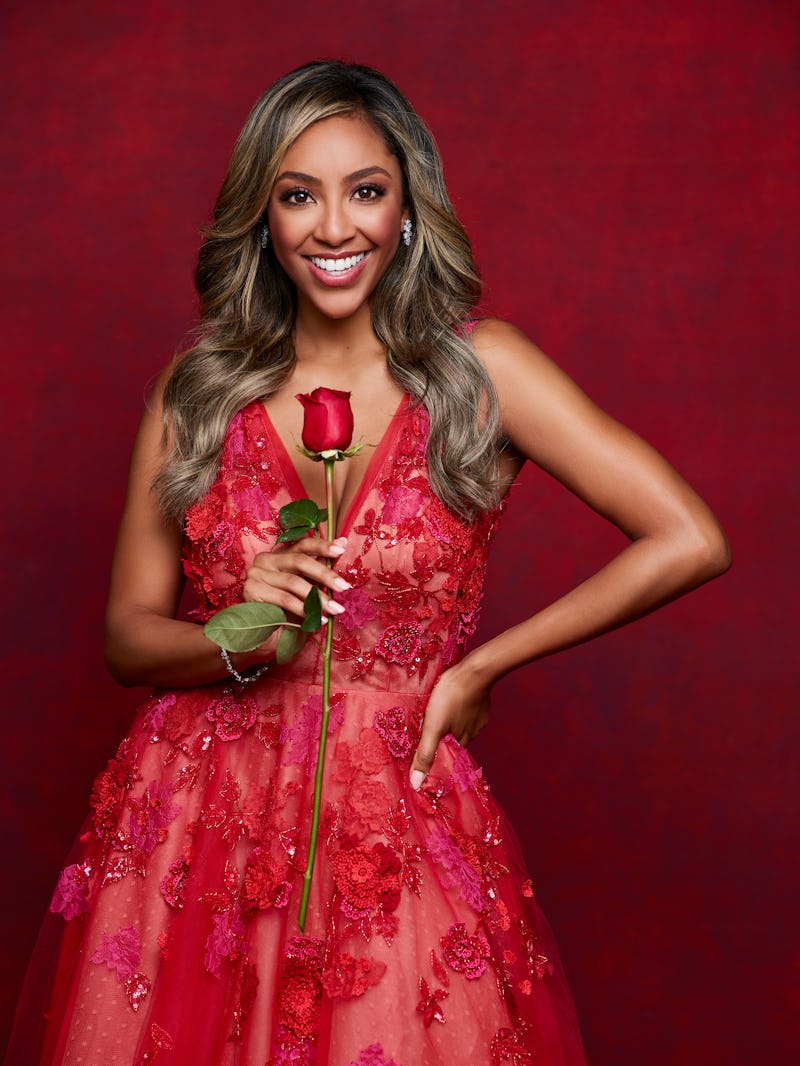 ABC
This season of The Bachelorette is like none other. The first to hold the title this year — Clare Crawley —found her fiancé in Dale Moss just two weeks into shooting. Soon after, Tayshia Adams, was called in from the wings to be the second bachelorette. You may recognize her from both a former season of The Bachelor as well as Bachelor in Paradise last summer. Both bachelorettes have a love for embellished gowns, and Bachelorette Tayshia Adam's Randi Rahm dresses are already a favorite of the season.
Adams's style is always elegant and polished, with the new Bachelorette opting for gowns, dresses, and jumpsuits with a retro feel. She's worn everything from a '90s-inspired slip dress (with a tattoo design on the bodice) to a one-shoulder ruched gown that felt very 2000s. She gravitates toward plenty of red carpet staples like sheer and thigh-high slits, but by nodding toward trends of years gone past, she gives them her own unique twist. Adams also doesn't shy away from color, embracing purple gowns when the mood strikes her. But her palettes of choice are decidedly classic, ranging from chic black dresses to festive metallic options.
See the red carpet-worthy looks Taysia Adams wears on this season of The Bachelorette, below.
We only include products that have been independently selected by Bustle's editorial team. However, we may receive a portion of sales if you purchase a product through a link in this article.
Bachelorette Tayshia Adams' Finale Dress
On the finale episode of The Bachelorette, Tayshia Adams stunned in a one-shoulder gown that gave off total bridal vibes. Though it was technically baby blue in tone, it was white enough to be completely fitting for an engagement photo-op. And, hey, it even gave a nod to her future 'something blue' as well.
Some eagle-eyed fans even noticed that it was a nod to her first dress on The Bachelor Season 23 in 2019. For that occasion, Adams wore a one-shoulder gold dress, and the neckline on The Bachelorette finale dress brings the look — and her time on the franchise — full circle.
Though the season was full of glitz and glamour, right down to her luxe silk jumpsuits, Adams' finale look was a noticeably subdued choice when it came to lack of embellishment. It was, however, as fitting as an evening gown could possibly be for the desert setting of the final rose ceremony. There was, however, a single statement detail, which came in the form of a back slit which gave way to a small train of tulle. Shop a similar look below.
Go for a leg-slit version of Adams' one-shoulder number if you're looking for an understated evening look.
Bachelorette Taysia Adams' Sheer Purple One-Shoulder Gown
Tayshia Adams' purple gown in the Dec. 2 episode of The Bachelorette featured a sheer overlay, a tulle skirt, and a one-shoulder silhouette that fans couldn't stop fawning over.
The Randi Rahm dress is called the Amanda Gown and it's crafted of a sheer point d'esprit tulle and lace that is overlaid on top of an opaque strapless silhouette. The tulle is pulled in a subtle knot at one shoulder and gathered throughout the bodice.
Fun fact? The light pink version of this same dress was actually worn by Edie Falco at the 2011 Emmy Awards.
The choice of a purple gown has meaning. Purple is said to represent "power and ambition," and Adams definitely made a power move on the show this week. Her decision to send Eazy home — before the rose ceremony even — speaks to the fact that she is confident in what she wants and is making strides to that effect.
Get a similar power look with the below dress.
While not entirely sheer, this dreamy chiffon purple gown captures the romantic quality of Adams' dress, and it features a thigh-high slit and cut-out to amp up the glamour quotient.
Bachelorette Taysia Adams' '90s Slip Dress
In the Nov. 17 episode of The Bachelorette, Adams stepped out in a look from the designer's Fall 2020 Couture runway called the Snake Tattoo Dress. It is a little black dress—with a twist. The gown features a tank silhouette crafted of black silk with a slit up the left thigh. It boasts a gold snake pattern right at the hip where the slit meets the bodice. Adams finished her look with a pair of metallic heeled sandals peeking out from the bottom. Shop a similar look below:
This chic slip dress features a criss-cross neckline and a thigh-high slit much like Adams' gown, sans gold tattoo decal. Finish off the look with strappy stilettos or go for metallic sandals like Adams.
This article was originally published on