Can I Interest You In These Stiletto Crocs?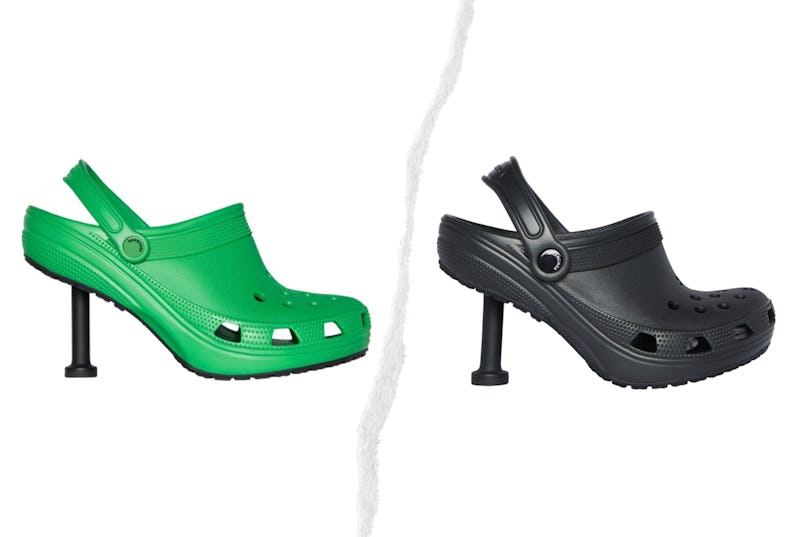 Courtesy of Balenciaga
No matter where you fall on the hard-fought battleground of Team Crocs versus Team Never Crocs, there's no denying that merely bringing up the subject of Crocs is just asking for trouble. Now add Crocs heels or stilettos to the mix, and you've lodged head first into a full-on debate.
When it comes to footwear, few pairs of shoes have ever been as controversial as the foam clogs that were first birthed into existence back in 2002. They got a lot of hate in the early aughts for being, well, a little unsightly. But diehard fans of the brand swear that their comfort level makes them a must-have.
Now the internet is collectively arguing about the latest iteration of the shoe to hit the market: heeled Crocs. Yes, you read that right: Crocs. With. Heels. Balenciaga teamed up with the footwear company to create two new shoe designs for Balenciaga's Spring 2022 collection. The Spanish fashion house debuted knee-high Croc boots and stiletto clogs, which are available in colors like bright green and black.
Crocs aside, most of the collection is rooted in moody black tones, with glimmers of colorful prints — from floral to polka dots — making an occasional appearance. Outerwear is the true marker of this collection, including everything from puffer jackets to big-shouldered blazers to actual bathrobes. It's a confluence of all the emotions the last year has brought, with a dash of hope about what the future may hold. The show ended with a striking bright red gown that felt very forward-looking.
As for the heeled Crocs, they continue to be prime social media fodder. Read on for some of the best — and most confused — reactions to Balenciaga's introduction of stiletto Crocs.
Questions That Need Answers
This Might've Been The Last Straw.
Not The Crossover This Person Was Expecting.
They Need To Give The People What They Want.
Just Throwing Things Together To See What Works.
Sensing A Cardi B Remix Any Day Now...
For Some, Rage Is The Only Emotion.
The Price Is A Bit Controversial, Too.
If So, They're About Two Months Too Late.
There's Not Much More To Say Than This.
Loved The Collection, Except For The Heeled Crocs.
People Are Going To Be On High Alert.
One Person Feels Confident They Could Make Them Work.
No Thoughts, Just Vibes (And Heeled Crocs)
Case Closed.