9 Of The Best Black-Owned Plant Shops In The UK
From London to Leeds, plant parents should get to know these brands.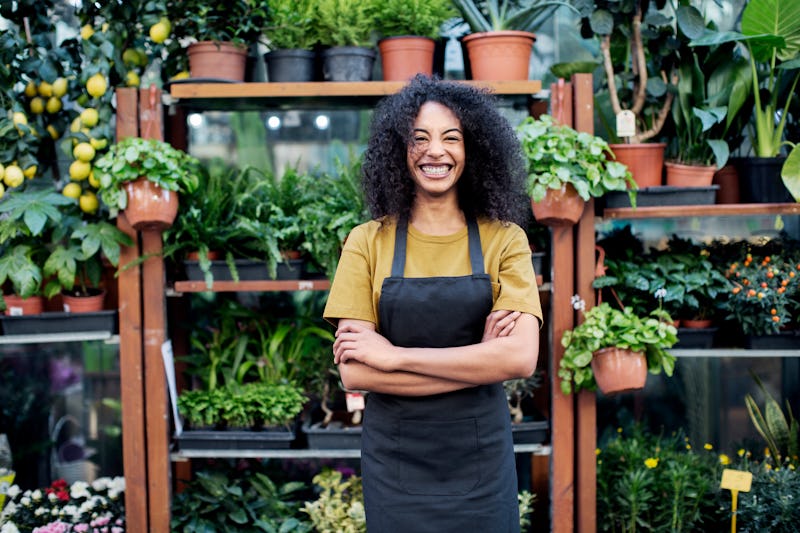 Cavan Images / Getty
I for one have become pretty obsessed with plants over the last year, especially indoor plants. They add character to your home, brighten your space, bring benefits for your physical and mental health, and provide a nurturing outlet. Having drawn up a list of the best local plant and flower delivery services, I wanted to focus a little more specifically on Black-owned plant shops and florists in the UK.
As the start of 2021 sees the UK still in lockdown, with the next few months likely to be spent mainly indoors, houseplants seem even more valuable right now. In 2020, the government's Office for National Statistics reported that one in eight British households does not have a garden, and Black people in England are nearly four times more likely than white people to have no outdoor space at home.
Bringing the outdoors in, then, is a viable solution for many to reap the rewards of a little green sanctuary. As the RHS explains, "research suggests that the greatest benefits of indoor plants are through wellbeing and productivity improvement." Plants can be a mood booster, and lower stress levels. The influence of plants on indoor air quality is still up for discussion – the RHS says research is ongoing to determine the amount of plants and light that would be needed to make a significant impact.
What I'm convinced of is that plants are a surefire way to bring a little more joy to indoor spaces, and there are many Black-owned plant shops and florists that you can support along the way – nine of which I've listed here. Happy plant shopping.