This Jelly Body Scrub Makes Showering So Fun — & My Skin Has Never Been Softer
It's the adult equivalent of playing with rubber duckies.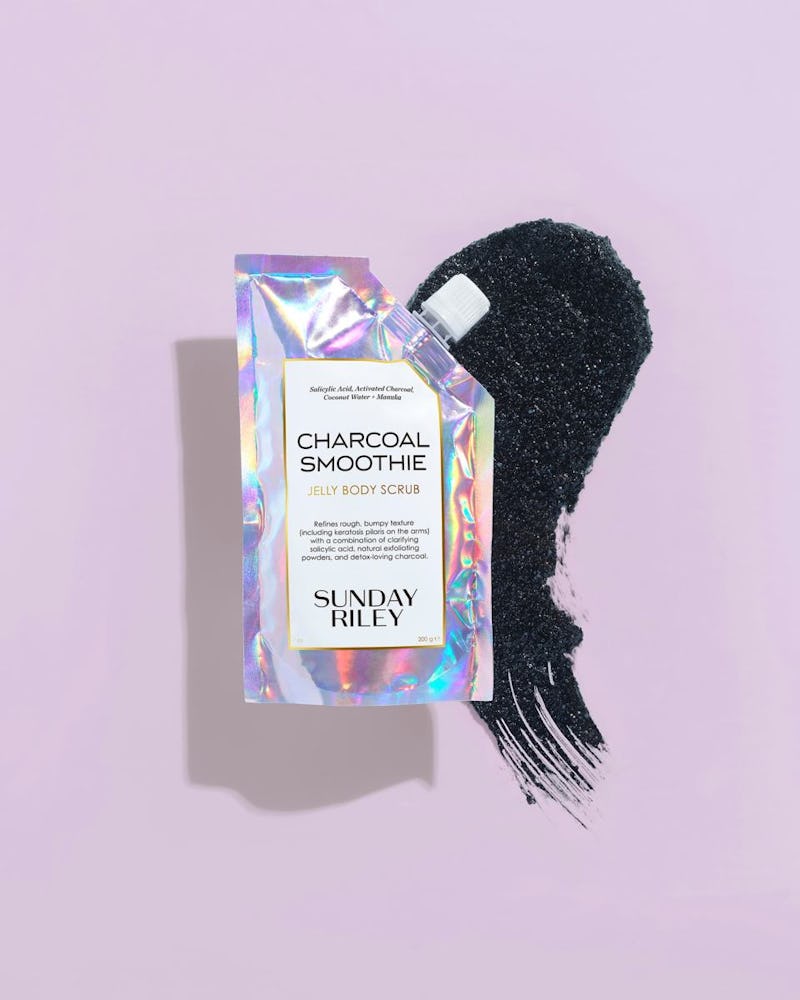 Courtesy Of Sunday Riley
Sometimes getting into the shower can feel like a chore. I mean, once I'm actually standing under the soothing stream of steamy water I basically never want to leave, but sometimes it's hard to muster the motivation to even climb in. One thing that amps me up for a good shower sesh is having an arsenal of skin care products — like the best body scrubs, body washes, and cleansers — at the ready. It's sort of like the adult equivalent of playing with rubber duckies, only we're talking about slathering, lathering, and scrubbing with luxury skin care loot.
Even looking at Sunday Riley's iridescently-packaged Charcoal Smoothie Jelly Body Scrub among my other shower goodies makes me feel happy. And though I'm a true sucker for the playful packaging, I wouldn't keep a product on hand if it wasn't legit through and through.
The body scrub is formulated with activated charcoal which helps nix impurities, as well as salicylic acid, a chemical exfoliant that helps my skin look and feel smoother. You also get the physical scrub effect via biodegradable wax, which is way kinder to the skin compared to other common exfoliants like abrasive walnut shells.
Another bonus is that it has super hydrating ingredients blended into the mix as well, including coconut water, manuka leaf oil, and jojoba seed oil. The result is a luxurious scrubby-jelly texture that delivers the right amount of exfoliation without feeling like you're over or under doing it.
The Benefits Of Body Scrubs
Why even keep a body scrub in the shower? The benefits go way beyond turning your shower time into a self-care moment.
"Body scrubs remove dead skin cells and leave the skin feeling fresh, soft, and smooth," says Dr. Scott Paviol, a board-certified dermatologist and founder of Paviol Dermatology in Charlotte, North Carolina. "If you don't remove those dead skin cells, you could end up with breakouts and clogged pores, so it's definitely a regimen we suggest adding into your skin care routine one to two times a week."
The goal isn't to power wash your skin — yikes! — but rather to gently buff away all the dead skin cells, keratin plugs, and textural inconsistencies that can make your skin look dull and rough. That said, a light hand and the right product can be a real skin care game changer.
Along with the Sunday Riley jelly scrub, check out our picks for the 10 best body scrubs worth the spend, including a cooling scrub and one that combines juicy grapefruit and creamy rose.
The Best Body Scrubs
Bustle Shop is Bustle's shoppable guide to editor-approved buys in fashion, beauty, wellness, and lifestyle. We may receive a portion of sales if you purchase a product through a link in this article.
Summer means sweltering temps. Make your shower even more of a cool down with this refreshing peppermint scrub from Cuccio, which is chill in more ways than one. It's made with a blend of peppermint, epsom salt, and seaweed extract for a pampering experience that'll leave you smooth, cool, and hydrated.
A morning cuppa is a must, but you can double down on the energizing goodness with this coffee body scrub from UpCircle. Coffee bean powder exfoliates skin alongside sea salt, while shea butter moisturizes like a champ and eucalyptus oil wakes you right up.
We've got your morning body scrub routine covered, but what about your evening shower regimen? If you're looking to unwind, Klei's lavender and coconut scrub is a go-to choice. The relaxing scent of lavender mingles with cedarwood and ho wood (a type of evergreen tree), which adds to the grounding effect. The scrub also features softening shea butter, moisturizing safflower oil, and exfoliating sugar.
Grapefruit and rose might as well come from two different planets. But as they say, opposites somehow tend to work together. That's the case with this delish Grapefruit Rose sugar scrub from Naked Bar Soap Co., which delivers the perfect blend of zesty citrus and creamy floral. Fine sugar exfoliates your skin while coconut oil, mango butter, and shea butter moisturize.
If you prefer just rose, I've got you covered: Though a splurge, the decadent shower experience you get with By Terry's Baume De Rose Le Gommage Corps Body Scrub is #worthit. Consider it a rose garden in a tube, complete with rose butter, rose flower essential wax, rosehip oil, and extracts from black rose and pastel rose. Sugar crystals work their exfoliating magic while all the above makes you feel like you're in heaven.
If you have sensitive skin, this body scrub is for you. It puts neem leaf powder front and center — an ingredient that's rooted in African and Asian cultures and noted for its medicinal properties. The scrub also features organic sugar, shea butter, and desert date oil.
If you're aiming for a creamy, ultra-gentle exfoliation experience, try this earthy body scrub from bjork and berries. It combines birch bark and water, organic sea buckthorn, shea butter, and a handful of nut butters and botanical oils to scrub, hydrate, and nourish.
Yep, Birkenstock (the iconic shoe brand) also makes skin care products. True to the brand's DNA, the hero ingredient in this gentle body exfoliator is cork oak, which works alongside macadamia and jojoba oils to soften and smooth.
You can't go wrong with classic vanilla, which is precisely what you get with Nativa SPA's rich and creamy Madagascar Vanilla Soothing Body Scrub. It combines sugar, shea butter, and mineral oil with vanilla to gently buff away impurities and rough texture while hydrating your skin.
Bustle Shop brings you the editor-approved buys we can't get enough of and think you'll adore, too. Best of all, you can shop all of the products above directly on this page without visiting multiple retailers. Simply click on an item to learn more, choose your size or favorite color (if applicable), and then hit "add to cart." When you're done, you can click over to your cart in the top right corner of your screen to purchase all your stellar selects at once. How easy is that?
Questions about shipping, returns, or your order in general? Click here for more information.
Explore more of Bustle Shop (and our fashion, beauty, and lifestyle must-haves) here.