The Best Makeup-Removing Cleansers
We only recommend products we love and that we think you will, too. We may receive a portion of sales from products purchased from this article, which was written by our Commerce team.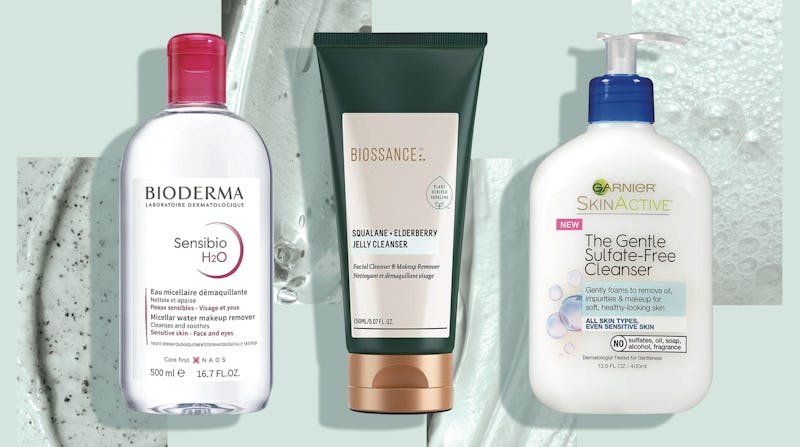 Bustle/Amazon
There are a lot of great cleansers out there, but not all of them are up to the task of removing a full face of makeup. When that's a priority, you'll want to reach for a micellar water or an oil-based cleanser, like a cleansing oil or cleansing balm. But even more important as choosing one of the best makeup-removing cleansers is the technique you employ to remove your makeup. When you have a lot of makeup on your face, you'll want to double cleanse, which entails using two cleansers to give your skin the deepest, most thorough cleanse possible. First up is that ever-important oil-based cleanser or micellar water — this is the product that will break down your makeup, as well as your oil-based skin care products (like sunscreen). After you rinse that cleanser off, you'll want to follow up with a water-based face wash, such as a cleansing gel or foam. Your second cleanser will get rid of any makeup that's left on your face, and it'll also be the cleanser that delivers more targeted benefits to your skin, so choose your second cleanser wisely.
Since the focus of this article is makeup-removing cleansers, most of the cleansers featured here will work best as the first step in a double-cleansing routine. You should pick your second cleanser based on any specific skin concerns you may have — e.g., dehydration or dryness, an uneven skin tone, or congested pores — since most of the makeup-removing work will have already been accomplished by your first wash.
Once you've picked out a new makeup-removing cleanser from this list, check out the best brightening cleaners (perfect for dull or uneven-looking complexions); the best BHA cleansers and the best glycolic acid cleansers (both great for congested and/or breakout-prone skin); and the best cleansers for hormonal acne (self explanatory).