The 7 Best Clean & Eco-Conscious Products Of 2023
Earth-friendly picks you'll love.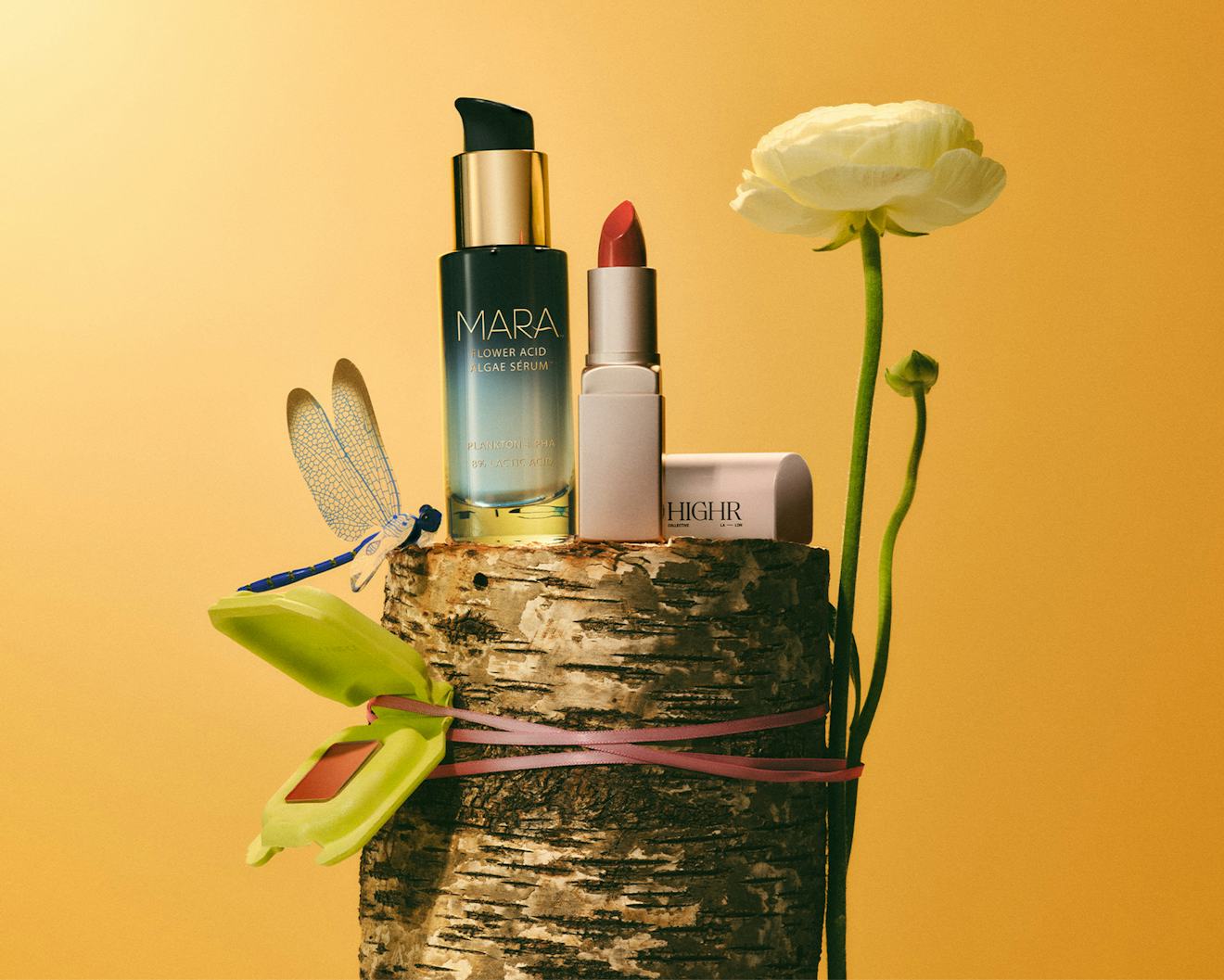 It's been a bit of a bumpy ride for clean beauty these past few years as the category suffered from a lack of transparency around the unregulated term. But, as consumers demanded more accountability from companies that market themselves as eco-conscious, a contingent of notable brands stepped up to pledge their commitment to sustainability, transparency, and environmental responsibility. While the clean landscape can still be a minefield of marketing terms that don't necessarily mean anything real, there have been some notable advancements in inclusivity, supply chain overhauls, ethical ingredient sourcing, and eliminating plastic packaging waste that have made the clean category a kinder, gentler, more authentic place thanks to some hardworking brands. Read on for Bustle's best new clean beauty of 2023.
The Sustainable Shampoo
Reduce waste and keep your hair and scalp hydrated with this chic, ocean-friendly shampoo and conditioner bar. Housed in a pretty aluminum tin, it's made with Australian botanicals like snowflower and lilly pilli, which cleanse, soften, and condition hair while saving water and cutting down on plastic waste. "I really love shampoo bars, and this one smells lovely, but not overly feminine, so both my husband and I have been using it," says BDG staffer Miranda Rake. "It lathers up easily, so I really do think it'll last as long as it claims."
The Do-It-All Hair Smoother
This blowout lotion from organic brand Innersense smooths the cuticle, reduces frizz, and locks in moisture as it protects against heat damage with the power of certified organic coconut oil and mango seed butter, plus avocado, baobab, and frangipani. The brand makes its ingredient list transparent and easy to search thanks to the help of ClearForMe, a searchable database that helps to standardize and centralize ingredient information for conscious consumers. "I completely love this stuff," says BDG staffer Kelly Faircloth. "It's easy to use and it really elevates my blow-dried hair from functional to downright salon quality. I have fine, thinning, straight hair so I was concerned it would weigh it down too much, but instead it just gives it some nice smoothness and shape without any heaviness."
The Brightening Moisturizer
With a 50% organic aloe base, plus three forms of vitamin C and wildcrafted chokecherry, sustainably harvested from the brand's home base in Jackson Hole, Wyoming, this hydrating gel cream from Alpyn Beauty brightens, smooths, and tightens skin. "This moisturizer has a unique texture — like key lime pie filling," says BDG staffer Erin Lukas. "It absorbs quickly into the skin, leaving a nice glow, and my skin felt soft all day after I applied it in the morning."
The Skin Texture Smoother
This vegan, multi-acid formula is a gentle, yet effective skin resurfacer that uses lactic acid, bio-active flower acids, French sea water, and plankton to visibly improve the appearance of large pores, blemishes, and uneven skin texture. The result is a smooth, airbrushed complexion that's also plumper and firmer without any irritation. "Obsessed," says BDG staffer Katie McPherson. "I have tried a million products to reduce the appearance of my pores and blackheads. Obviously you can't actually shrink your pores, but this stuff truly does reduce the size of my blackheads. I stan."
The Sustainable Body Hydrator
This super-hydrating body serum is a standout for its formula alone, but what really sets this hydrator apart is its commitment to sustainability on every level. The Australian caviar lime, Australian Kakadu plum, organic aloe vera, and bladderwrack seaweed formula is skin-, land-, and reef-safe, making it a part of the so-called blue beauty movement. It also comes in a refillable pump dispenser to help cut down on plastic waste. "This body serum is fantastic," says BDG staffer Miranda Rake. "I like that the scent is super gender-neutral. I am not a body lotion person usually, but this serum might convert me because I cannot believe how silky my skin feels with this stuff on it."
The Compostable Eye Shadow
From the brilliant mind of makeup artist Donni Davy — the creative genius behind the colorful, glittery masterpieces on Euphoria — these eyeshadow compacts feature the most stunning prismatic, velvety shadows housed in compostable compacts. Recycling has always posed a major issue for cosmetics, which oftentimes have too small components to be properly recycled and wind up in landfills. With these compacts, you remove that issue as they can be composted in your home composting bin. Simply remove the pan, peel off any excess glue, and toss it in with your other compost. No fuss, no waste, no worry. "I am in love with the packaging of this product," says BDG staffer Julia Meslener. "Everything is compostable or recyclable — it's very exciting to see. The color selection is phenomenal and the shadows were very buildable, so you can add as little or as much as you want."
The Universally Flattering Lipstick
Made with bioavailable plant emollients and organic plant butters and oils, each HIGHR lipstick boasts between 66% to 74% organic ingredients. The Blue Jeans hue was the result of HIGHR customers and makeup pros mixing together two existing shades to create a universally-flattering neutral tone, so the brand decided to make it official and concocted this mid-tone pinky shade. BDG staffer Kaitlin Cubria calls the shade a "makeup bag staple that goes on silky smooth and feels balmy," while Kimberly Perry says it's "perfect for an everyday wear, and feels so nice on."
Photographs by Di-Chen Chen
Prop Stylist: Ada Victoria Ochoa Arce
Executive Beauty Director: Faith Xue
Photo Director: Alex Pollack
SVP Creative: Karen Hibbert