The 7 Best Crocs For Plantar Fasciitis
We only recommend products we love and that we think you will, too. We may receive a portion of sales from products purchased from this article, which was written by our Commerce team.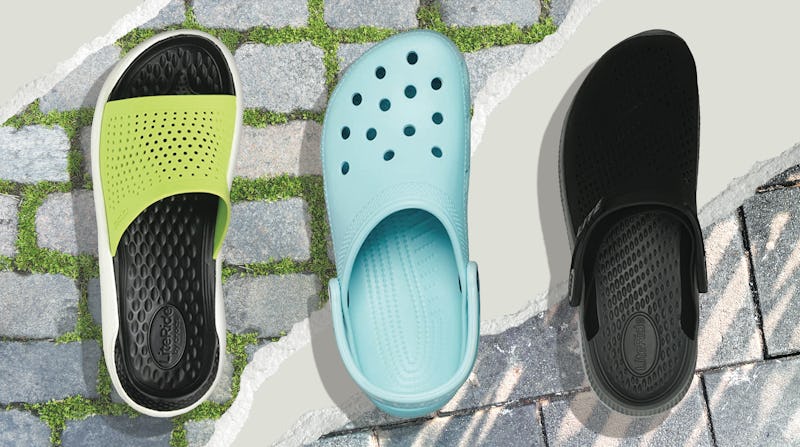 Amazon
Since plantar fasciitis of the heel ligament is usually caused due to overuse, inadequate support, or foot structure, the correct shoes can help bring relief. And, believe it or not, many people have found that a good pair of Crocs will minimize the pain and offer ample support. According to a podiatrist, the best crocs for plantar fasciitis will be low to the ground, structured, arch-supporting, and shock-absorbing.
The Expert
A Board-certified foot surgeon, Brad Schaeffer, DPM, currently practices at Sole Podiatry in New York City. In addition to his Instagram following, Dr. Schaeffer is know for his starring role on TLC's My Feet Are Killing Me and performance on NBC's The Titan Games.
What To Look For In A Supportive Croc
According to Dr. Schaeffer, if you have plantar fasciitis, worn-out athletic shoes are likely making it worse. Instead, you should purchase new shoes that "absorb shock, have good arch support, and have a low heel."
"Crocs can be great to provide cushioning [for the heel]," Dr. Schaeffer wrote in an email to Bustle, and that's largely due to the brand's unique resin material which is designed to absorb shock and cushions sore feet without losing its structure. All of that is great news for those with plantar fasciitis, because shoes that are too soft can actually worsen the issue, too. "Cushioning is not the only thing we should be looking for," Dr. Schaeffer wrote. "It is very important to support the arch" and minimize pressure on the heel, so look for Crocs that are low and contoured, as well.
Shop The Best Crocs For Plantar Fasciitis
In a hurry? Here are the top picks, which follow Dr. Brad's advice and feature real reviewers who have experienced relief from their plantar fasciitis.
1. The Expert-Recommended Pair
When asked which pair of Crocs is best for plantar fasciitis, Dr. Brad recommended these Crocs Literide 360 clogs. The LiteRide foam footbeds are comfortable, but still remain lightweight, form-retaining, and resilient. The upper is designed to mimic knit fabric in its flexibility and breathability, except that it's waterproof and very durable. Finally, since they slip on and off with ease, yet have a secure heel cup and movable sling, buyers love wearing them for all types of activities.
One reviewer wrote: "My podiatrist recommended that I get a pair [of Crocs] to help with my plantar fasciitis. I went along with it and have to admit that these things are really comfortable as part of a very successful treatment plan so I would recommend."
Available sizes: 6 Women/4 Men — 15 Women/13 Men | Available colors: Almost White/Almost White, Atmosphere/Multi, Black/Citrus, Black/Multi, Black/Slate Gray, Blue Steel/Microchip, Light Grey/Oxygen, Light Grey/Slate Grey, Navy/Blue Grey, Pearl White/Multi, Taffy Pink
2. The Fan-Favorite
The Crocs Classic clog has more than 350,000 reviews on Amazon as well as an overall 4.8-star rating, not to mention that it's a leading best-seller and tons of colors. Buyers love it because it's made 100% from Croslite material, and is comfortable, non-slip, supportive, lightweight, slip-on, washable, and waterproof. Needless to say, people buy them for all different settings and seasons, but more than 100 buyers specifically mentioned plantar fasciitis in their reviews.
One reviewer wrote: "My new favorite shoes! I'm a recent convert to Crocs; these help with my bone spurs and plantar fasciitis soooo much. I wear them pretty much all waking hours and can walk for miles in them. I couldn't do that with any other shoe or insert."
Available sizes: 4 Women/2 Men —19 Women/17 Men | Available colors: Black, Army Green, Navy, Pepper, Slate Grey, White, Electric Pink, Grass Green, Fuschia Fun, Orange Zing, Pure Water, Sulfur, Taffy Pink, Turq Tonic, Bright Cobalt, Celery, Digital Violet, Evergreen, Chocolate, Ballerina Pink, Ice Blue, Lavender, Lemon, Papaya, Khaki, Flame, Oxygen, Stucco, Neon Purple, Tangerine, Black/White, Cerulean Blue, Blue
3. The Best Crocs Sneakers
For more demanding activities, a backless design might not cut it. That's where the Crocs LiteRide Pacer sneakers come in. The ventilated upper covers the foot and even has laces for extra security — but since they're still Crocs, you still get LiteRide foam footbeds which are resilient, supportive, and well cushioned. Reviewers also rave about these shoes because they're non-slip and easy to care for.
One reviewer wrote: "I had plantar fasciitis last year. I tried many different sneakers nothing helped. I'm a dog groomer and needed something that can get wet and not be slippery. I stand all day on concrete. These sneakers once I got them, my planter fasciitis went away within 2 weeks (i already had it for 8 months). These are a great find!"
Available sizes: 4 — 11 | Available colors: Black, Almost White, Black/Camo, Pearl White, Navy/Orchid, Navy/Ice Blue, Electric Pink, Fresco
4. The Best Slides
Slides are great for the beach, the pool, walking the dog, around the house — you name it — and according to multiple reviewers, these Crocs slides are also great for plantar fasciitis. They offer soft yet supportive foam insoles that cup your heel and hug your arch, all while remaining lightweight and waterproof. The lightweight uppers are ventilated for quick-drying breathability.
One reviewer wrote: "Got for my husband who has plantar fasciitis and always needs to wear shoes around the house. These slips are great because they are easy to get into quickly and provide a decent amount of support. Better support than most slips and definitely better than flip flops."
Available sizes: 6 Women/4 Men — 15 Women/13 Men | Available colors: Black/Slate Grey, Black/Smoke, Lime Punch/Almost White, Navy/White, Pearl White/White, Electric Pink/Almost White, Blue Ocean/Light Grey
5. The Best Flip-Flops For Plantar Fasciitis
Most flip-flops are unsupportive, so they're typically not a great option for those with plantar fasciitis. The Crocs Baya flip-flop is the exception. Molded from Croslite, water rolls right off of the thick, supportive insole that's even textured to massage your foot as you walk.
One reviewer wrote: "It's like walking on air. I have been diagnosed with plantar fasciitis and I had to get rid of my flip flops (I'm in Florida and I wear flip flops all day lol) and these are a perfect replacement. I have less foot pain with these. Also because they do not bend easily it keeps my feet steady when I walk. They are perfect."
Available sizes: 6 Women/4 Men — 15 Women/13 Men | Available colors: Black, Navy, Lapis, White, Pepper, Tropical Teal
6. The Best Crocs With Height
Dr. Brad Schaeffer recommends that those with plantar fasciitis typically opt for low shoes, but those looking to add a little height should consider these Crocs Brooklyn sandals because they're wedges instead of heels, which helps to distribute weight along the foot. They're also lightweight and have the same textured LiteRide foam footbeds and deep heel cup as Dr. Schaeffer's recommended pair. That said, thanks to their wedge design and thick straps, they're stylish and formal enough that some reviewers have even worn them to weddings.
One reviewer wrote: "Incredibly comfy and versatile. I've worn them with cropped jeans, shorts and summer dresses. Walked in them all day with my plantar fasciitis flaring up. I plan on getting more in different colors!"
Available sizes: 4 — 11 | Available colors: Black, Black/Mushroom, Mauve Mist/Mushroom, Metallic Champagne, Mocha/Mushroom, Flame/Mushroom, Pale Blush/Mushroom, Navy/Stucco, Mushroom/Stucco, Multi/Stucco, Oyster, Army Green/Mushroom
7. The Best House Slippers
Plenty of Crocs fans wear their slides and clogs around the house, but if you're looking for something a little cozier, opt for these Crocs Luxe slippers. On the outside, you'll find synthetic faux-fur collars and felt-like uppers — but on the inside (underneath the plush lining), these have thick, supportive insoles that hold their structure. Get them in your choice of three colors.
One reviewer wrote: "I have plantar fasciitis and cannot walk around Barefoot in the house. These slippers have saved my feet. I wear Crocs sandals all summer long and never have any trouble with fasciitis but when I put my sandals away this winter the pain started up. I purchased a pair of Crocs sneakers to wear outside and these Crocs sandals for indoor and my feet are already starting to feel much better. They are a must-have for people with fasciitis."
Available sizes: 4 — 9 | Available colors: Black, Rose Dust, Burgundy
Also Great: These Orthotics That Work Well With Crocs
If plantar fasciitis persists, Dr. Schaeffer suggests to his patients to add an insole to their shoes, which further prevents "the plantar fascia from stretching and causing pain." He directly recommends these Dr. Scholl's Plantar Fasciitis orthotics, which have a shock-absorbing heel cushion, can be cut to size, and work well with almost any shoes — including Crocs.
One reviewer wrote: "These gel inserts are a perfect solution for hard, flat summer footwear. I slip them into my Crocs for additional cushioning and all day comfort!"
Available sizes: 6-10 — 8-13
Expert:
Dr. Brad Schaeffer, DPM, Board-certified foot surgeon and co-star of TLC's My Feet Are Killing Me