The Best In-Shower Lotions, Tested & Reviewed
Save time and get silky skin in one step.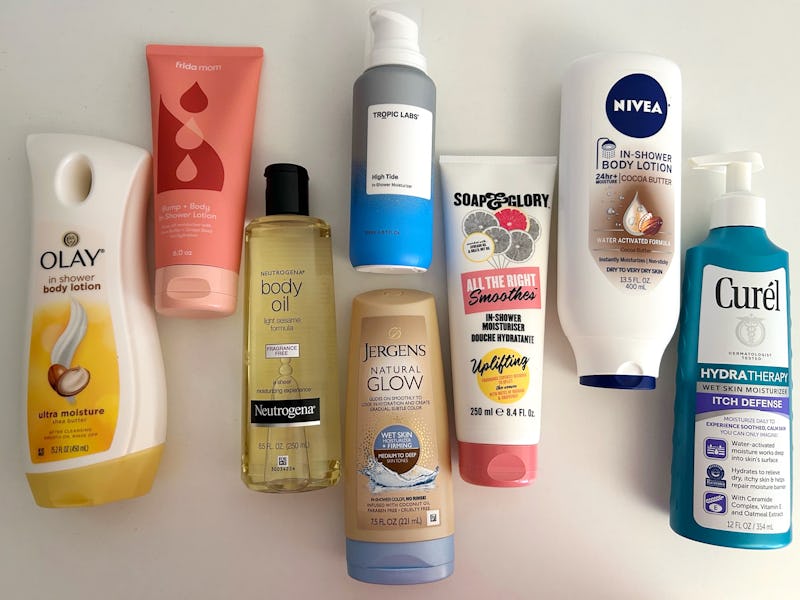 Marissa DeSantis
We may receive a portion of sales if you purchase a product through a link in this article.
I wouldn't dream of skipping my nightly face moisturizer (or eye cream, or serum), but body moisturizer is a whole different story. That's largely because it's practically impossible to find a body lotion that doesn't leave behind some kind of film that inevitably has you sticking to your jeans (if you're a morning person) or your sheets (if you prefer to moisturize just before bed). But the best in-shower lotions can help you to step up your moisturizing game sans the greasy residue, as their water-activated formulas deliver nourishing ingredients like shea butter and glycerin while your skin is still wet. "
What I love about a product marketed to be an in-shower lotion is simply that it encourages consumers to apply their moisturizer immediately after cleansing skin," dermatologist Blair Murphy-Rose tells Bustle. "This helps to lock in moisture that your skin absorbs from the water while showering." Dermatologist Bradley Glodny agrees that in-shower lotions are great for moisturizing, but he adds that they're also beneficial for combating the drying effects of a hot shower. "Typically, our skin loses moisture after a hot shower and exposure to oil-stripping soaps and shampoos," he explains. "In-shower body lotions are largely activated by water, helping to maintain our skin's moisture by allowing for the absorption of oils and emollients during the shower."
The Experts
Dr. Bradley Glodny, M.D., is a board-certified dermatologist in New York City. Dr. Glodny specializes in medical and cosmetic dermatology, and he serves as an Instructor in Clinical Dermatology at Columbia University.
Dr. Blair Murphy-Rose, M.D., is a board-certified dermatologist in New York City and the Hamptons. Dr. Rose specializes in cosmetic, medical, and surgical dermatology, and she has been published in the Journal of the American Academy of Dermatology, Dermatology Surgery, and Pediatric Dermatology.
What To Look For In An In-Shower Lotion
The list of in-shower lotions I compiled ahead includes a mix of rinse-off and leave-on formulas — which one you choose will largely depend on personal preference. But either way, the dermatologists agree that a formula with humectants and occlusives will help to both draw more moisture to your skin and keep it there. Additionally, consider your personal needs and skin type, i.e., opt for a fragrance-free and hypoallergenic formula if you're prone to sensitivity and irritation, as well as lotions that contain anti-inflammatory or calming ingredients. Among the in-shower lotions on this list, you'll even find an option that's approved (and specifically formulated) for use during pregnancy, plus a drugstore favorite that gradually adds a glow while immediately moisturizing.
Shop The Best In-Shower Lotions
In a hurry? Here are the best in-shower lotions:
1. Best Overall
Also available on Walmart, $12
What We Like:
Dermatologist-recommended
Fragrance-free
Absorbs quickly
What We Don't Like:
Both Dr. Glodny and Dr. Rose name this Curél Hydra Therapy Wet Skin Moisturizer as a top pick that should work for all skin types. "It is hypoallergenic, fragrance-free, and rich in ceramides," Dr. Rose says, adding, "Plus, it absorbs quickly." I can personally attest to the moisturizer's ability to melt right into the skin, something that's all the more impressive considering its rich consistency and the fact that it's meant to be applied while your skin is still wet from showering (and then towel-dried off). The classic formula featured here is great for dry skin, but the brand also created an Itch Defense formula with oatmeal extract and vitamin E that's been given the National Eczema Association Seal of Acceptance and the National Psoriasis Foundation Seal of Recognition. If you have particularly sensitive or itchy, irritated skin, you may want to opt for the latter.
Beneficial Ingredients: Glycerin, Shea Butter, Petrolatum, Allantoin, Panthenol, Ceramides | Size: 12 oz. | Fragrance-Free: Yes | Cruelty-Free: No
2. Best Budget-Friendly With Cocoa Butter
Also available on Walmart, $6
What We Like:
Under $10
Pleasent but light scent
What We Don't Like:
Can potentially be slippery
Not cruelty-free
If you're partial to a cocoa butter scent like me, this Nivea Cocoa Butter In-Shower Body Lotion will be your favorite moisturizer from this list. After cleansing, you can apply this to wet skin and rinse off after about a minute or two. Petrolatum, glycerin, and cocoa seed butter work together to help soften skin and keep it protected against moisture loss, but the thicker lotion doesn't feel heavy or greasy. I also really liked that the fragrance on this wasn't overwhelming, so I could go about my post-shower routine — which includes my beloved Tom Ford Black Orchid perfume — without giving myself a headache.
Beneficial Ingredients: Petrolatum, Glycerin, Cocoa Seed Butter | Size: 13.5 oz. | Fragrance-Free: No | Cruelty-Free: No
4. Best With Self-Tanner
What We Like:
Gradually tans skin
Doesn't have a fake tan smell
What We Don't Like:
Strong scent
Can stain palms if not rinsed properly
Could potentially stain white/light-colored towels
Not cruelty-free
As a naturally pale person who regularly uses self-tanner, the idea of a self-tanner that you can use in the shower (and doesn't require waiting six hours to rinse off or stain your sheets) is hugely appealing. The Jergens Natural Glow Wet Skin Moisturizer promises to gradually tan your skin while immediately leaving it softer with ingredients like glycerin, shea butter, and hydrolyzed elastin. You apply this after your shower while your skin is still wet, being extra careful to evenly blend it in before toweling off. It doesn't have the typical fake tan scent, but the masking fragrance is very strong (and it really stays with you). I tested this out using a white towel to pat my skin dry after applying, and I didn't notice any stains the next day, but use with light-colored towels at your own risk. You will, however, need to thoroughly wash your hands and palms to avoid staining. And like other self-tanners, apply the lotion sparingly around your ankles, elbows, and knees, because it will cling to those areas the most. Featured here in the 'Medium to Deep' shade, the tanning in-shower lotion is also available in a 'Fair to Medium' option for lighter skin tones.
Available Shades: 2 | Beneficial Ingredients: Glycerin, Shea Butter, Vitamin E, Hydrolyzed Elastin, Centella Asiatica Extract | Size: 7.5 oz. | Fragrance-Free: No | Cruelty-Free: No
5. Best For Pregnancy
What We Like:
What We Don't Like:
Can potentially be slippery
Among the many changes that pregnancy brings, a new skin care routine may not be the most noteworthy, but it can present a bit of a challenge. Frida Mom's Bump + Body In-Shower Pregnancy Lotion is dermatologist-tested and was developed to soothe and moisturize itchy, stretched pregnancy skin with ingredients like coconut oil, shea butter, grape seed oil, and oat kernel extract. I may not fit the target demographic, but I tested this one out and found that it has a light, almost citrusy scent that I liked. It didn't feel heavy or greasy going on my skin, and it rinsed off entirely without leaving behind a noticeable film on my skin (or shower floor).
Beneficial Ingredients: Coconut Oil, Glycerin, Shea Butter, Grape Seed Oil, Oat Kernel Extract | Size: 6 oz. | Fragrance-Free: No | Cruelty-Free: Yes
6. Best With Vitamin C For Brightening
Also available on Ulta, $10
What We Like:
Under $10
Includes brightening vitamin C
What We Don't Like:
Strong scent
Can potentially be slippery
Another pick that's less than $10, this Soap & Glory All The Right Smoothes In-Shower Moisturizer has a rich, buttery texture that quickly absorbs into skin without leaving behind even a hint of greasiness or stickiness. You'll find some go-to moisturizing ingredients, like shea butter and cocoa seed butter, in this lotion, as well as sunflower seed oil, argan oil, brazil nut oil, and avocado oil to soften and help lock more moisture into your skin. One more ingredient that sets this lotion apart from the rest is the inclusion of vitamin C, which can potentially help to brighten (i.e., even out) your skin tone with continued use. This lotion has a citrus-inspired scent with notes of grapefruit and rhubarb, but it's definitely on the stronger side if you find that you're more sensitive to fragrances.
Beneficial Ingredients: Petrolatum, Sunflower Seed Oil, Glycerin, Shea Butter, Cocoa Seed Butter, Argan Oil, Brazil Nut Seed Oil, Avocado Oil, Vitamin C, Vitamin E | Size: 8.4 oz. | Fragrance-Free: No | Cruelty-Free: Yes
7. Best Vegan Option
Also available on Urban Outfitters, $30
What We Like:
Contains prebiotic benefits
Vegan
Sustainable packaging
What We Don't Like:
For an in-shower lotion that can also serve as your fragrance for the day, there's this High Tide In-Shower Moisturizer from beach-inspired brand Tropic Labs. Notes of coconut, orchid, vanilla, peach, and sandalwood create a sweet tropical scent that really delivers on hydrating dry, flaky, and even itchy skin. Glycerin, vitamin E, and passionfruit seed oil offer skin-softening benefits, while a 5% concentration of inulin extract binds water to the skin and offers prebiotic benefits that can help keep your skin microbiome healthy. This is the most expensive in-shower lotion on the list, but it's also vegan, cruelty-free, and uses fully recyclable packaging (they've also partnered with rePurpose Global to reduce plastic pollution).
Beneficial Ingredients: Glycerin, Passionfruit Seed Oil, Inulin, Vitamin E | Size: 6.7 oz. | Fragrance-Free: No | Cruelty-Free: Yes
8. Also Consider: This Body Oil Designed To Be Applied On Damp Skin
What We Like:
Absorbs well
Fragrance-free
What We Don't Like:
While technically not an in-shower lotion, Neutrogena's Body Oil works similarly in that you can apply it to damp skin just after a shower and pat the formula into your skin with a towel (the brand also notes that you can add the oil to your bath water if you prefer a bath over a shower). As another one of Dr. Glodny's recommendations, this body oil is dermatologist-approved and uses sesame seed oil as the key ingredient to instantly leave skin feeling silky smooth. One word of caution should you add this to your cart, however: you'll want to apply the oil while standing on a washable towel or bath mat, as using it in your actual shower creates a slippery floor (it is an oil, after all).
Beneficial Ingredients: Sesame Seed Oil | Size: 8.5 oz. | Fragrance-Free: Yes | Cruelty-Free: No
How We Tested
In addition to consulting with board-certified dermatologists, our team of editors and contributors researched ingredients and pored over reviews to select products for consideration. I also personally put these products to the test, and evaluated features like formula, ease of use, and value, before giving them a spot on this list.
FAQs
What Are The Best Ingredients?
Ideally, you'll want an in-shower lotion that includes ingredients that draw moisture to your skin (humectants), immediately leave it feeling softer (emollients), and lock that moisture into your skin (occlusives). "Humectants like hyaluronic acid and glycerin work particularly well when applied in a humid environment like that post-shower," Dr. Rose explains of what to look for, adding, "The reason is that they attract water molecules and bring them to the skin surface. For dry skin, other ingredients to look for are those that will help to lock moisture in and prevent transepidermal water loss, like shea butter and petrolatum," Dr. Rose says. Ceramides can further help to moisturize and strengthen skin, and Dr. Glodny especially likes oils like jojoba, almond, and grape seed for pulling double-duty when it comes to soothing skin and keeping it soft. "I love anything with coconut oil since they tend to smell really nice," Dr. Glodny adds of his own personal preference. "Coconut oil in-shower body lotions can really help to not only moisturize the skin but to utilize coconut oil's anti-inflammatory properties to help reduce inflammation and irritation."
How Do In-Shower Lotions Work?
In-shower lotions are pretty straightforward, but the way that you use them will vary slightly depending on whether you've chosen a rinse-off or leave-on formula. "Applying the lotion onto damp skin and allowing it to sit for one to two minutes in the shower will maximize the in-shower lotion's benefits," Dr. Glodny advises when using rinse-off formulas. Whichever type of lotion you choose, Dr. Glodny stresses that you should probably be lowering your shower temperature. "The temperature of the water should be lukewarm to warm," he says. "Hot showers should be avoided since they will irritate your skin and strip your skin of its natural oils, ultimately making your skin more dry."
Safety Considerations
In the case of lotions that you apply in the shower and rinse off before finishing up your routine, you'll always want to be cautious of slipping. While I didn't notice that any of these in-shower lotions created a more-slippery-than-usual shower floor, any time that you're using products with moisturizing butters or oils in the shower, you can expect the floor to be slicker than usual.
Related Articles
Check out Bustle's round up of the 10 Best Body Products Of 2023, or, if you're primarily concerned about the time-saving factor, these Fast-Absorbing Body Lotions will be right up your alley. And if dry, itchy skin is an ongoing concern of yours, you'll want to familiarize yourself with the Best Body Lotions For Dry Skin.
About The Tester
Marissa DeSantis has worked as a beauty writer and editor for nearly 10 years. Her pieces can be found across print and digital publications like Bustle, Evening Standard, Teen Vogue, and InStyle.
Experts:
Dr. Bradley Glodny, M.D., a board-certified dermatologist
Dr. Blair Murphy-Rose, M.D., board-certified dermatologist
This article was originally published on