The Best In-Shower Lotions
We only recommend products we love and that we think you will, too. We may receive a portion of sales from products purchased from this article, which was written by our Commerce team.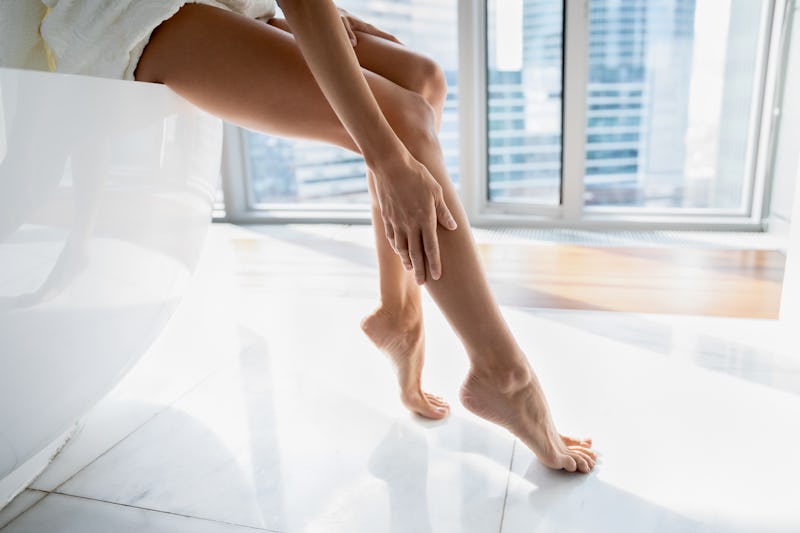 Shutterstock
To help skin hold onto moisture (and save you time), the best in-shower lotions are activated by water to deliver nourishing ingredients, like shea butter and vitamin E, to wet skin. They're available in leave-on and rinse-off formulas, but both absorb almost instantly, so you can towel off and get dressed with no virtually waiting time.
What To Look For When Shopping For In-Shower Body Lotion
Though they're meant to be applied before you've even toweled off, they still work similarly to traditional body lotions in that that you'll find many of the same classic, moisturizing ingredients. Cocoa and shea butter are high in fatty acids and ideal for keeping your skin nourished, while ceramides, another lipid, can help protect and strengthen your skin's natural barrier. Other ingredients to look out for include the antioxidant vitamin E and moisturizing vitamin B-5.
In addition to checking out the ingredients list, consider whether you prefer a rinse-off or leave-on lotion. Both absorb quickly and won't require you to idle in your (sometimes chilly) bathroom before getting dressed, though a leave-on formula will save you additional shower time, and will probably be the better choice if you have very dry skin. A rinse-off lotion is a great choice for people with oily skin, or for extra-hot summer days.
In terms of scent, most of the lotions featured here have a light, refreshing aroma, though if you want something particularly soothing, try a lotion infused with lavender oil. That said, if you have particularly sensitive skin, consider going for a fragrance-free option.
Not only are the best in-shower lotions a great skin care hack for busy mornings, but they're also an easy way to give your skin a boost of hydration. Check out all of the great options below.
Shop The Best In-Shower Lotions
In a hurry? Here are the best in-shower lotions:
1. Overall Best: Curél Hydra Therapy In Shower Lotion
2. Best Value: NIVEA Cocoa Butter In Shower Lotion
3. Best In-Shower Lotion With Cocoa Butter: Olay Ultra Moisture Shea Butter In-Shower Body Lotion
4. Best Lavender-Scented In-Shower Lotion: OGX Calming & Reviving + Lavender Essential Oil Wet Skin Lotion
5. Best In-Shower Lotion With Self-Tanner: Jergens Natural Glow +FIRMING Wet Skin Moisturizer
1. The Overall Best In-Shower Lotion
A drugstore fan-favorite, this in-shower lotion has been awarded more than 2,400 five-star ratings on Amazon, as well as the National Eczema Association Seal of Acceptance, thanks to its gentle-yet-effective formula. The fragrance-free lotion supports strong skin with a combination of barrier-protecting ceramides, shea butter, and moisturizing pro-vitamin B5. It's a leave-on formula, so no need to rinse it off after application, and it'll absorb instantly, so you can just towel dry as you normally would.
One glowing review: "I have recommended this to everyone I know. I was skeptical about using this on wet skin as I had never tried a product like it but I was having issues with really itchy skin and had tried several other products. It moisturizes without leaving your skin feeling sticky or clogged. It has a very faint scent. I would highly recommend this to anyone with itchy or dry skin. I don't know how I went my whole life without this stuff before!"
Leave-on | Fragrance-free | Key Ingredients: Shea butter, Ceramides, Pro-Vitamin B-5, Eucalyptus
2. The Best Value
This Olay four-pack offers an amazing value. The rich, shea butter-infused formula has a near-perfect, 4.8-star overall rating, after more than 3,800 Amazon reviewers weighed in. Like the pick above, this is a rinse-off formula that absorbs into skin instantly and has a fresh, clean scent. Per the brand, you can expect to see significantly softer skin within five days of use.
One glowing review: "This is hard to find in stores anymore, so I was thrilled to be able to buy it on Amazon! Seems like every time I love a product it is discontinued. Smells nice, works great, and is just a quick step added to the end of your shower!"
Rinse-off | Fragrance | Key Ingredients: Shea butter
3. The Best In-Shower Lotion With Cocoa Butter
The non-sticky formula of this NIVEA lotion uses vitamin E and cocoa butter — the latter of which is high in fatty acids, which can help it form a protective barrier on skin — to help skin stay moisturized for 24 hours. This is a wash-off formula, so you'll need a quick rinse before drying off. Another popular, drugstore choice, this pick has earned more than 3,500 five-star ratings from Amazon shoppers, with many reporting being pleasantly surprised by the light fragrance and long-lasting effects.
One glowing review: "This in-shower body moisturizer works fabulously! SO glad I found it! It is super easy to use and has a very light cocoa butter smell that will leave you smelling great for hours. Try a bottle, you won't regret it!"
Rinse-off | Fragrance | Key Ingredients: Cocao butter
4. The Best Lavender-Scented In-Shower Lotion
Enriched with calming lavender oil, skin-soothing chamomile extract, and moisturizing sweet almond oil, this in-shower lotion is a particularly good pick for nighttime use (or stressful mornings), thanks to its relaxing, lavender scent. Another leave-on lotion, you'll just need to towel dry off after applying it to wet skin, either in or out of the shower, to reap its benefits.
One glowing review: "Amazing aroma! It works great when you apply it to wet skin after a shower or bath. My skin is so soft. I was having issues with dry skin and after 2 applications, it feels so much better. The aroma makes my bathroom smell great for a couple of hours afterwards too! Pretty fairly priced."
Leave-on | Fragrance | Key Ingredients: Lavender Oil, Chamomile Extract
5. The Best In-Shower Lotion With Self-Tanner
In addition to being moisturizing, this lightly scented Jergens lotion gradually adds a sun-kissed glow to fair and medium-toned skin. The leave-on formula combines collagen, elastin, and vitamin E to support strong, moisturized skin. Because it's applied to damp skin, many Amazon reviewers found that the lotion applies more evenly than most other self-tanners. Unlike other bottles on this list, though, you'll want to give it a couple of minutes to dry before toweling off, to make sure there's no color transfer.
One glowing review: "I love this stuff and so glad that Jergens came out with this!! I like the application process so much better than application on dry skin. This stuff is much easier to use - you turn off the shower, and spread this stuff over your body while you are still wet, step out of shower, pat dry, and you're done. It is a pleasure to use. I think the jergens glow products are every bit as good as expensive brands, but they hit a home run with this one. I love it!"
Leave-on | Fragrance | Key Ingredients: Collagen, Elastin, and Coconut Water
This article was originally published on