The 14 Best Party Dresses On Amazon
Shake and shimmy in style.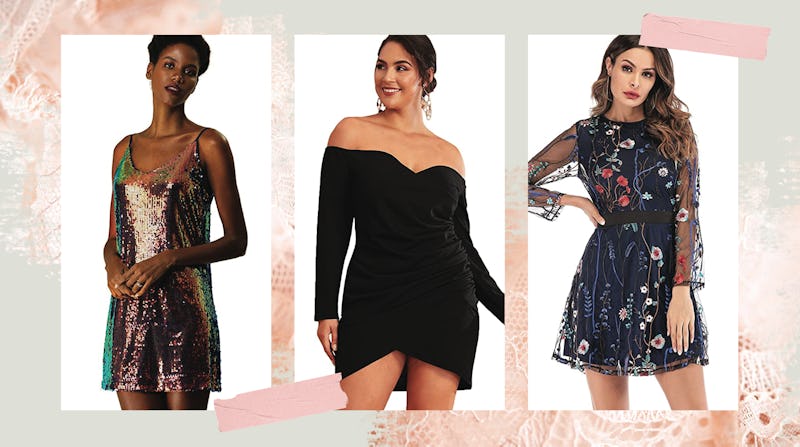 Bustle/Amazon
We may receive a portion of sales if you purchase a product through a link in this article.
After a good amount of time spent indoors, behind screens, and in sweats, this year saw the reemergence of The Party Dress. Maybe you jumped at the chance to look put-together again — or maybe you no longer even entertain the idea of high heels or non-elastic clothes. In either case, chances are you may need to dress up for something (even if it's just entertaining at home) in the near future — so you'll thank yourself for having one of the best party dresses on hand.
These days, the best party dresses strike that oh-so-delicate balance between stylish and comfortable, and fit and function are queen. A shift-style, brightly colored mini dress is a great option for dancing the night away, while an upscale wrap dress with retro-glam details is the perfect choice as a wedding guest or for a cocktail event. And remember that "comfortable" doesn't have to mean "unkempt" — a casual party dress, like a relaxed sweater dress, can effortlessly carry you from day to night with a simple shoe change and the addition of some statement jewelry. Beyond cut, consider what materials you're most taken with. Velvet and satin are classic choices for festive occasions, especially in black or jewel tones, but maybe this year you'd like to branch out with something a little bolder like mesh, lace, embroidery, or even head-turning sequins.
Whether the prospect of pulling on your going-out clothes excites you or fills you with dread (or maybe a bit of both), you're sure to find something that suits your needs on this list. Scroll on to shop 14 of the best party dresses — all available on Amazon — in a range of lengths, fits, styles, materials, and colors.
This article was originally published on