The Best Serums To Use With Tretinoin, According To A Dermatologist
The ingredients to look for, and the ones to avoid.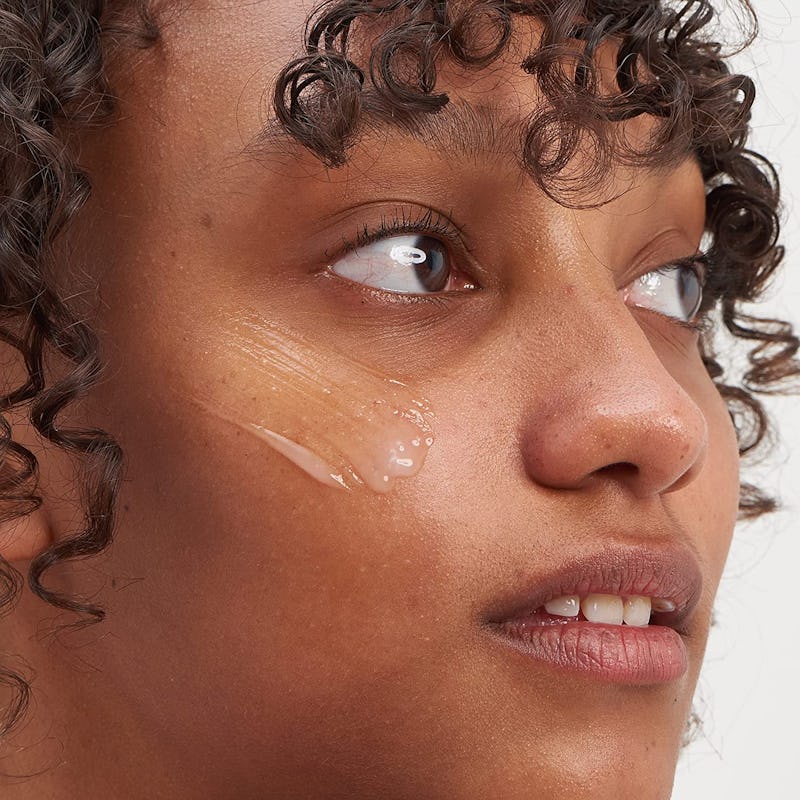 Amazon
We may receive a portion of sales if you purchase a product through a link in this article.
Tretinoin (and retinoids in general) may be hailed as a miracle worker, but it doesn't come without its complications. Until your skin has adjusted to the prescription-only topical, you can expect irritation in the form of redness, dryness, or stinging. And even after that period (known as retinization), it's crucial that you keep your skin properly moisturized. Therefore, the best serums to use with tretinoin work to combat dryness and irritation with a concentrated dose of soothing and moisturizing ingredients. "Topical retinoids can contribute to dryness and irritation of the skin, particularly when your skin is first adjusting to a retinoid," dermatologist Hadley King confirms. "Serums can offer humectants to hydrate the skin, emollients to support the skin barrier, and other soothing and anti-inflammatory ingredients." Among Dr. King's favorite ingredients for tretinoin users are "humectants like hyaluronic acid, glycerin, or polyglutamic acid to hydrate the skin, and emollients like ceramides or jojoba oil, argan oil, or squalane to help support the skin barrier."
For those with sensitive skin or who are experiencing signs of retinization, soothing ingredients like allantoin, bisabolol, panthenol, oat extract, and centella asiatica are key. "And niacinamide is a nice ingredient that plays well with retinoids to help improve tone and texture," Dr. King adds. You'll also want to be careful to avoid serums that contain too many exfoliating ingredients, which can exacerbate or even cause irritation when using tretinoin. "Avoid benzoyl peroxide, and avoid very acidic formulations of potent beta or alpha hydroxy acids," Dr. King cautions.
The Expert
Dr. Hadley King, M.D., is a board-certified dermatologist and founder of Dr. Hadley King Dermatology in New York City. She specializes in medical and cosmetic dermatology and also serves as a Clinical Instructor of Dermatology at the Weill Medical College of Cornell University. Dr. King's research has been published in a variety of medical journals, and her expertise has been featured in numerous beauty and health publications.
A Derm-Approved Skin Care Routine For Tretinoin Users
Of course, tretinoin is just one component of your skin care routine, and Dr. King shares the morning and nighttime steps you should never skip. After using a gentle cleanser in the morning, Dr. King recommends using a vitamin C serum for antioxidant protection and more skin-brightening, collagen-boosting benefits. A moisturizer and sunscreen with at least SPF 30 will round out your morning routine. In the evening, you'll want to cleanse your skin again and apply one of the serums from this list before using your tretinoin and your favorite moisturizer.
Shop The Best Serums To Use With Tretinoin
In a hurry? Here are the best serums to use with tretinoin:
1. Derm's Pick: The Best Niacinamide Serum To Use With Tretinoin
When your skin is in need of some major moisture, Dr. King recommends this Beekman 1802 Oh! Mega Milk Fermented Barrier Boosting Facial Oil. "Rich in emollients from sunflower seed oil, triglycerides, jojoba seed oil, and argan, the formulation supports the skin barrier to help offset drying effects of a retinoid," Dr. King explains. "And it contains niacinamide, which plays well with retinoids and will help to enhance tone and texture."
Key Ingredients: Coconut Oil, Sunflower Seed Oil, Jojoba Seed Oil, Argan Kernel Oil, Niacinamide, Licorice Root Extract, Vitamin E Size: 1 oz. Cruelty-Free: Yes
2. Writer's Pick: Best Niacinamide Serum Under $20
I'm not on a prescription retinoid, but I do use Differin's over-the-counter retinoid gel after applying the Neutrogena Hydro Boost+ Niacinamide Serum, and it's been a game-changer. The fragrance-free serum uses a 10% concentration of niacinamide, which has helped to fade hyperpigmentation from previous breakouts and given me an overall more even skin tone (in conjunction with my every-other-night retinoid application and once-weekly exfoliating cleanser). It also contains glycerin and hyaluronic acid for more moisturizing benefits.
Key Ingredients: Niacinamide, Glycerin, Hyaluronic Acid Size: 1 oz. Cruelty-Free: No
3. Best Moisturizing Serum
If you're looking for a serum to strictly moisturize, try La Roche-Posay's Hyalu B5 Pure Hyaluronic Acid Serum. You can use this in the morning and/or at night to hydrate and support your skin barrier with glycerin, hyaluronic acid, and vitamin E. The brand's mineral-rich thermal water is combined with panthenol and madecassoside (a compound derived from centella asiatica extract) to help soothe skin while providing more moisturizing benefits. For those who are sensitive to synthetic fragrances, it's important to note that this serum does contain fragrance, but has been dermatologist-tested and otherwise deemed suitable for sensitive skin.
Key Ingredients: Glycerin, Panthenol, Madecassoside, Hyaluronic Acid, Vitamin E, La Roche-Posay Prebiotic Thermal Water Size: 1 oz. Cruelty-Free: No
4. Best Fragrance-Free Moisturizing Serum
For those who prefer to steer clear of fragrance in their skin care products, there's this L'Oréal Paris Revitalift 1.5% Pure Hyaluronic Acid Serum. An Amazon favorite with more than 30,000 five-star ratings, the serum uses a 1.5% concentration of both high- and low-molecular weight hyaluronic acid, a combination that offers both immediate and long-lasting benefits in terms of your skin's hydration levels. This lightweight serum sinks into your skin instantly, so it layers nicely under tretinoin cream and all your other skin care products.
Key Ingredients: Glycerin, Hyaluronic Acid Size: 1 oz. Cruelty-Free: No
5. Best Vitamin C Serum
For your morning routine, Dr. King recommends applying a vitamin C serum before your SPF — something most people can benefit from, tretinoin user or not. Naturium's Vitamin C Complex Serum uses vitamin C in the form of l-ascorbic acid, sodium ascorbyl phosphate, and fruit extracts (like pineapple, papaya, and Kakadu plum) to brighten skin, boost collagen production, and provide additional protection against the sun and environmental stressors (when used with you daily sunscreen, of course). You'll also get moisturizing benefits from ingredients like glycerin, hyaluronic acid, and vitamin E.
Key Ingredients: Glycerin, Vitamin C, Aloe Leaf Juice, Hyaluronic Acid, Vitamin E Size: 1 oz. Cruelty-Free: Yes
6. Best Polyglutamic Acid Serum
When you hear acids mentioned in skin care, you immediately think of exfoliators like glycolic acid, lactic acid, and salicylic acid. But polyglutamic acid actually works as a humectant to draw more moisture to the skin, which is why it gets Dr. King's recommendation for anyone using retinoids like tretinoin. The Inkey List Polyglutamic Acid Serum is a budget-friendly option that uses a 3% polyglutamic acid complex to lock in moisture without leaving behind a heavy or greasy film on your skin. Vegan and cruelty-free, the serum can be used both morning and night when you need some extra hydration.
Key Ingredients: Glycerin, Polyglutamic Acid Size: 1 oz. Cruelty-Free: Yes
7. Best Serum For Sensitive Skin
If you have sensitive skin or you're experiencing some irritation as your skin adjusts to tretinoin, Aveeno's Calm + Restore Triple Oat Serum can help to soothe inflammation while supporting the skin barrier to lock out irritants and seal in moisture. Using oat kernel extract, flour, and oil as its hero ingredients, the serum also contains centella asiatica and feverfew flower extract (derived from the wild chamomile plant) to further soothe and moisturize skin.
Key Ingredients: Glycerin, Oat Kernel Flour, Oat Kernel Extract, Oat Kernel Oil, Feverfew Flower Extract, Centella Asiatica Extract Size: 1 oz. Cruelty-Free: No
Expert:
Dr. Hadley King, M.D., board-certified dermatologist and founder of Dr. Hadley King Dermatology in New York City.