The 8 Best Sheer Black Tights To Add To Your Wardrobe
We only recommend products we love and that we think you will, too. We may receive a portion of sales from products purchased from this article, which was written by our Commerce team.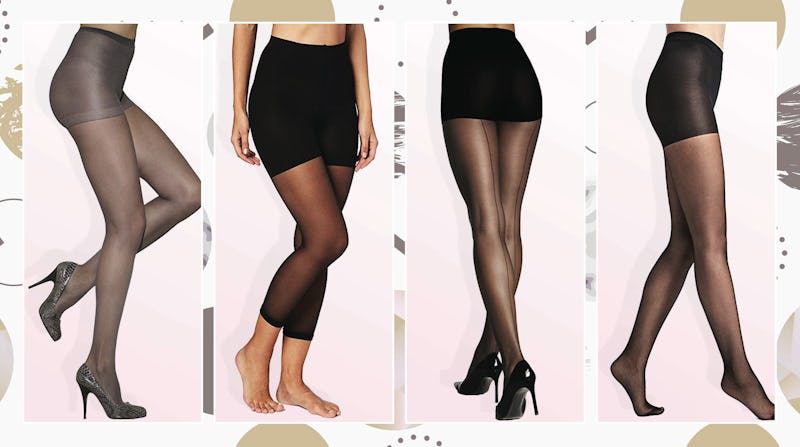 If you're in the market for sheer black tights, there are a few things to keep in mind before you click "Buy Now." The best sheer black tights are typically constructed from a durable and stretchy blend of spandex, nylon, and/or elastic, and the sheerness of a pair of tights is typically measured by denier, which refers to the weight of the yarn used. Typically, sheer tights have a denier rating of 40 or less, and any pair of tights over 40 denier is considered opaque. While most black sheer tights start at around 15 denier, popular options can also be found as low as 10 denier.
While tights might seem simple at first glance, they can actually have some noteworthy features. As you shop, take a look at the seams around the waist and toe: Some tights are built with seams that lay flat and smooth, leaving minimal markings against the skin. Other sheer black tights have additional back seams, which lends them a more retro look.
Control tops can add more support around your stomach, hip, and thigh areas, and reinforced toes can offer extra comfort and longevity (a great choice if your tights tend to rip or get holes in the toes over time). Footed tights are the most common, but footless sheer black tights are also available. By and large, tights are best cared for by hand-washing — although it's possible to find machine-washable pairs if you absolutely hate washing clothes by hand.
Keep scrolling to browse some of the best sheer black tights you can buy on Amazon.
1. The Best Overall Sheer Black Tights
Denier: 15
Material: 84% nylon, 16% spandex
These sheer Calvin Klein tights feature a control top for added support around the waist and hips, plus seams that lay flat against your skin (but they don't have seams in the back). Reviewers love how comfortable and soft they are, with one fan explaining, "These are a great pair of slightly more expensive pantyhose. The 15 den is really nice sheer." Some reviewers have reported that these tights run small, so consider sizing up for a more comfortable fit. They aren't machine-washable, but they are available in a range of seven colors, including an "almost black" shade.
Promising Amazon review: "Very nice, sheer, and soft. I have several pairs of these and they are my favorite style for wearing to work or professional events. They don't snag easily and will last if properly cared for (washed by hand with delicate detergent after each use and air-dried). I have a pair that I've owned for a year, and only have a few snags around the ankle where I wore a pair of shoes with buckles."
Available sizes: A, B, C, D
2. The Best Budget Sheer Tights
Denier: 15
Material: 84% nylon, 16% spandex
At under $10, these wallet-friendly Hanes tights are a fan favorite on Amazon. In addition to the built-in control top, they feature a reinforced toe to prevent ripping along the toe seam. One reviewer described, "The control top is nice and not too tight. They stay in place without rolling down, are soft, and feel like they won't tear too easily." When it comes time to clean the tights, the manufacturer recommends hand-washing. They come in 18 colors and also in packs of two.
Promising Amazon review: "I have been using Hanes Silk Reflections panty hose for many years [...] They provide enough tension to give sheer support and that same tension makes them wear extremely well. [...] They also feel very luxurious with a decided silky smoothness. My all time favorites and it is wonderful to find them at such a good price."
Available sizes: A-B, C-D, E-F
3. A Budget Pair In A Wide Range Of Sizes
Denier: Not listed by manufacturer
Material: 84% nylon, 16% spandex
With six sizes to choose from, including an extra-tall size, these sheer Silkies tights offer durability and comfort, including a built-in control top. While the manufacturer does not list the denier, it refers to this style as "day sheer." One reviewer described them as "Sheer to toe. [...] They are not too shiny or opaque." Plus, they come in two inky hues: Black and Off Black (pictured), as well as lighter shades like Taupe and Beige.
Like the Hanes tights above, this pair has an excellent price point — but without a denier rating from the manufacturer, it's hard to know just how sheer they are. That's a potential trade-off if you're looking for a very specific amount of sheerness in your tights.
Promising Amazon review: "Five stars [...] I love my silkies. They're strong and durable. I've been wearing nothing but silkies for about 5 years!"
Available sizes: Small, Medium, Large, X-Large, XX-Large, X-Tall
4. The Best Sheer Black Tights Without A Control Top
These sheer Wolford tights are a great option if you don't like a control top, and they offer a knitted waistband for added comfort. Reviewers have noted that they're "wonderfully comfy," easy to put on, and long-lasting. They are available in seven different colors, and they also happen to be the only machine-washable option on the list. (Just make sure to use the gentle cycle.)
Promising Amazon review: "Wolford makes the best tights in the world. I wear them every day and they are the most comfortable tights I have ever worn. Smooth and silky but not constricting in any way. Yes, they may cost a bit more but they are well worth the price. They will far outlast cheaper tights. Try them and you will never go back."
Available sizes: X-Small, Small, Medium, Large
5. The Best Footless Sheer Black Tights
Denier: 12
Material: 82% nylon, 18% spandex
These footless sheer black tights have a capri-style silhouette with seams that are designed to lay flat against the skin to prevent irritation and indentations. They also feature a control top, snug waistband, and an ultra-tight fit. As a result, both reviewers, as well as the manufacturer, recommend sizing up. They're also available in a lighter Honey hue.
Promising Amazon review: "Follow the instructions and size up for a looser fit. The panty has high compression and is very opaque. It has a cotton liner. The legs are sheer and have very little compression. I'm 5-11 and the legs are also rather short, more like a capri than full-length."
Available sizes: Small, Medium, Large, X-Large
6. The Best Super-Sheer Black Tights
Clocking in at just 10 denier, these Wolford tights are the sheerest pair on this list. While the control top offers support along the stomach and hip, the double-entwined elastane is stretchy enough to move with you (as opposed to constrain you), and the soft waistband amps up the comfort factor. The toes are reinforced for extra durability, too.
Promising Amazon review: "I was hesitant to spend this much on tights, but these are totally worth it. My first pair of these sheer tights lasted about a year before I put a run in them, but they got a lot of wear. Look great, feel great."
Available sizes: X-Small, Small, Medium, Large, X-Large, XX-Large Plus
7. The Best Barely Sheer Black Tights
Denier: 32
Material: 85% nylon, 15% spandex
These Hue black tights are just under the 40-denier opaqueness threshold. One reviewer referred to the tights as "semi-sheer," while another wrote that they're "right in between sheer and opaque." Like most of the sheer black tights on this list, these offer a built-in control top. According to the manufacturer, the tights are engineered to stay in place — and reviewers agree that they don't fall down or tear as you wear them. However, they must be washed by hand.
Promising Amazon review: "These were great! Unlike other tights I have bought in the past these have not ripped and are very durable."
8. The Best Sheer Black Tights With A Back Seam
Denier: 20
Material: 80% nylon, 20% spandex
Berkshire's sheer tights feature a vintage-inspired back seam design and a control top. Plus, if this is the look for you, reviewers have raved about the comfort, stylishness, and durability of these tights. One customer provided some context: "I bought these for an event. They held up well all night and did not rip when putting them on." Since these tights are very thin and don't have a reinforced toe, however, you may want to be extra careful to be gentle as you pull them on.
Promising Amazon review: I loved the lace seam up the back. [...] Just like any hose, you need to be careful putting them on and adjusting to ensure the line is straight up the back of your legs. They are very classy looking and really put the finishing touch on my outfit."
Sizes available: 1-2, 3-4, 2 Plus, 1X-2X, 3X-4X