The 8 Best Shoes For Knee Pain, According To A Podiatrist
Expert advice on how to find supportive, comfortable shoes.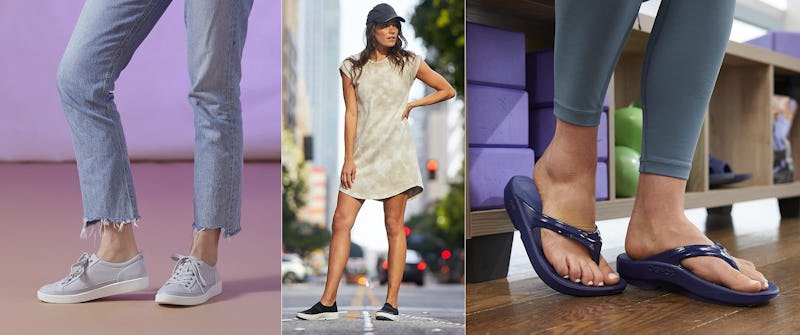 Amazon
We may receive a portion of sales if you purchase a product through a link in this article.
If you're someone who regularly experiences knee discomfort, other body parts may be to blame — like improperly-supported feet, for example. The right shoes will support your feet and therefore your knees, helping to reduce strain and absorb shock. According to a podiatrist, the best shoes for knee pain will have contoured insoles, cushioned soles, sturdy heels, and the right fit.
The Expert
A podiatrist with over 15 years of experience, Daniel Pledger, DPM, is the founder of ePodiatrists, which aims to make quality foot care and pediatric procedures more accessible to those who need them.
Can Shoes Cause Knee Pain?
According to Dr. Pledger, the answer is yes: "Shoes that lack proper support or cushioning can place undue pressure on the knees and other joints, leading to pain and discomfort" — but it's more than just the design. Shoes that "don't fit properly" can also contribute to the problem. If they're too tight, they can "cause inflammation and strain on the knee joint," while shoes that are too loose "can lead to instability and misalignment."
What To Look For In The Best Shoes For Knee Pain Relief
"When shopping for shoes, individuals with knee pain should look for shoes that provide good arch support, cushioning, and stability," Dr. Pledger wrote in an email to Bustle. In particular, you want to look for:
Insole: The insole should be "contoured" to match the natural shape of the foot, which will help to "distribute weight evenly and reduce pressure on the knees," Dr. Pledger wrote.
Cushioning: Well-cushioned shoes will help absorb shock from walking or running, which will "reduce stress on the knees," according to Dr. Pledger.
Structure: A pair with "a sturdy construction, such as those with a firm heel counter or supportive midsole, can provide added stability and prevent overpronation or supination."
Fit: Finally, a shoe that fits properly is a must when it comes to achieving support and alignment. Shoes available in narrow and wide sizes can help you find a better fit.
Shop The Best Shoes For Knee Problems
In a hurry? Here are the top shoes for bad knees.
All that said, Dr. Pledger stresses that "it's important to remember that shoes alone are not a complete solution to knee pain" and if knee pain persists, you should consult a medical professional.
1. The Best Running Shoes For Knee Pain, According To An Expert
"One option that I would recommend for individuals with knee pain is the ASICS Gel-Contend 5 running shoe," wrote Dr. Pledger. "It has a contoured insole that conforms to the natural shape of the foot, providing support and reducing pressure on the knees." This sneaker "also features a well-cushioned sole," made from sturdy gel and comfortable foam, which helps "absorb shock and reduce stress on the knees." Last but not least, its Ortholite sock liner keeps your feet dry, while half and wide sizes ensure a good fit. No wonder it has over 12,000 reviews on Amazon.
One reviewer wrote: "I have a lot of knee problems from past injuries so running has always been something I wanted to do but couldn't find the right shoe for. I am in LOVE with these shoes. [...] I was able to start running in these shoes right away with no break-in period."
Color Options: 11 | Available Sizes: 5 — 11.5 (with wide options) |
2. A Popular Sneaker With Tons Of Shock Absorption
These New Balance Fresh Foam Roav V1 sneakers check every box on Dr. Pledger's list: supportive insoles, cushioned midsoles, shock-absorbing heels, and plenty of size options. However, due to their ultra-cushioned sole and extra-supportive heel, the reviews section is filled with those who have experienced relief from knee and other discomfort. So far, they've earned an overall 4.6-star rating from almost 15,000 reviewers.
One reviewer wrote: "As I grow older arthritis in my feet and back is an issue, but who doesn't want to be stylish as well. I run towards needing a wider shoe and these fit perfectly. No need to size up. And there's a perfect amount of support for my long day as a teaching assistant."
Color Options: 26 | Available Sizes: 5 — 12 (with wide options) |
3. The Best Walking Shoes For Knee Pain
Designed for high-performance walking, the Ryka Devotion Plus 2 sneaker has all of the features necessary to minimize knee pain. Responsive cushioning absorbs shock, an anatomical insole matches the shape of your arch, and heel support helps to achieve alignment. It also has a roomier toe and an eight-piece rubber outsole to keep you comfortable and stable while walking long distances. Finally, it comes in over 30 different colors, so you can find a design you love.
One reviewer wrote: "I suffer from knee issues and these shoes take off so much pressure from my knees. They are so comfortable and I can walk for longer while wearing them!"
Color Options: 35 | Available Sizes: 5 — 12 (with wide options) |
4. The Most Comfortable Slip-On Sneaker
Because they slip right on without the need for laces, these OOFOS sneakers are extremely convenient — but that doesn't mean they compromise on support. For one, the four-way stretch fabric hugs your foot for a secure, stable fit. For another, the patented footbed absorbs up to 37% more shock and reduces energy exertion in the ankles by up to 47% when compared to competing pairs. In addition to earning the American Podiatric Medical Association Seal of Acceptance, reviewers have also reported minimized knee pain.
One reviewer wrote: "I have a bad back and knees. I have suffered from plantar fasciitis. I'm in pain everyday. I work in school and I'm constantly on my feet. These shoes are lightweight, comfortable and stylish. I wear them with dress pants, jeans and some dresses. I cannot say enough about them. I have recommended them to so many people!"
Color Options: 5 | Available Sizes: 5 — 12 |
5. The Best Sandals For Knee Pain
You may think you can't get away with wearing sandals due to knee pain, but the OOFOS OOlala Luxe sandal uses the same patented, American Podiatric Medical Association-approved footbed from its supportive sneakers. As a result, despite its open-toe design, it still absorbs shock, conforms to your arches, and supports your heel to reduce strain on knees. While the sleek style looks great with any warm-weather outfit, the closed-cell foam is also machine-washable and odor-resistant for functionality.
One reviewer wrote: "I injured my knee a few years ago and haven't been able to wear sandals since (at least, not without pain afterwards). A friend told me about these shoes. I was initially hesitant because of the price but she raved about them so I went ahead and bought a pair. Oh my goodness, they are SOOO comfortable!! I can run errands and do some walking and not have pain afterwards."
Color Options: 4 | Available Sizes: 5 — 11 (with wide options) |
6. The Most Supportive Fashion Sneakers
Athletic shoes aren't for everyone. If you're looking for a more stylish sneaker for casual, everyday wear, these Vionic Essence Winny sneakers are the way to go. While their lace-up design and leather upper (some with jute detailing) are undeniably fashionable, they still support your feet and knees with a podiatrist-designed footbed. It features a deep heel cup, ample forefront cushioning, and an arch-support midsole, and more than a few reviewers have called them the most comfortable sneakers they've ever worn.
One reviewer wrote: "I was told I have to wear supportive shoes all day to help with knee, hip, and back pain. These shoes have been a big help in my recovery. They are also very cute!"
Color Options: 8 | Available Sizes: 5 — 11 |
7. The Best Heels For Knee Pain
It's not easy to find a raised shoe that won't contribute to knee pain. That said, reviewers swear by the Clarks Emslie Lulin pump. Its 2.16-inch heel adds height, but its Ortholite footbed offers foot-surrounding softness, full-length cushioning, and a decent amount of arch support. The upper (available in black or brown leather) is also flexible with an adjustable fastener to ensure a secure, comfortable fit — especially since it comes in regular, narrow, and wide sizes.
One reviewer wrote: "Nirvana. Cute stylish and heaven to wear. I have arthritis in both knees which is very much affected by uncomfortable, hard, shoes. These are a joy to wear and look adorable with footless, opaque tights."
Color Options: 2 | Available Sizes: 5 — 12 (with wide and narrow options) |
8. The Best Boots For Knee Pain
Chelsea boots offer a stylish aesthetic while also keeping your feet dry in wet weather — and these Sasha Chelsea boots from CUSHIONAIRE have a hidden secret: a memory foam insole that cushions every step. The block heel and thick sole also help to absorb shock and boost stability, while the elastic goring hugs your foot for a secure fit. As far as Chelsea boots go, reviewers also report that they're not quite as heavy as other pairs. Get them in taupe, white, and black.
One reviewer wrote: "These boots can be worn with jeans, skirts, dresses, and spandex. I have a knee problem and I can still wear them because the sole is so comfortable. They also are not heavy. If you haven't tried wearing chunky boots yet, buy these to start. They're a great price point."
Color Options: 3 | Available Sizes: 6 — 12 (with wide options) |
Expert:
Daniel Pledger, DPM, podiatrist and the founder of ePodiatrists.