The 21 Best Skin Care Products Of 2023
Your skin can thank us later.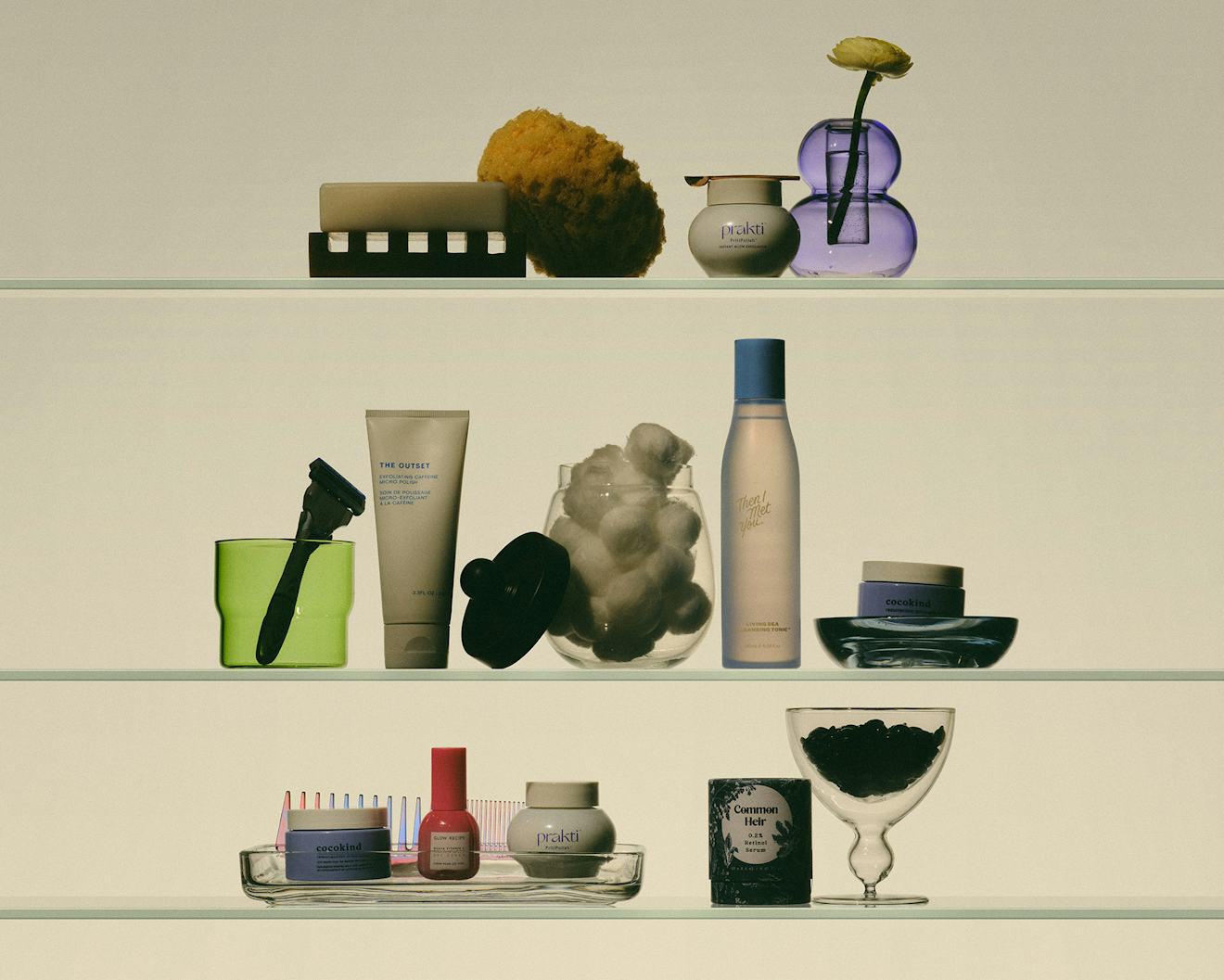 Is this the best year ever for skin care? Based on the hundreds of products we tested over the past six months (and how soft, smooth, and glowy our faces look), we're going to have to say it sure feels (and looks) that way. This year's winners rocked our judges' collective worlds with their ingenuity, indulgent textures, and potent formulations. No matter your skin tone, type, texture, or typical regimen, there's a product here that will help you uncover the complexion of your dreams. From gentle cleansers and comforting night creams to powerful retinol treatments and pore-clarifying masks, there's truly something for every type of routine in this year's batch of standout winners, from the uncomplicated to the most extra. No matter how you care for your face, we've got you covered. Keep reading to discover Bustle's best skin care products of 2023.
Best Gel Cleanser
This pH-balancing cleanser from Thayers is soothing and gentle on our moisture barrier, thanks to the inclusion of ingredients like aloe and sodium hyaluronate. The result is skin that not only is cleansed and balanced, but also soft and hydrated as it keeps oil under control. "This was a really great cleanse — a nice balancing cleanser to use after tons of products and even makeup," says BDG staffer Saleam Singleton. "It's so soothing and rinses really clean." The best part? You can find it at most drugstores and it rings in at under $15.
Best Cleansing Balm
We appreciate the staying power of long-wear makeup — until it's the wee hours of the morning, we're exhausted, ready for bed, and that stay-put formula we so painstakingly applied hours before is, well, staying put. Time to call in the heavy-hitting power of a makeup-dissolving cleansing balm. EADEM's jelly-to-oil-to-milk cleansing balm dissolves away every last trace of waterproof mascara, foundation, liquid liner, glitter, and whatever else you've caked on your face — plus the usual dirt, oils, and SPF — using a dreamy blend of tiger grass, Kalahari melon, moringa, and allantoin. The result is soft, clean, moisturized skin with no trace of the day (or night) left behind. "I'm kind of set in my ways with my cleansing routine, but this might make me a convert to using a cleansing balm," says BDG staffer April Hussar. "It feels so nice on my skin — dare I say, like a spa-like experience."
Best Oil Cleanser
You wouldn't expect that an organic oil cleanser made with just eight simple ingredients would have such a transformative effect on your skin. Each of our testers was blown away by this olive oil cleanser by French brand Payot, which melts away every last bit of makeup, pollution, SPF, dirt, and oil. Formulated without fragrance, it's simple in the best possible way and will keep even the most sensitive skin happy and hydrated. "I'm so surprised at how well this works to remove my eye makeup and doesn't leave any greasy or oily residue," says BDG staffer Hayley Schueneman. "And it rinses off easily and leaves my skin feeling incredibly soft, smooth, and not dry or tight at all."
Best Exfoliating Cleanser
Just add water to this exfoliating rice powder cleanser from Prakti and you've got yourself a face polish that's gentle enough for daily use, but powerful enough to slough off the dead skin and buildup that is causing your complexion to look dull and dry. You'll see results after just one wash: velvety soft, smooth, bright, even-toned skin that positively glows with good health. "The polish itself smells wonderful — just like a spa treatment — and the texture is the perfect soft grittiness," says BDG staffer Julie Sprankles. "I love that it subtly shifts from white in the jar to a pastel pinkish color when you wet it, and absolutely love that my face felt softer and cleaner than ever afterward. Honestly, just take my money."
Best Cream Cleanser
If your cleanser has been leaving you with that squeaky, tight feeling, it's time to level up to something that won't soak up every last ounce of moisture from your face every time you wash. Eve Lom's lush Foaming Cream Cleanser pampers your skin as it gently removes dirt, oil, and makeup. It's clinically proven to hydrate skin for up to 12 hours after washing and won't strip away your natural moisture, thanks to a blend of non-sulfate surfactants, pumpkin fruit extract, and conditioning plant oils, allantoin, and glycerin. "I'm happy to rave about this one," says former BDG staffer Olivia-Anne Cleary. "It left my skin feeling refreshed and rejuvenated. I have sensitive, dry skin, and this product was gentle enough for me, yet still did exactly what you'd want a cleanser to."
Best Toner
A Swiss Army knife of skin care, this multi-purpose toner from Then I Met You is truly a multi-tasking superstar that accomplishes so much in just one swipe. Made with 86% mineral-rich deep sea water sourced from the Gangwon province of Korea, it's formulated with papaya enzymes, licorice root, seaberry, and persimmon extract to help plump, soften, soothe, hydrate, balance, and brighten skin. "This has become a go-to in my skin care routine," says BDG staffer Hannah Kerns. "With sensitive skin, I'm always wary of incorporating new products, but this one smelled great, left my skin feeling soft, and didn't cause any irritation."
Best Sunscreen
When you find an SPF that applies like your favorite lightweight moisturizer and creates a natural radiance like your favorite luminizer, you know you've stumbled upon a sunscreen unicorn. Not only does Laneige's Hydro UV Defense absolutely drench your skin in moisture (thanks to a formula containing glycerin and hydro-ionized mineral water), but it doesn't clog pores or make skin feel greasy — even after multiple reapplications. It's also infused with an impressive list of plant extracts like centella asiatica (aka cica), lavender, aloe, and hibiscus to soothe and nourish the skin as it protects from damaging UVA and UVB rays. "This is a fantastic everyday sunscreen," says BDG staffer Maggie Haddad. "It doesn't leave any residue or white cast, and doesn't make my face oily after a long day of wear. I love the light, glowy finish.
Best Daytime Moisturizer
You knew Hailey Bieber's cultural sensation of a brand was going to make an appearance somewhere in this category. She absolutely dominated the skin-care conversation and almost single-handedly redefined what it meant to have healthy-looking skin with her signature glazed donut complexion. The Barrier Restore Cream (or BRC, as she calls it) features all the greatest hits you need to keep your moisture barrier strong — peptides, niacinamide, squalane, shea butter, and antioxidants — in a rich and creamy formula that is somehow also inexplicably lightweight and fast-absorbing. Guest judge and dermatologist Dr. Kim Nichols raves over its "great creamy texture" and "loved how it hydrated my skin without feeling sticky."
Best Nighttime Moisturizer
The best thing you can do for your skin come bedtime (besides getting a proper night's rest) is to bundle it up under a cozy layer of comforting moisture and repair, courtesy of a potent night cream. What Cocokind lacks in frills like fancy packaging and celebrity endorsements it more than makes up for in its impressive formulation. A plant-based poly-peptide complex, squalane, watermelon seed oil, and resurrection plant extract combine to create a knock-out cream that restores moisture levels, supports your skin's natural collagen production, improves radiance, protects from the signs of aging, plumps, firms, and reduces the appearance of fine lines and wrinkles. "I am obsessed with this moisturizer," says BDG staffer Jill David. "My skin feels hydrated at night and I wake up feeling refreshed. And, the price point is perfect!"
Best Retinol Serum
There's no denying retinol's glow-giving powers, but unfortunately this anti-aging and anti-acne superstar can also come with a laundry list of not-so-fun side effects like flaking, peeling, and redness. Common Heir's single-serve, plastic-free capsules are an ideal entry for first-timers and those who have found vitamin A to be too harsh in the past. It's a gentle 0.2% concentration and infused with soothing squalane and algae oil to help counteract retinol's typically drying effects, while still getting the resurfacing benefits. "It's super easy to squeeze the product out, compact for traveling, and it comes in adorable packaging," says BDG staffer Chelsea Szmania.
Best Vitamin C Serum
As our understanding of sun protection has evolved, so too has our realization that SPF alone just won't cut it — an antioxidant serum is necessary to protect our skin from the free radical damage that sunscreen doesn't touch. COSRX's vitamin C serum has a whopping 23% of the purest form of vitamin C, aka ascorbic acid, plus vitamin E, hyaluronic acid, and allantoin to both protect from future sun damage and repair the effects of existing damage. That means a brighter overall complexion, fading the appearance of dark spots and uneven tone, a reduction in the appearance of fine lines and wrinkles, enhanced elasticity, increased moisture retention, and less irritation. "COSRX never fails me," says BDG staffer Kaitlin Cubria. "This brand's already my go-to for my moisturizer and pimple patches, so I'm not surprised that it's got a great vitamin C serum as well. I swear my skin glows when I use it."
Best Hydrating Serum
There's some high-tech wizardry brewing in this hydrating hyaluronic acid serum from Ourself and our testers were hypnotized by its powers of transformation. The visible metamorphosis was undeniable and provided both instant and long-term benefits, making this the skin-care gift that kept on giving. Not only did our testers' complexions look and feel more hydrated, but they also felt smoother, with fewer fine lines and wrinkles. "I'm obsessed with this serum," marveled BDG's executive beauty director Faith Xue. "I've tried a lot of hyaluronic acid serums that are overhyped, but this one genuinely has made my oily-combo skin look firmer and plumper after a few weeks of use."
Best Eye Cream
It's truly impossible not to smile when you pick up a Glow Recipe product — from the packaging to the textures to the scent, everything about the fruit-focused skin care brand's lineup is like a surge of dopamine straight to your brain. This bouncy gel cream for the eyes is no exception, with its bright Barbiecore pink bottle and juicy aroma. But it's the genius formula that put it in the winner's circle for our testers, combining a lightweight feel with a refreshing effect that perks up even the most sleep-deprived gaze, thanks to a blend of encapsulated 10% vitamin C, niacinamide, peptides, green caffeine, guava seed oil, and guava fruit. "This is the perfect eye cream consistency — creamy, but light, and sinks in instantly," says BDG's executive beauty director Faith Xue. "My undereyes look and feel fresher immediately after applying, and I've noticed an improvement in fine lines."
Best Chemical Exfoliator
Featuring a who's who of chemical exfoliators combined in a convenient one-step wipe, this peel pad from Dr. Ron Robinson's brand BeautyStat is gentle enough to use daily but powerful enough to visibly brighten, tighten, smooth, and tone with every application. It features a triple exfoliating threat of lactic acid, time-released salicylic acid, and glucosamine, plus niacinamide, green tea, and polyglutamic acid to hydrate and soothe. "I was initially worried that this would be too harsh on my skin and skeptical about it being a wipe instead of a serum, but I was pleasantly surprised," says BDG staffer Lara Walsh. "It felt gentle, and left my skin glowing the next day."
Best Physical Exfoliator
This caffeinated face scrub from Scarlett Johansson's minimalist skin care line was tailored specifically to the actor's sensitive complexion, and hey, if it's good enough for ScarJo, it's good in our books. What elevates the Micro Polish to the winner's circle was its thoughtful formulation, which allowed it to bypass the downfalls that many physical exfoliators often fall victim to. It doesn't scratch the skin or dry it out, thanks to a cushiony, emollient base infused with soothing chamomile and energizing caffeine. It replaces the harsh scrub granules with fine perlite particles to avoid irritation, resulting in a gentle exfoliation that brightens, smooths, softens, and revitalizes. "This one surprised me — I didn't expect to love it much until I saw an instant brightening effect," says beauty influencer Ava Lee. "It didn't irritate my skin and the micro scrubs felt so nice on the skin. I used it on my husband and it's come to the point where he has stolen this product from me. An instant family favorite!"
Best Hydrating Mask
If you're plagued with chronically dehydrated skin, your parched complexion has met its match in this concentrated overnight treatment from U Beauty. Yes, it's pricey, but the high-tech formula boasts instant and long-term benefits that had our testers raving as it restored the skin's moisture barrier, refreshing and revitalizing for an increasingly smoother and more supple appearance after every application — your dull, dehydrated skin doesn't stand a chance. "I love this so much," gushes BDG staffer Sarah Aswell. "It feels amazing and I saw an actual improvement in the look of my skin both the day after and even more after using it for a few weeks."
Best Brightening Mask
There's nothing we love more than a good glow-up and this dual-action brightening mask delivers it with lightning speed, thanks to a combo of gentle (yet ludicrously effective) physical and chemical exfoliators. It uses rice powder to polish off stuck-on surface skin cells and smooth, plus lactic and fruit acids to dissolve debris and promote cell turnover. The result is visibly resurfaced, radiant skin that is dewy and silky smooth. "This mask was amazing — I couldn't believe it achieved results so quickly," says BDG staffer Sophia June. "I left it on for only three minutes and felt like it made my skin bouncier and juicier."
Best Exfoliating Mask
In the beauty world, a minute isn't usually enough time to experience truly remarkable results, however, Sisley's Exfoliating Enzyme Mask is no ordinary treatment. Our testers were shocked to discover just how dramatically this powder mask could revive their dull, lackluster skin. A combination of gently exfoliating papain, vitamin B3, plant essential oils, and a unique cleansing powder derived from coconut and wisteria work in sync to gently exfoliate, restore luminosity, purify, even tone, and smooth texture. "It felt great going on and rinsed off easily, leaving my face much more glowy and my skin shockingly even-toned," says BDG staffer Miranda Rake. "It's a splurge-y product, but it felt like it did the work of an actual facial, so in that sense, it's a really good value for the $$."
Best Face Oil
This crowd-pleaser of a face oil won over our testers — both the oil stans and the oil cynics — with its ultra-nourishing ingredient list and fast-absorbing, non-greasy feel. The combo of plum oil and chia oil means it's loaded with nutrient-dense omega fatty acids to hydrate and pamper your complexion. It's free of essential oils, so it won't irritate sensitive types, and has antioxidant and anti-aging benefits with the addition of skin-soothing astaxanthin and squalane. "The formula is very soft and delicate, less 'oily' than other oils," says BDG staffer Rebecca Iloulian. "It also smells amazing, as plum oil does."
Best Lip Balm
Activist and model Winnie Harlow just raised the bar for SPF lip balms with her Cay Skin pout protector. This SPF 30 lip moisturizer not only safeguards your delicate lip skin from UV rays, but it also happens to be an incredible hydrator for parched, flaky mouths thanks to a mix of shea oil, vitamin E, aloe stem cells, and sea moss. Add to that a glossy finish and a handful of tinted shades and you've got an all-star pick that deserves a place in your purse, belt bag, or beach bag when you're on the go. "I'm a lip balm obsessive, and this one is fantastic," says BDG staffer Julie Sprankles. "It smells like cocoa butter and tastes good, too."
Best Acne Treatment
As anyone who has had to deal with cystic acne knows, finding a product that can touch those deep, throbbing, below-the-surface bumps can be a quest of epic proportions. Most pimple products are made for blemishes on the skin's surface or just below and unfortunately they won't get deep enough to have any effect on cysts. Murad's Deep Relief Acne Treatment was formulated specifically for those painful, down-deep bumps — it uses a maximum-strength salicylic acid and a plant-derived phytosteroid, plus a film-forming polymer that creates a "second skin" to hold the ingredients in place, allowing them to penetrate deeper and get where they can be beneficial. "This product actually works on painful cystic acne," says BDG staffer Sophia June. "I felt like it cut the time in half that it normally takes those pimples to heal."
Best Self-Tanner For Face
Self-tanner used to mean stinky, messy, drying potions that had us concerned we were going to look like we rolled around in Flamin' Hot Cheeto dust if we didn't do everything exactly right (and sometimes even if we did). You need only look at this gorgeous tinted serum from Maya Chia to realize times have drastically changed in the faux tan department. The gradual tanner hydrates the skin and simultaneously delivers a power shot of antioxidants as it naturally builds a believable tan. Using Ecocert-approved DHA and erythrulose, the serum sinks in and delivers a completely believable, stink-free and streak-free finish. "This tinted hydrating formula is lightweight and easy to apply," says BDG staffer Kiara Brown. "I highly recommend it to anyone looking for a low-maintenance approach to achieving a healthy glow."
A previous version of this article misattributed quotes in the Eve Lom review. It has been updated with the correct source.
Photographs by Di-Chen Chen
Prop Stylist: Ada Victoria Ochoa Arce
Executive Beauty Director: Faith Xue
Photo Director: Alex Pollack
SVP Creative: Karen Hibbert