The 12 Best Stretchy Jeans On Amazon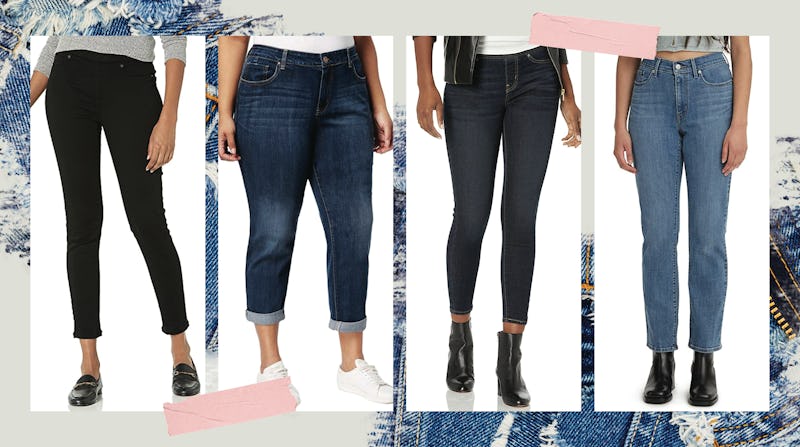 Bustle / Amazon
We may receive a portion of sales if you purchase a product through a link in this article.
Denim is famously versatile, but comfortable? Not so much. That's where the best stretchy jeans come in: Containing anywhere from 1% to 7% stretch, they offer the timeless look of non-stretch denim, but with a more flexible, less constricting fit. If you're hunting for the best stretchy jeans, here's what to think about as you search.
What To Consider When Shopping For The Best Stretchy Jeans
Where traditional denim is made from 100% cotton, stretchy jeans will be blended with a small percentage of Lycra, elastane, or spandex (all essentially the same thing, just under different names). Most stretchy jeans contain 2% or 3% stretch, though if you like the structure of rigid denim but crave a touch more flexibility, opt for 1% stretch; or, if it's more of a legging feel you're after, choose a style with the maximum amount of stretch (one pair of jeggings on this list is made with 7% spandex). Some styles are also blended with polyester or viscose to soften up the cotton quotient even more.
Most stretchy jeans come in form-fitting silhouettes, like skinnies, jeggings, or flares and straight-leg jeans with a slim fit through the hip and thigh. That said, you'll find a handful of more relaxed-fit options on this list as well, including a pair of boyfriend jeans and some on-trend wide-leg pants. Just note that jeans with stretch may lose some of their shape with multiple wears and washes, so if you're choosing a jean with a higher percentage of stretch and you like a snugger fit, you may want to size down.
Ready to find a pair of jeans with both versatility and flexibility? Keep scrolling for 12 of the best stretchy jeans on Amazon.