The 12 Best Wireless Bras In Plus Sizes
No need to sacrifice support.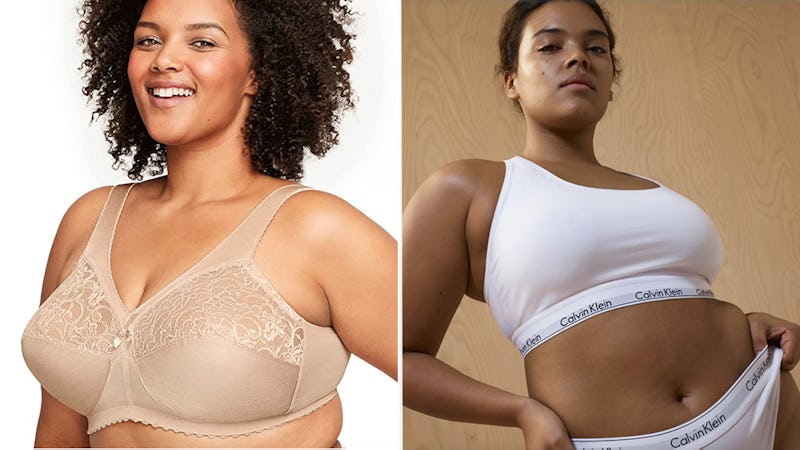 Amazon
We may receive a portion of sales if you purchase a product through a link in this article.
Comfort is key when it comes to wireless bras — it's likely a big reason why you're looking for one in the first place. But just because you're ditching underwires doesn't mean you have to sacrifice support. Generally speaking, the best wireless bras in plus sizes come with lined or contoured cups, and other structural support features like wide straps and bands that help evenly distribute weight — all while keeping comfort in mind.
What To Look For In The Best Wireless Plus-Size Bras
Supportive Features & Fabrics
Since wireless bras don't get their support from a typical underwire construction, look for features like wide, no-roll bands and wide, adjustable straps. Some bras have knit-in or molded cups for a naturally contoured shape and separation, and lining can provide extra support and nipple coverage. Many of the bras on this list also have higher sides and backs for even more support, and full-coverage cups to keep breasts contained.
For maximum comfort, look for bras with plenty of stretch (the higher the percentage of elastane or spandex, the stretchier the material will feel), or those made of breathable fabrics that'll keep you cool.
Fit
Finding the right wireless bra is going to look a little different for everyone; after all, every body shape and cup size has particular needs. That said, all the bras listed below are designed to fit plus-size bodies — generally defined as having a band size of 38 and over — and a range of cup sizes, including both smaller and fuller breasts.
Some of the bras below are listed in cup and band sizes, while others come in alpha sizes. There are some tips you can follow to determine your best bra fit — for instance, if the cups are gaping, you'll want to go down a size; or, if you're experiencing spillage, go up a cup size. To start, the band should fit on the middle hook so that you have more flexibility with fit — if the bra stretches out, for instance, you'll be able to move up a hook, or down a hook if it's feeling a little tight some days. If you're unsure about your size in alpha sizing, take a look at the size chart, if possible, which will either provide the measurements that each size will fit, or will compare each alpha size to a cup and band size.
When in doubt, reading the reviews can go a long way in discerning just how comfortable a bra really feels; some of the bras listed here are repped as being comfortable enough to sleep in.
Lastly, most bras you'll find here feature a traditional hook-and-eye closure, but if you're looking for the ease and comfort of a pullover style, you'll find a few seamless bralettes, as well. Just know that they'll typically offer less support.
With that in mind, it's time to shop for the best wireless bras for plus sizes.