13 Chic & Cozy Face Masks For The Winter
We only recommend products we love and that we think you will, too. We may receive a portion of sales from products purchased from this article, which was written by our Commerce team.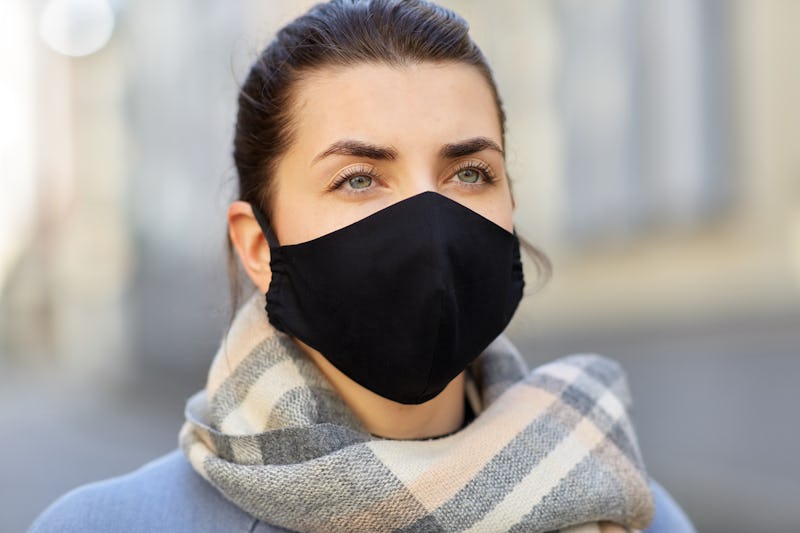 Shutterstock
As the season changes and the global pandemic continues, the Centers for Disease Control and Prevention (CDC) recommends that people keep wearing face masks in public to help prevent the spread of COVID-19. More specifically, the CDC suggests the use of face masks that have two or more layers of material as a barrier — specifically breathable options that fit over your mouth and nose. Although masks are plentiful these days, it's helpful to find warmer options while transitioning into the colder months. While you're on the lookout for the best face masks for winter that are made with thicker materials, there are still some basic specifications you should look for to ensure that you'll be fully protected.
Aside from the disposable, surgical options that help filter pathogens, there are two types of reusable face masks that can help keep you warm in cold temperatures.
Cloth face masks are made to be washed and reused as much as you'd like, and they typically come in various patterns, colors, and styles. Many are even designed with interior pockets so you can secure disposable filters for added protection. The most efficient cloth masks have two-layers and are usually thicker, made with cotton, and feature a tighter weave.
Neck gaiters are less effective than layered cloth face masks (depending on how they're constructed) — but they're popular because they also cover your neck and ears. That, as a result, makes them go-to cold-weather picks. If you choose a neck gaiter, the CDC recommends wearing one with two fabric layers or folding it over for more protection. You can also wear them in conjunction with a cotton or disposable face mask.
In addition to knowing what kind of mask you want to buy, you'll also want to check that your face covering fits snug against your skin. Adjustable ear loops are also helpful in gauging your mask's overall comfortability and effectiveness.
Check out some of the best winter face masks that are super popular on Amazon right now. Each option is stylish, cozy, and ready for cold-weather wear.
Editor's note: Face masks can help prevent the spread of germs, but please keep in mind that experts agree that masks alone can not prevent the spread of COVID-19 and that social distancing and washing your hands are critical.